A lot of the Montreal Canadiens recent successes have revolved around the evolution and development of Max Pacioretty. The Habs have made some savvy moves building their team combined with some impressive drafting and look to be poised to be contenders in the East for the next few years barring major injuries. Pacioretty himself has become one of their highest scoring players — he's led Montreal in points the last three seasons and his career stats are remarkably balanced as far as his goals-assists go (16g-15a this season/123g-121a career).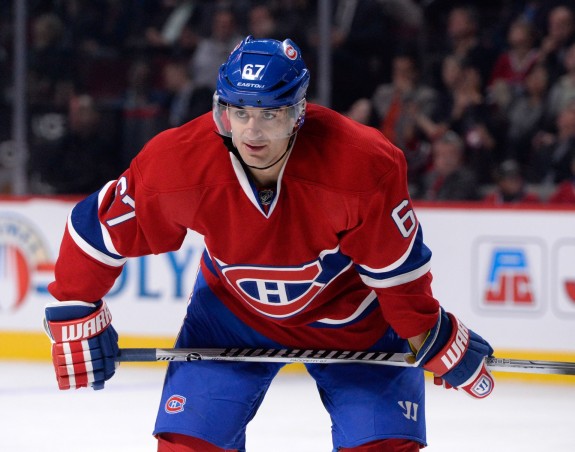 The 26-year-old from Connecticut is also a team-first guy and isn't too concerned about his individual accomplishments, but rather the team getting the most important stat — a win. "We've had a lot of success as of late; we've won a lot of close games. It's obviously nice and we are looking forward now; trying to get better every game," Pacioretty told a throng of reporters after his team's 4-2 road win over the New Jersey Devils. "Tomorrow's a great test for our club (in Pittsburgh); we're happy with tonight, but tomorrow is another test for us and we're looking forward to it." The Habs won that match-up against the Penguins and currently sit atop the Eastern Conference (26-11-2, 54 points). "We're playing with a playoff mentality right now and we just have to do it for 82 games.
Max Pacioretty scores the second goal of the game for the Habs in New Jersey:
https://www.youtube.com/watch?v=-nQdKI_oUpM
Once the other reporters ran over to Carey Price's locker (rightfully so after his 200th career win) The Hockey Writers got to ask the guy nicknamed Max-Pac a few questions about his college career, one of the most memorable games in Canadiens' history and his former NHLer brother-in-law among other things.
The Hockey Writers: Personally you are continuing the success you've had the last two years with both goals and points; how have you been so consistent?
Max Pacioretty: I'm trying to expand my game; obviously I know I can contribute offensively but I'm trying to help the team in other areas also. That's the most rewarding part of my game right now.
THW: In looking at your stats, you are pretty even this season and career-wise also; is that something you also take a lot of pride in?
MP: Yeah it's spread out. I think I go through spurts where I score more or spurts where I pass more. I'm always trying to be consistent as a dual-threat option and I think going forward that's the way I can help my teammates and my linemates — being that dual-threat option night after night, instead of just being a passer or just being a shooter.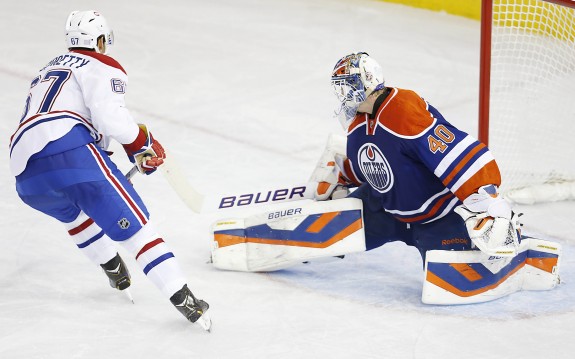 THW: You only played one year of college hockey at the University of Michigan, but what do you remember about that time?
MP: I had a lot of fun there; I had a lot of success in college and a lot of that had to do with my teammates and coaches. I'm so thankful to have gotten that opportunity, I definitely wouldn't be here today if it wasn't for the chances and the coaching I got from Red (Berenson) and the assistants; I can't say a bad word about my experience in college.
THW: You had one of the most bizarre games in recent memory where you missed two penalty shots and still had a hat trick in the game; what was that like?!?
A recap of a wild night for Max Pacioretty vs the Canucks:
https://www.youtube.com/watch?v=V8zs-HFySOk
MP: Yeah (smiles sheepishly) something like that is, magnified a little bit more playing in Montreal. It shows the ups and downs of being a goal scorer that can bounce throughout a game/have momentum like that and I'm learning to stay even-keeled and not get too upset when I miss and not get too excited when I score. I just try to go through every shift I take with the same mentality.
THW: C'mon tell us, do you ever sit back and say to yourself: Man, I could've had five goals that game!?
MP: No not really (grins), then they maybe wouldn't have pulled the goalie so I just try to think about positives.
THW: You scored your first NHL goal here (in New Jersey) on your first shot right?
MP: Yeah, that was here. That was obviously one of my best memories, but it only gets harder from there.
THW: Was Martin Brodeur in goal?
MP: No, it was Scott Clemmensen.
Nice snipe on the first career goal for Max Pacioretty:
THW: Your brother-in-law is Maxim Afinogenov, a former NHLer who is now captain of Vityaz Podolsk in the KHL currently; can you tell us a little about that interesting dynamic?
MP: Yeah, growing up a little bit over there and training over there — there being Russia — it's a whole other experience and it opens up your eyes to different training styles, different styles of play. I try to incorporate a little bit of that stuff in my game. Being close with his family I learn bits and pieces as much as I can; I think it's really helped my career.
Dan Rice can be reached via Twitter: @DRdiabloTHW or via Email: drdiablo321@yahoo.com
Dan Rice is in his 9th year of reporting for THW & has covered NJ Devils home games for 15+ years at various websites. He began his journey working for legendary broadcaster/writer Stan Fischler from 2002-04 & completed an internship at the ECHL; he also has been writing features for the NWHL (nwhl.zone) website since 2016.