The New York Islanders' playoff ambitions continue to dwindle as they have won just twice throughout their last ten games. The 2-5-3 stretch has the club searching for answers as their lack of offensive support for their Vezina Trophy calibre goaltender, Ilya Sorokin, continues to be problematic. The poor stretch has the team on the cusp of missing the playoffs for the second consecutive season.
---
---
Islanders' general manager Lou Lamoriello will undoubtedly take some course of action between now and the NHL Trade Deadline. His direction remains in question as the Islanders sit on the playoff bubble. There is a strong case for each scenario as they may be buyers or decide to look ahead and become sellers as this year's deadline. Today we take a deeper dive into each scenario, looking at the potential moving pieces and their effect on the franchise.
Islanders' Case To Be Buyers at Trade Deadline
While the Islanders have one of the top goaltending tandems in the league, they also boast strong defensive numbers. They allow an average of 2.72 goals per game, ranking eighth among all teams. Their penalty kill has also been a strong point this season, as they rank fifth, successfully killing 82.7% of opposition power plays. The strong defence will also receive a massive boost as their top defenceman Adam Pelech draws closer to returning to the lineup. Lamoriello's New Jersey Devils' won championships based on their strong defensive play and elite goaltending.
---
Latest News & Highlights
---
The most glaring weakness this club has endured throughout the season is a lack of scoring. Recent All-Star selection, Brock Nelson, led the Islanders with 37 goals last season. However, he has shown some regression this season as he is on pace to score only 28 goals. Key injuries to forwards Oliver Wahlstrom and Kyle Palmieri certainly haven't helped; however, neither were having stellar campaigns by any means. The Islanders' third line of Zach Parise, J.G Pageau and Hudson Fasching has arguably been the team's best line recently. Should Lamoriello decide to push for the playoffs this season, he will need to add to the top-six group, and fortunately, plenty of players on the trade market will fit the bill.
Lamoreillo has been previously linked to other big-name players while trying to improve the Islanders' top-six forward group. A potential trade for Vancouver Canucks forward J.T. Miller reportedly fell through at the NHL Entry Draft last summer. The general manager then struck out on highly sought-after free agents Johnny Gaudreau and Nazem Kadri. So it wouldn't be a shock for him to swing for the fences in an attempt to bring in one of the big names on the market.
Islanders' Potential Big-Name Trade Deadline Targets
Bo Horvat
Bo Horvat is one of the biggest names linked to this year's trade deadline. In a contract season, the Canucks captain is putting up career numbers, setting himself up for a big payday wherever he signs his next contract. He has scored 30 goals and 19 assists for 49 points in 44 games. His previous career-high for goals was 31, which he hit last season.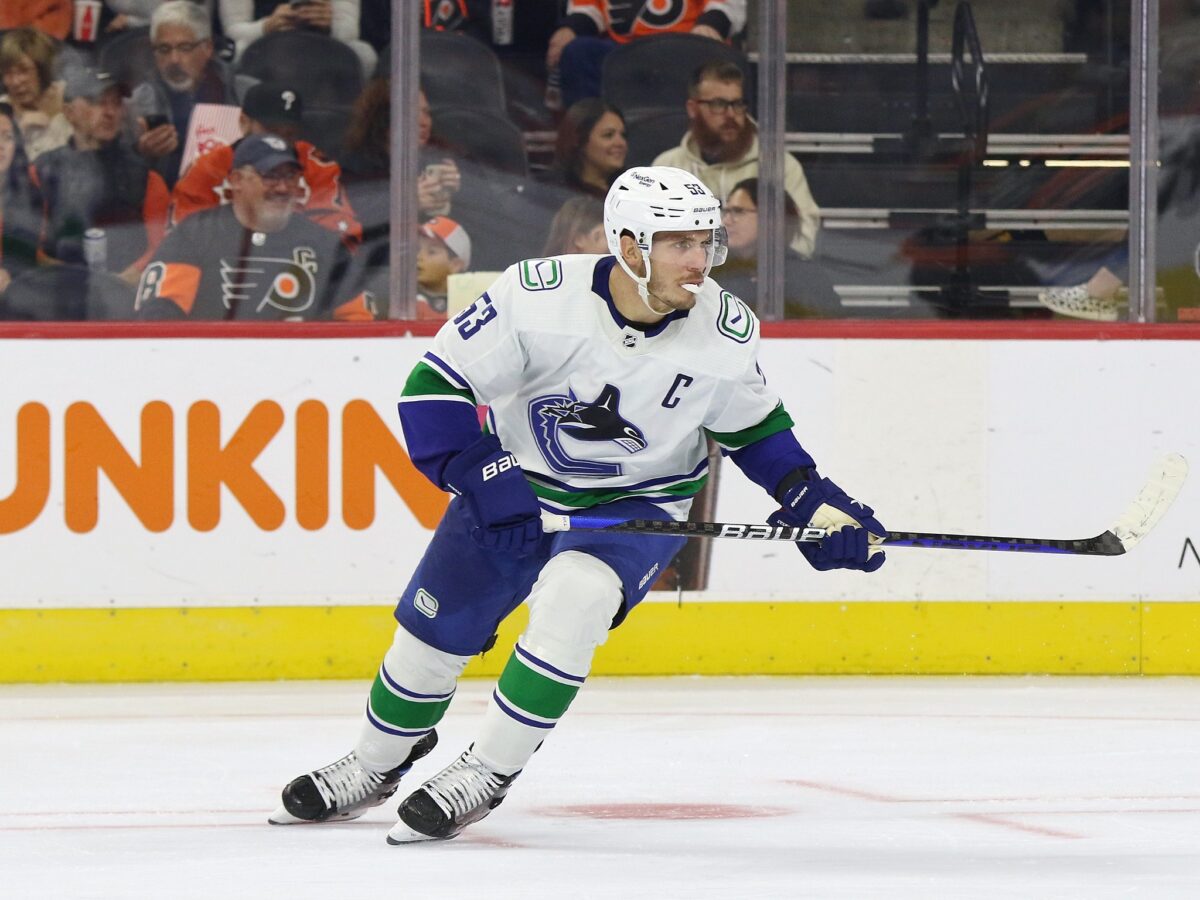 However, the asking price would be a tough pill to swallow for the Islanders, as they'd have to ship out a first-round draft pick, a top prospect and an NHL-ready defenceman to land Horvat. Nevertheless, they hold the required pieces as they could potentially send Finnish prospect Aatu Raty and right handed defenceman Scott Mayfield to the Canucks. Mayfield is a pending unrestricted free agent (UFA) at the end of the season, and Luke Schenn could be included as part of the return from Vancouver, which would help fill the hole left by trading Mayfield.
Timo Meier
San Jose Sharks forward Timo Meier would be another great fit for the Islanders' forward group. Through 46 games this season, he has 26 goals to go along with 20 assists for 46 points. He also ranks second in the league with 213 shots on goal. The Switzerland native is set to become a restricted free agent this summer.
Related: 5 Islanders Needs to Address to Reach Postseason
Meier would slot in on the first line beside Mathew Barzal and Oliver Wahlstrom. The potential move would give Barzal a long-awaited high-volume shooter and goal scorer on his wing. Like Horvat, the Sharks forward will require a significant return in any possible deal. He has also been linked to the Islanders' cross-state rivals New York Rangers and the New Jersey Devils.
Vladimir Tarasenko
Vladimir Tarasenko is slated to return from injury in the next week or so and his name continues to be one of many St. Louis Blues included in trade rumours. While he hasn't been specifically linked to the Islanders as of yet, the Russian right winger would be a welcome addition to the team. He has surpassed the 30-goal plateau six times in his 11-year career, including scoring 34 last season. He has been limited to 34 games due to a hand injury suffered on New Year's Eve, however, he's been productive when healthy, scoring 10 goals and adding 19 assists for 29 points.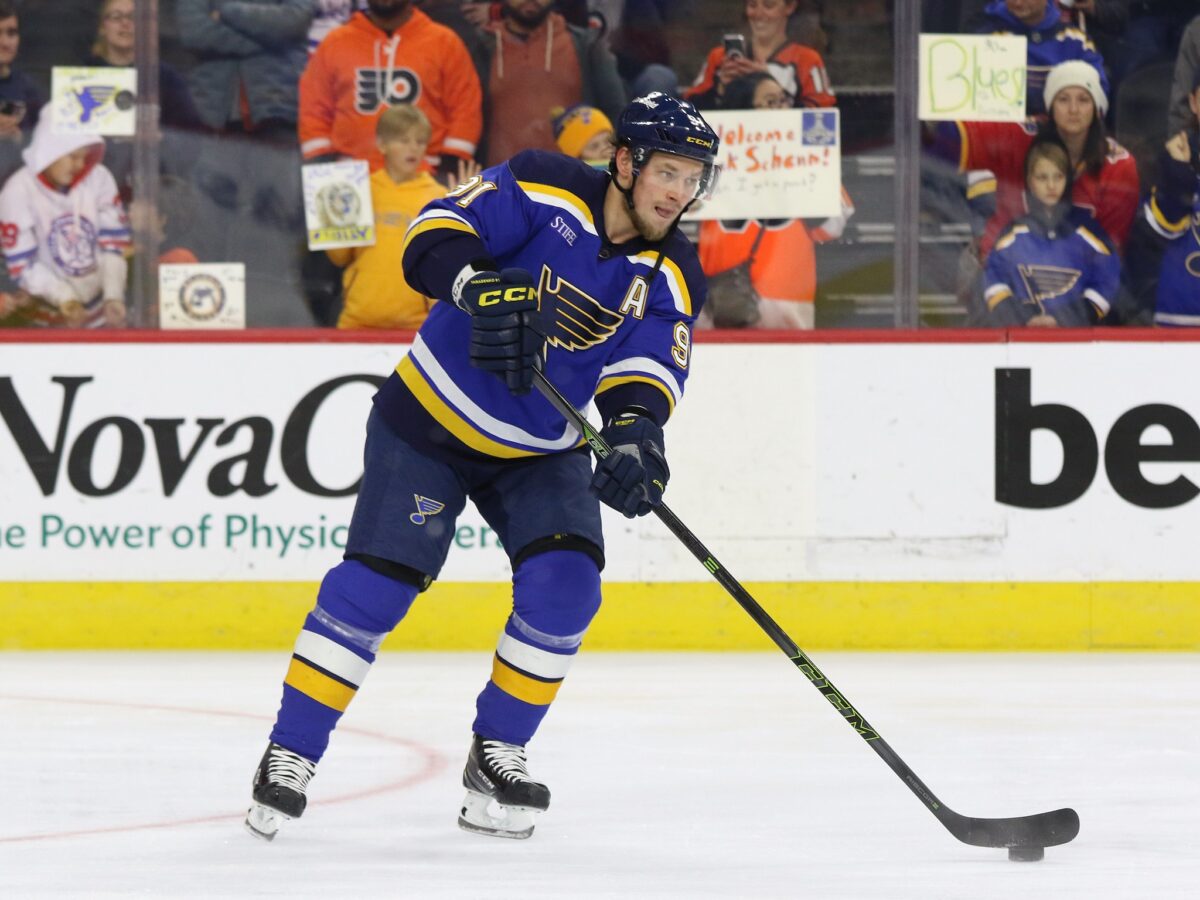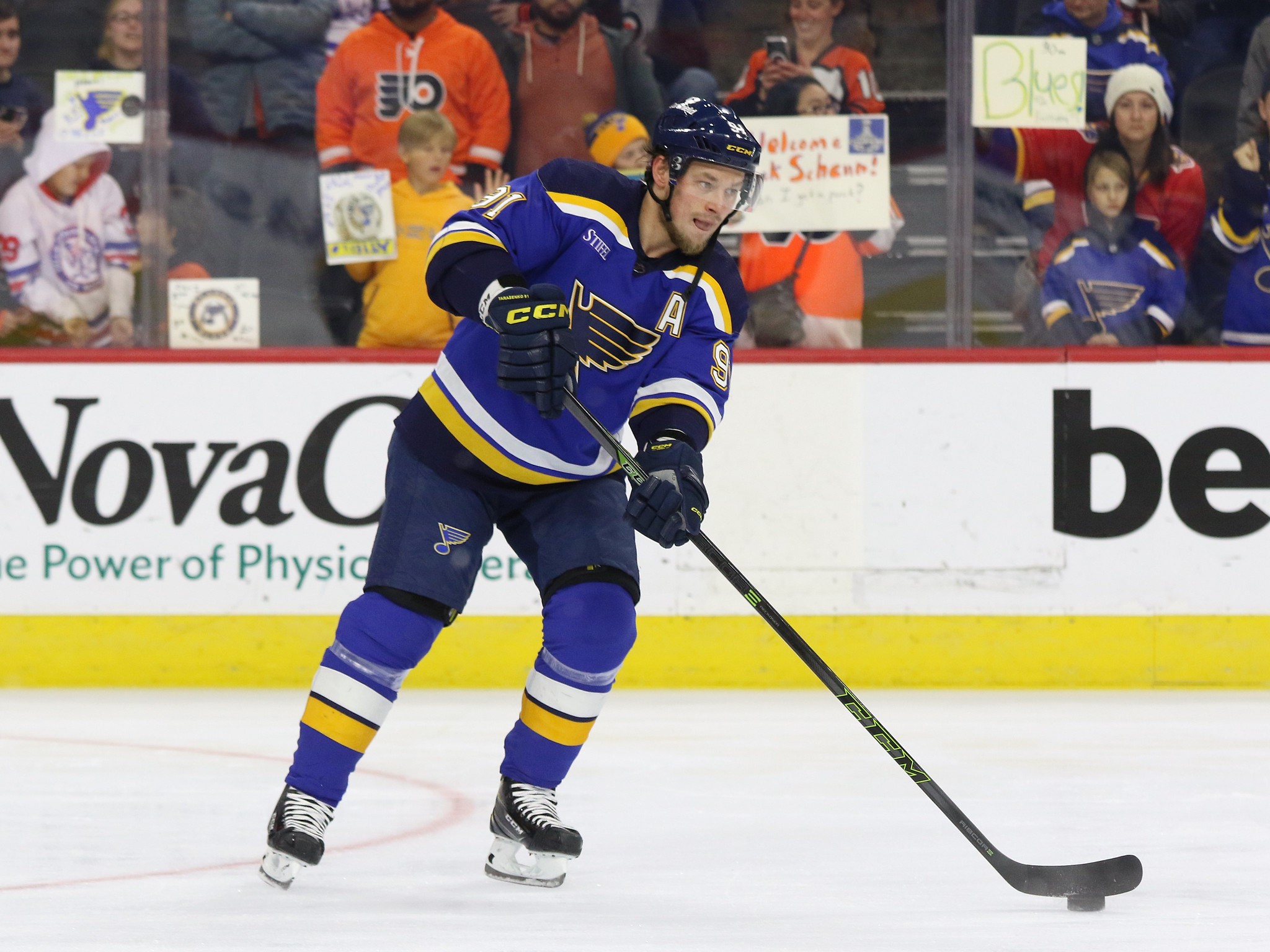 By adding Tarasenko the Islanders would immediately bolster a lacklustre power play and solidify their top six. The Blues' asking price may be relatively lower than what the Sharks and Canucks are seeking for Meier and Horvat. Perhaps the Islanders could land the Russian scorer with a second-round draft pick, Anthony Beauvillier and a prospect. Beauvillier has had struggles of his own this season and would benefit from a change of scenery. The move would also free up cap space for the Islanders to re-sign 31-year-old Tarasenko during the offseason.
Islanders' Potential Cost-Effective Trade Candidates
If Lamoriello decides that the prices are too high for the big-name players there are also legitimate top-six forwards that wouldn't cost the club as much in return. Brock Boeser, Gustav Nyquist, Nick Ritchie and Max Domi each bring with them an offensive side of the game that could reap rewards for the Islanders.
Brock Boeser
First and foremost and potentially the best fit of all is Canucks forward Brock Boeser. The 25-year-old Minnesota native once showed plenty of promise, scoring a career-high 29 goals in his sophomore season. The right wing has yet to stay healthy for the entirety of an NHL season appearing in a career-high 71 games last season.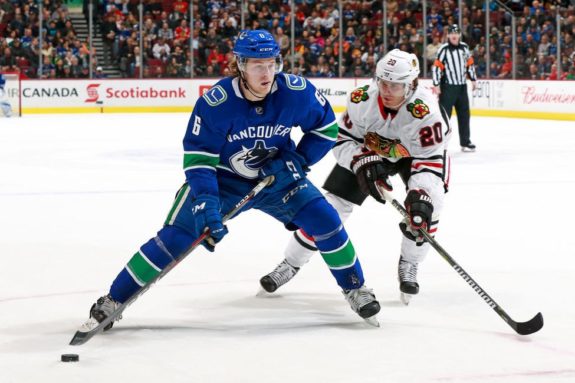 He was named the 2018 NHL All-Star Game MVP, becoming the first rookie to do so since Mario Lemieux accomplished the feat in 1985. He has nine goals and 17 assists in 36 games this season. Once again Beauvillier could be used as a trade chip along with a second-round draft pick in the potential deal as both players could benefit from a change of scenery.
Gustav Nyquist
Nyquist is a quiet candidate who can still provide some much-needed secondary scoring. The 33-year-old has nine goals and 11 assists while playing for an abysmal Columbus Blue Jackets team. As a pending unrestricted free agent, he would be a nice rental addition who can help provide the additional offensive production that the Islanders are lacking right now.
Nick Ritchie
Ritchie has become somewhat of an NHL journeyman, playing for four teams over his eight-year career. The 6-foot-2, 230-pound left winger brings a physical aspect to his game along with a scoring touch. He also is an upcoming free agent so it wouldn't be a surprise to see the Arizona Coyotes move him ahead of the deadline.
Max Domi
Playing with the bottom-feeding Chicago Blackhawks on a one-year deal that expires in the offseason, Domi would be a good fit for many playoff-bound teams. Through 44 games, he has 14 goals and 17 assists for 31 points. The 27-year-old was traded at last year's trade deadline in a three-team trade which ultimately saw the Hurricanes move two prospects. The Islanders would likely need to part with at least a third-round draft pick in a deal for the Winnipeg, Manitoba native.
Islanders' Trade Candidates as Sellers
Scott Mayfield
As previously mentioned, Scott Mayfield would head the list of the Islanders' potential trade assets. The return for Mayfield should be at the least a second-round draft pick and a prospect as right-handed defencemen are always in high demand. The Edmonton Oilers are a potential fit for him, as the once-promising Finnish forward Jesse Puljujarvi has fallen out of favour in Edmonton. The 6-foot-4 right winger could flank Brock Nelson forming a line that could be hard to contain due to the sheer size of the two.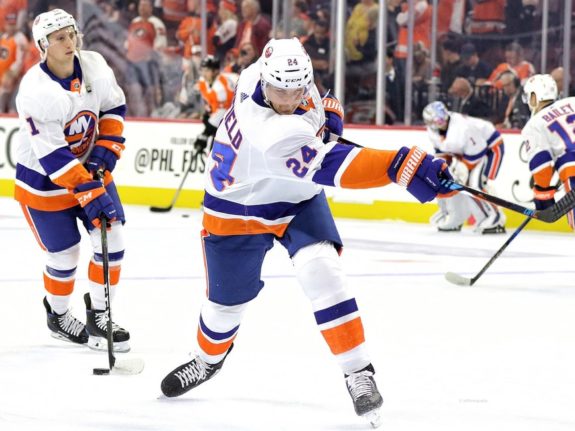 A notable comparison can be drawn between the return that the Montreal Canadiens received last season when shipping Ben Chiarot to the Florida Panthers. The Canadiens received a prospect, Tyler Smilanic, along with first and fourth-round draft picks.
Semyon Varlamov
With the stellar play of Ilya Sorokin, Semyon Varlamov may become a valuable trading chip for the club. The problem is that Varlamov's contract includes a 16-team no-trade list which would limit potential suitors for the Russian netminder. Ironically enough, the Oilers' goaltending situation remains less than ideal; however, cap issues would make a move difficult to necessitate. Another playoff-bound team that could use goaltending improvement is the Seattle Kraken. Once again, the Islanders would be able to pick up a second or third-round draft pick in what is being touted as a strong draft class.
Zach Parise
The 38-year-old veteran forward is the perfect rental addition for contending teams. With 13 goals scored and seven assists, Parise would provide excellent secondary scoring for a contending team. One team that could make sense is the perennial playoff juggernaut Tampa Bay Lightning.
What the Islanders Should Do at the Trade Deadline
Many overlook the fact that the Islanders are just two seasons removed from an Eastern Conference Final appearance against the Lightning. Judging by the Boston Bruins' torrid pace this season, the final wild card position will likely meet up against them in the first round. The Islanders were able to knock a very similar Bruins roster out of the playoffs during their 2021 Playoff run. They seem to give Boston a difficult time as they are 7-4-1 against them over the past three seasons. When looking at the ageing core of the team and the potential matchup, Lamoriello should make a push for the playoffs without necessarily selling the farm.
The Islanders' style of play suits playoff hockey as their defensive play and goaltending give them an opportunity to win on any given night. Furthermore, any of the three big-name players mentioned would be a home run for Lamoriello as he has consistently failed to land marquee players during his tenure with the club.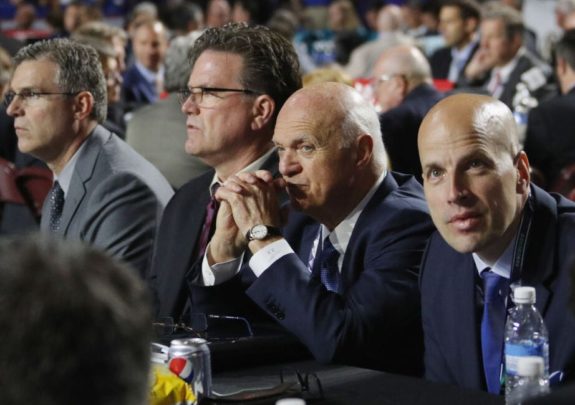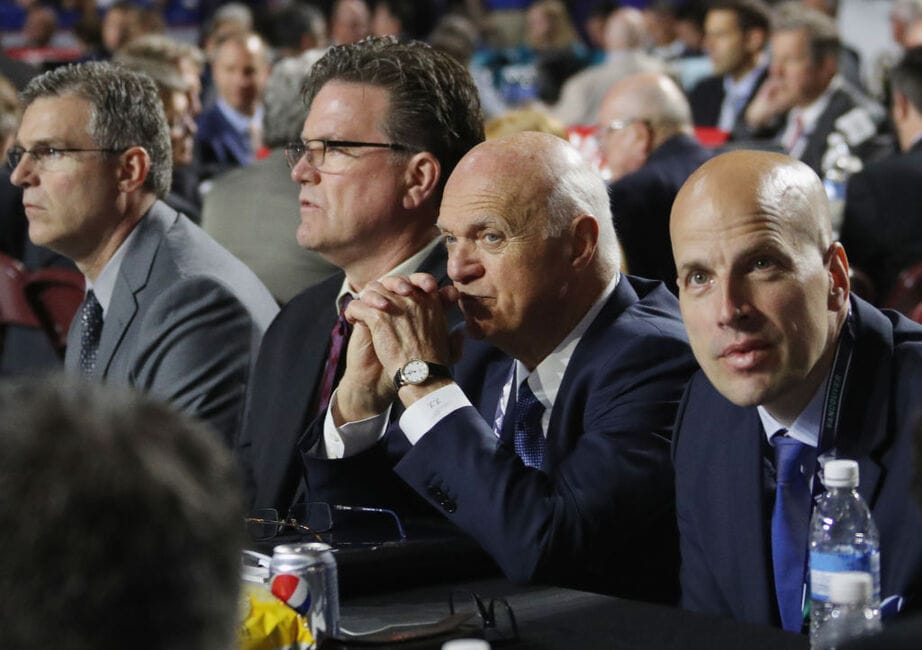 While being conservative and picking up future assets may seem like the best option, if they are able to acquire Horvat and Schenn in a deal for Mayfield, Beauvillier, a first-round draft pick and a prospect, they should absolutely make the trade. Getting Beauvillier's cap off the books would allow the Islanders to attempt to add one of the smaller name rentals and solidify their top two lines. Sorokin's tenure cannot be spent wasted going into a retool prior to his contract season in 2023-24.
The time is now for the Islanders to make a move. Lamoriello should pick up the phone before the deadline and get Sorokin the offensive support he needs to shoulder this team into the playoffs.
From Saskatchewan,Canada I am a family man and father of four, full-time blue collar worker, and an aspiring hockey journalist covering Boston Bruins at Last Word on Sports and Bruins Insider. I am now also covering the New York Islanders at The Hockey Writers.