The New York Islanders have had a roller coaster ride of a season so far. Inconsistency has been an issue for the team as they have seen winning streaks turn into dry spells and lengthy losing streaks. However, one consistent area has been in between the pipes. Despite a 14-14-2 record, goaltender Ilya Sorokin has been a rock in the net for New York. His play has given the team plenty of opportunities to win hockey games, only to be squandered by a lack of offensive support.
Ilya Sorokin's Career Progression
CSKA Moscow 2014-2020
Sorokin is now in his third NHL season, and it's been his most impressive to date. The Islanders drafted him in the third round, 78th overall, at the 2014 NHL Entry Draft. Following the draft, the Russian netminder elected to remain in his homeland playing for CSKA Moscow in the Kontinental Hockey League (KHL). In six seasons with CSKA, his level of play was outstanding as he piled up 43 shutouts in 190 games. His goals-against average (GAA) was below 2.00 each season, including a low of 1.06 in 2015-16. His consistently outstanding save percentage (SV%) also reflected his puck-stopping skills, as he posted a .953 SV% in 2015-16, followed by a .929 SV% in 2016-17.
Sorokin Makes Islanders' Debut
After signing a one-year, $2 million deal with the Islanders, Sorokin made his NHL debut in the 2020-21 season. He played in 22 games posting a 2.17 GAA and a .918 SV%. He also finished 15th in Calder Memorial Trophy voting. The other half of the tandem, Semyon Varlamov, provided the team with one of the best duos in the NHL. The two Russian goalies also helped lead the team to a semi-finals appearance against the Tampa Bay Lightning. Following his impressive rookie season, they signed him to a three-year, $12 million contract which will keep him with the team until the end of the 2023-24 season.
What Sophomore Slump?
While playing his sophomore season for the Islanders, Sorokin showed no signs of the infamous sophomore slump and took the reins as the bonafide starter for the club. Playing in 52 games, he put up a 2.40 GAA and a .925 SV%, further demonstrating the consistency he provides for the club. He also finished second with 29.81 goals saved above average. By the end of the season, he finished sixth in Vezina Trophy voting and fifth in the NHL's First All-Star Team voting.
Ilya Sorokin's Season by the Numbers
Despite his team's inability to win games off his solid performances, Sorokin is having a Vezina Trophy-worthy season. His 2.29 GAA ranks third among all NHL goalies, while his .929 SV% sits second, only trailing Boston Bruins goaltender Linus Ullmark who is also having an incredible season.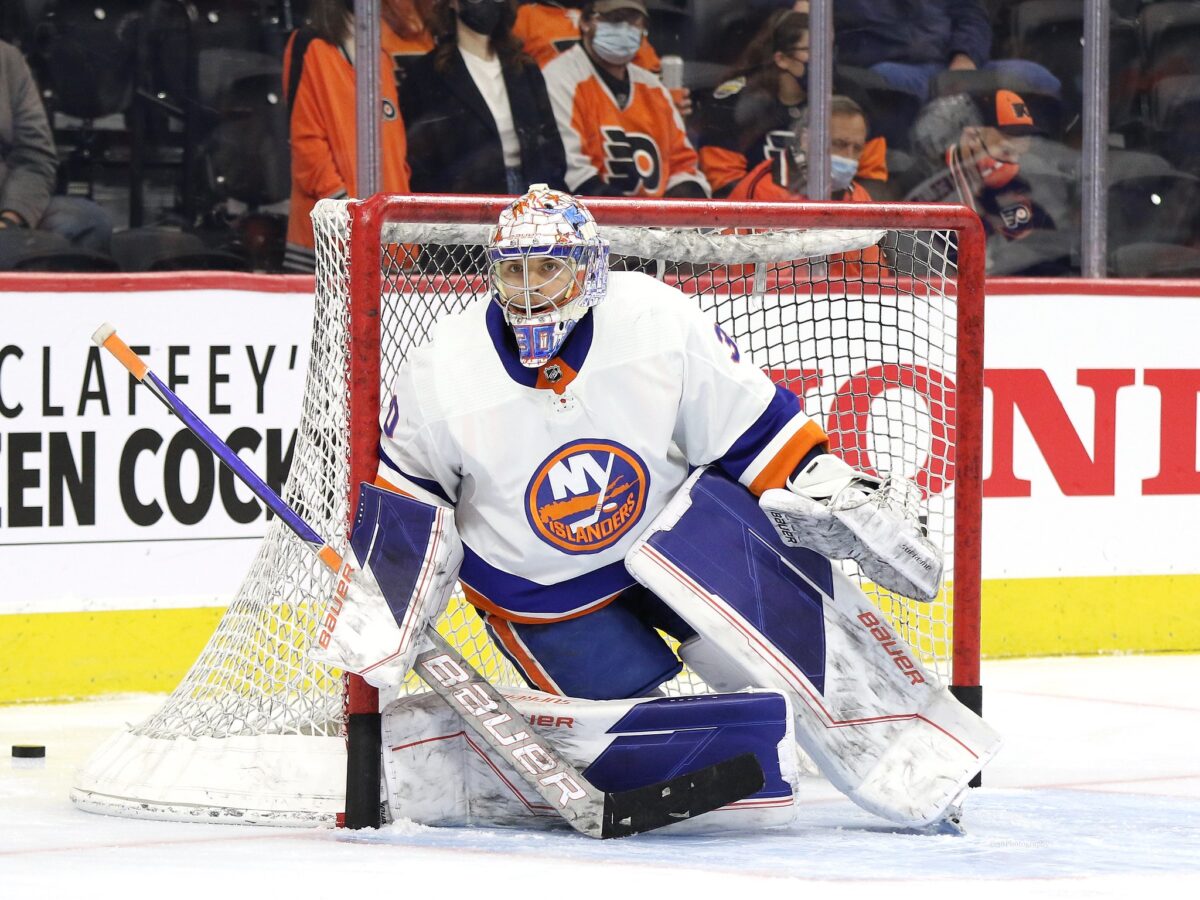 Sorokin's 19.73 goals saved above average (GSAA) ranks third amongst all NHL goalies. He is also tied for second with three shutouts so far this season. With Varlamov being sidelined in December, New York relied on Sorokin heavily. His 32 games played are tied for the most in the NHL with another Vezina Trophy candidate, Connor Hellebuyck.
The single knock on Sorokin this season when looking at past Vezina winners is his win/loss ratio. His 14-14-2 record can be primarily blamed on the lack of scoring support he receives. Ullmark has an unbelievable 22-2-1 record, while Hellebuyck is 21-10-1.
Related: Islanders' Injuries Highlight Lack of Depth
---
Latest News & Highlights
---
When looking at the other early candidates this season, Sorokin is arguably the most valuable to his team. Ullmark has been the beneficiary of the Bruins' superb play this season, and Hellebuyck of the Winnipeg Jets receives far more offensive support than the Islanders give their netminder. Provided he keeps up his level of play for the remainder of the season, he should find himself garnering well-deserved Vezina Trophy consideration.
Islanders' Need to Find Offensive Support for Sorokin
Championship teams are often built from the net out; luckily, the Islanders have found themselves an elite goaltender in Sorokin. With the type of consistency the 27-year-old has displayed, he will receive Vezina consideration for years to come. However, without more offensive support for their netminder, they could face the reality of losing him following next season, the final year of his current contract.
---
---