On Aug. 3, Brock Nelson and the New York Islanders will present their cases to an arbitrator in Toronto. Nelson is the only Islander without a contract for the 2018-19 season and as a restricted free agent, has used his right to file for arbitration. Coming off a three-year deal worth $7.5 million ($2.5 million AAV), Nelson is looking for a substantial raise.
The question is, how much of a raise will the 26-year-old receive?
Arbitration
Typically, players who file for arbitration are able to work out a deal with their club before the meeting takes place. In fact, last year there was only one arbitration hearing after 30 players had filed, between defenseman Nate Schmidt and the Vegas Golden Knights.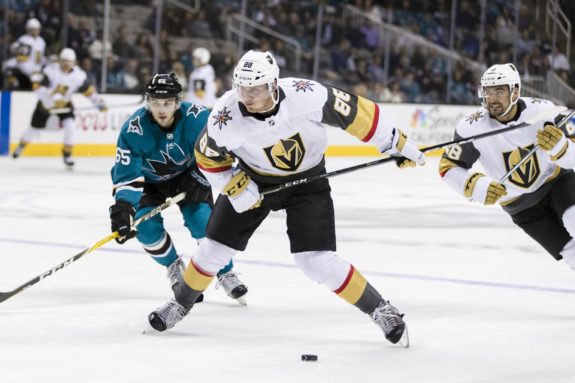 This summer, 44 players filed for arbitration and the meetings have been taking place since Jul. 20. Forty-eight hours after the hearing, the arbitrator will present a verdict and if the team does not accept it, the player becomes an unrestricted free agent. So far, only one case was settled by an arbitrator with the Winnipeg Jets accepting the verdict and signing defenseman Jacob Trouba to a one-year deal worth $5.5 million.
Twenty-three of the 44 cases were worked out between the player and club without (or before) an arbitrator being involved.
Islanders' Situation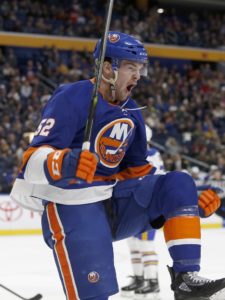 The Islanders had nine restricted free agents (RFAs) and elected to qualify just five of them, letting go of Brandon Davidson, Shane Prince, Alan Quine, and Kyle Schempp but retaining the rights to Devon Toews, Kyle Burroughs, Ross Johnston, Ryan Pulock, and Nelson.
Of the five players retained, three were eligible for arbitration including Johnston, Toews, and Nelson. Nelson was the only one that filed and remains the only RFA who is un-signed.
According to CapFriendly, the Islanders have an estimated $14.8 million available in cap space, fourth-most in the league.
Throughout his NHL career, Nelson has primarily played at center but has had stints on both wings. The Islanders' weakest position is center. Not including Nelson, the team's center depth chart looks like this: Mathew Barzal, Jan Kovar, Casey Cizikas, Valtteri Filppula. Of course, losing John Tavares didn't help but they're better off with Nelson than without him.
Nelson's Situation
This is the second time in Nelson's career that he has been an RFA in need of a new deal. However, this is the first time he is arbitration eligible and has expressed his right to a hearing.
When Charles Wang was the majority owner and Garth Snow was the general manager, the team had a strict policy. If an RFA didn't agree to a deal before the day training camp started, they would sit out the season. The NHL has a similar deadline but it's substantially later: Dec. 1.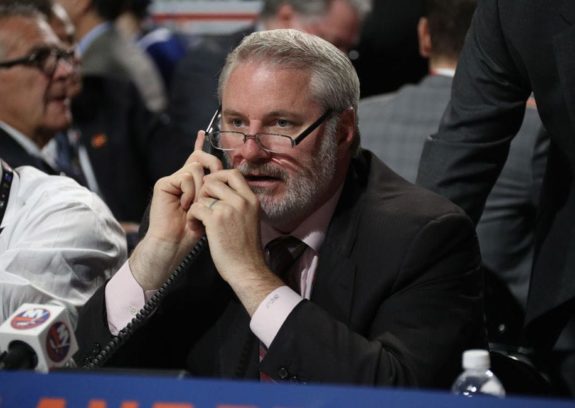 There have been some very close calls because of the team policy: Josh Bailey signed an extension hours before training camp began in 2011, Nelson signed his most recent contract the night before training camp in 2015, and Ryan Strome signed his contract extension three days before training camp in 2016.
Management isn't bluffing either. In the 2006 offseason, two RFAs, Sean Bergenheim and Denis Grebeshkov, did not sign before the team-mandated deadline and spent the 2006-07 season in Russia. However, with Lou Lamoriello now in charge and with new ownership (Jon Ledecky and Scott Malkin), it is unknown if the rule is still in place especially since Snow is still with the organization as is Wang who remains as a minority owner.
Nelson's Importance
Nelson, the 30th overall pick in the 2010 NHL Entry Draft, is coming off his fifth NHL season. In 398 regular-season games, he has scored 99 goals and 188 points. The Warroad, Minnesota native has scored 20-plus goals in three of his five NHL seasons and fell just shy of a fourth-straight 20-goal campaign with 19 last year.
Last season, Nelson spent the majority of his time centering the third line. As one of just four players on last year's roster to play in all 82 games, Nelson had several different linemates including Andrew Ladd, Josh Ho-Sang, Tanner Fritz, Anthony Beauvillier, Prince, Nikolay Kulemin, Quine, and Jason Chimera. Still, he managed 19 goals and 35 points, good for eighth on the team in scoring and sixth in goals.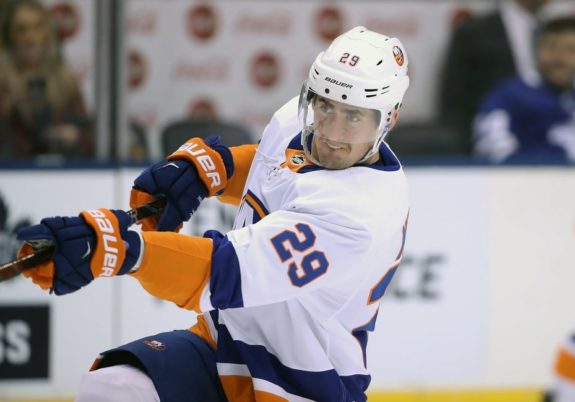 Playing on the second power-play unit, Nelson scored four power-play goals and eight points. He was also third on the team in faceoff wins, winning 389 of 805 draws (48.3 percent).
Salary vs Term in Final Contract
Assuming the Islanders and Nelson go to arbitration, what will the settlement turn out to be? In my opinion, Nelson will be awarded a two-year deal worth $8 million ($4 million AAV). He is a consistent 20ish-goal scorer and with goals hard to come by these days, that is valuable. A $1.5 million raise is a fair offer given that he sometimes goes missing for stretches.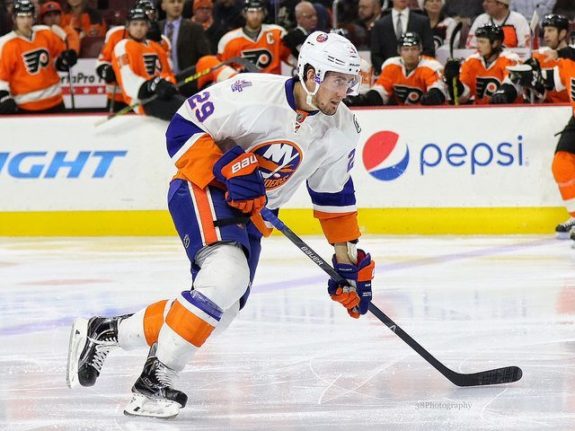 Whatever the actual salary, it is important that the Islanders get term on the deal. If Nelson is awarded a one-year deal, he will become an unrestricted free agent (UFA) in 2019. With pending UFAs Robin Lehner, Filppula, Kovar, Anders Lee, Jordan Eberle and others to deal with next offseason, adding Nelson to the mix will hurt the Isles.