As the Washington Capitals prospects found themselves uniting with familiar and new faces at development camp, nerves had kicked in, especially for the newest members of the organization who were drafted just a week earlier. However, it took just one day together for the nerves to pass, and by the end of the week, many of the prospects were already becoming close friends, joking around and chatting as they packed their bags and said their goodbyes until training camp.
"I think a lot of us were nervous coming into the week," 2018 second-round pick Kody Clark said. "But it only took a couple hours before we were all pretty good friends. I know we'll all keep in touch throughout the summer and then coming back."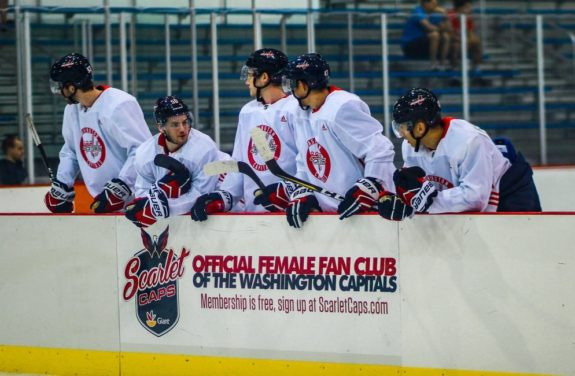 Over the course of the week, the Capitals prospects would compete with each other on the ice, taking part in drills and scrimmages that could get a bit physical and aggressive. However, off the ice, the players got to become friends with one another, bonding over things like Netflix, dining and even Fortnite. While these activities helped break the ice for the players, Clark explained that simply playing hockey and being a part of that community plays an important role in the connection between the players.
"I don't think it really matters where you're from, I think when you all play hockey and you all have that hockey bond, I think it's pretty easy to get along with everyone," Clark said.
Capitals Talk Cuisine
One of the main things Washington's prospects did off the ice was going to many different restaurants around D.C. and Arlington, Virginia, exploring the culinary scene and eating well following long days and workouts at camp.
"We did a lot of stuff together, but I think we ate lunch and dinner the whole week together," defensive prospect Jonas Siegenthaler said. "I think we got to know each other pretty well, everybody. It was kind of like bonding."
Washington's 2018 first-round pick Alex Alexeyev agreed, saying that one of the best parts of the week after practice was getting rest and dining with his teammates, which helped them prepare for the upcoming days of work on the ice.
"[We] have good food," Alexeyev laughed.  "Get dinner, lunch, breakfast and [then] get back to bed and sleep."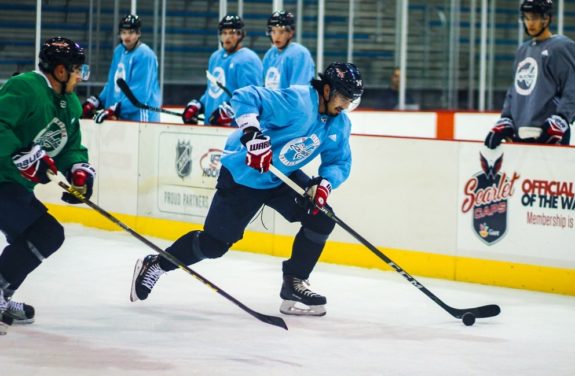 Among the Capitals' prospects, Asian food is a popular choice. Alexeyev is a big fan of sushi, one of the many meals he and Washington's youngsters shared together. Another hot spot was P.F. Chang's, a Chinese restaurant that Siegenthaler cites as his favorite place to eat in the D.C. area.
"I go to eat there every day," Siegenthaler said before describing his order. "For starts, [I order] the lettuce wraps with chicken, 100 percent, then I'm gonna have the shrimp and chicken bowl."
In addition to exploring Japanese and Chinese restaurants, the prospects also got to enjoy food from the Capitals' chef, and also eat at the local hotel. They also made a visit to a local Greek restaurant amongst other places. But ultimately, despite the meal or the place, cuisine was an integral part of the players' experience and connection with one another.
Capitals Explore Monuments & Movies
One of the big activities, especially for first-year prospects and 2018 draft picks, was touring the monuments throughout the Nation's Capitol and seeing D.C. for the first time.
"Amazing place," Alexeyev said of his first visit to the district. "We went in a truck and drive on a bus there, so I saw lots of nice places. Really nice city."
In addition to dining out and exploring D.C. together, Washington's prospects decided to take it easy after long days on the ice and relax by watching movies with one another.
"We've watched a lot of movies, Netflix… whenever we have spare time, we're usually spending it together," Clark said.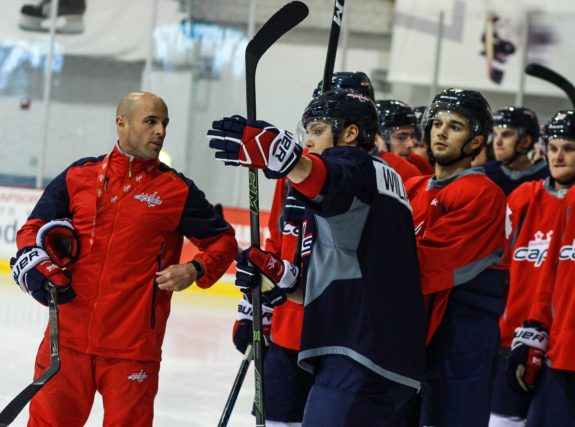 Clark's favorite movie of all time is Pink Panther, a film that he and his friends from back home watched all the time growing up. He also shares a show in common with fellow prospect Beck Malenstyn; "Friends" is a favorite of theirs, and both have seen every episode more than once. Malenstyn's made it through the show "three or four times," while Clark has "watched the whole series 10 times now."
Ultimately, whether Washington's up-and-comers are catching up on their favorite shows, exploring the city or dining out together, they understand and enjoy the time they spend with their fellow teammates as they pursue pro careers together within the same organization.
"You get to meet a lot of really great people, and hopefully, I think as we go through this roller coaster ride