While dropping a game to the formidable St. Louis Blues is certainly nothing to panic over, the manner in which the New York Islanders lost on Saturday afternoon exposed two areas of serious concern that need to be addressed for the team to make it over the hump.
Depth on Defense
With Boychuk, Hamonic, and Visnovsky out with injuries, the Islanders were forced to used Strait, Donovan, and Reinhart in Saturday's matchup. Needless to say, it didn't work out. Reinhart actually played pretty well considering his age, but his sheltered minutes against easy competition definitely helped. Strait and Donovan on the other hand were thrown to the wolves, and while Donovan was just slightly below average Brian Strait's 18 and a half minutes could have easily been replaced with a cone for a similar effect.
Strait was on the ice for three goals, including this one where his defensive awareness and positioning are so beyond bad it's baffling.
But the thing is, Strait really isn't the problem. The problem is that when any of their six regular defensemen go out with an injury or a repair day, Strait is the guy who gets the call. A championship-caliber team has to have a reliable seventh defenseman, and Strait isn't a reliable AHL defenseman at this point.
The fix? It's definitely not an easy decision to make, but someone needs to be moved in favor of a veteran defenseman who can play solid minutes, won't do anything fancy for you, but won't make the egregious mistakes that Strait does. This would also bounce Hickey into the role of the 7th defenseman, and even though he's had a very nice season this makes the most sense going forward. When another injury inevitably comes, Hickey is the guy to step up and take those minutes. This solidifies your defense going forward and creates a situation where, going into the playoffs, you have at least 6 defensemen that you don't mind rolling out at any time.
A Legitimate Threat at Left Wing
While I understand and for the most part agree with the idea of building down the middle and finding versatile forwards who can player both wing and center, there's something to be said for having at least one top winger for each side. The Islanders have Kyle Okposo on the right, but absolutely nothing in terms of a high-end left winger.
Anders Lee and Matt Martin are the only two natural left wingers who regularly dress for the club, and while both are having nice seasons it's a stretch to say either deserves to play on the top line. Capuano has tried to use just about everyone alongside Tavares and Okposo, and while some chemistry has been formed for short spans nothing has worked out well enough to keep together long-term.
It certainly won't be easy to find a talented finishing left winger on the trade market, but as we get closer to the deadline there will be teams looking to unload talent. Losing their first round pick in 2015 hurts the idea of the Islanders trading more picks for high-end players, but maybe the combination of 2016's first round pick, second round picks from 2015 and a prospect is enough to pry a top left winger away from a team that will inevitably  fall out of contention over the next few weeks. Maybe a certain winger whose relationship with the city he plays in is on the rocks that you could reach by money phone.
Not to get completely experimental here, but maybe if a trade isn't in the works you even explore the possibility of moving Tavares to the wing. He's been great this season, but the knock on him throughout his career has always been that he's not very good on face-offs. He did play on the left wing for Canada at Sochi, and performed well before the injury.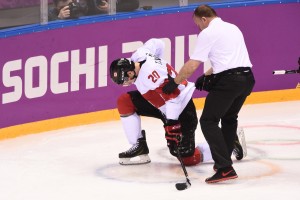 Let's hope one of those other guys is available instead…
Two areas of need if this team is going to contend this season. Which is more important? How do you address both, or do you address both?
Bantam, Midget, Junior, Pro hockey scout at International Scouting Services. Hofstra University alum.