With PA Parenteau put on waivers on Monday and Ryan Pulock and Adam Pelech sent to the AHL-affiliate in Bridgeport on Tuesday, the New York Islanders opening night lineup will be an interesting one.
The Islanders' Forward Lines
The newest faces on the Isles, Matthew Barzal, Anthony Beauvillier and Dennis Seidenberg will all need someone to play with and while it's unclear where they'll fit in, it is clear that all three will be given an opportunity to play.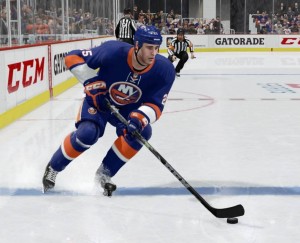 With Barzal looking to find a spot up the middle, it's fair to say that Brock Nelson will naturally take Parenteau's spot on the top line. Can he set a new career high in goals? Can he stay consistent all season long? With Islanders' captain John Tavares looking to bounce back from an "off" year in 2015-16, where he scored 70 points, he'll potentially have a linemate in Nelson who wants to prove something as well.
Ryan Strome has an opportunity to center the Islanders second or third line, where he'll have a host of potential linemates, ranging from Josh Bailey and Nikolay Kulemin to Beauvillier and Anders Lee. Considering how well Barzal, who is rated a 67 in NHL 17, plays early on, will dictate who he skates with. As of right now, it makes the most sense to put Strome with Lee, who's coming off a weak 15-goal season but has the potential to score twice as many if he's with people that can get the puck on net.
The fourth line of Casey Cizikas, Cal Clutterbuck and new acquisition Jason Chimera ironically is the most dependable on the team. While they won't be the hit-heavy trio they were when Matt Martin was on the squad, Chimera's skating ability makes them capable of keeping possession and agitating the opposition.
---
Related – Inside Look at the Islanders in NHL 17
---
Defense
On defense, the addition of Seidenberg (over Pulock or Pelech) makes the Isles much more responsible and gritty. The fact that Seidenberg is rated an 85 in the game improves the Islanders team rating on defense as well. However, Pulock's monster shot from the point means that the Isles will have to count on Johnny Boychuk and Nick Leddy – and possibly Strome – on the point during the power play. In the end, there are way too many questions, but there's no lack of talent. Someone just has to step up.
Expectations
With the three-headed monster of Jaro Halak, Thomas Greiss and JF Berube in net and a host of youth injected into the team, this season's Isles will be an exciting team to watch, but the question remains if they can get to the playoffs and the 100-point plateau for a third consecutive season. Barring injuries, they'll be a tough team to play against, with plenty of speed and depth. And even if the injury bug hits, there will be plenty of young faces that can fill in and make sure the team challenges for the final playoff spot in the Metropolitan Division.
Over the past ten years as a working journalist, Patrick Hickey Jr. has covered the New York Islanders, New York Rangers and New Jersey Devils, as well as the Brooklyn Aces of the former EPHL, contributing pieces and/or holding Editorial positions at NBC, New York Sports Day, NY Sportscene Magazine and the New York Times. During that time, he has interviewed NHL stars the likes of Brendan Shanahan, Bernie Nicholls, Bob Probert, Martin Brodeur and Zach Parise. He is also the first winner of the New York Islanders Blog of the Year Award, for his work on TheDriveForFive.com in 2008.