As the New York Islanders prepare for their rematch against the Nashville Predators on Saturday at Bridgestone Arena, the team will most likely welcome back forward Andrew Ladd. To make room for Ladd when he is eventually activated off the injured reserve list, Tanner Fritz has been loaned to the team's American Hockey League affiliate, the Bridgeport Sound Tigers. On a separate note, the team has also parted ways with free agent signing Jan Kovar.
Ladd Nears Return
Ladd came to training camp early and ready to go. This summer, the veteran winger changed his offseason routine, looking to bounce back from a disappointing 12-goal, 29-point campaign. However, towards the beginning of training camp, Ladd left a scrimmage with what was described by head coach Barry Trotz as "tightness". The tightness, or whatever was bothering him, kept the 32-year-old out of 12 straight practices and all eight of the team's preseason games.
At the start of the season, the team placed Ladd on IR, but with three games already behind the Islanders, Ladd appears ready to make his season debut.
"I think he's moving forward. I put him there so mentally you're working towards something. Maybe Nashville and if not I'm sure he'll be ready to go after that," Trotz told the media after practice on Thursday. "He hasn't had any setbacks so that's a good sign."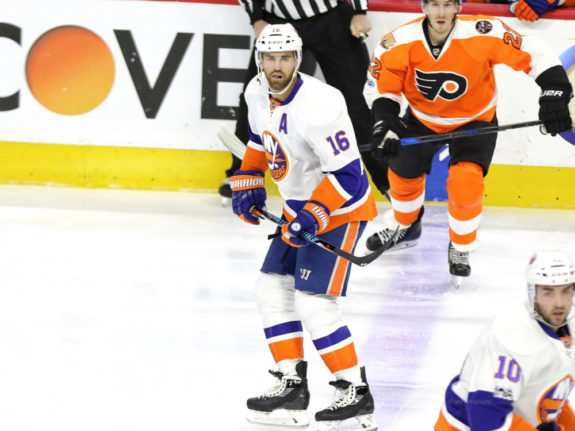 For Ladd, this is Year 3 of a seven-year deal worth $38.5 million he signed with the Islanders back in 2016. For the most part, Ladd's play through his first two seasons in Brooklyn has been disappointing, with 35 goals and 60 points in a combined 151 games.
In practice Thursday, Ladd took regular line rushes with the team's third line centered by Valtteri Filppula. Leo Komarov, who played the first three games of the season as the left wing on that line, moved over to the right side to accommodate for Ladd's return.
Fritz to Bridgeport
Throughout the preseason and training camp, Trotz constantly praised Tanner Fritz for how well he was playing. The 27-year-old saw his first 34 games of NHL action last season, scoring three goals and seven points for the Isles.
Trotz added on Fritz that Lou Lamoriello thought it was best to put Fritz on waivers this week, when there's a glut of players on waivers as many are re-assigned to AHL.
Team was concerned Fritz might be claimed.
"The timing of putting people on waivers is critical," Trotz said. https://t.co/E3nOp801C9

— Andrew Gross (@AGrossNewsday) September 26, 2018
Although Fritz was placed on waivers during training camp, he stayed with the big club once it was official that all other 30 clubs passed up on the chance at claiming him. Playing on the third line for the first two games of the regular season, Fritz looked good and even picked up a primary assist on Filppula's second goal of the season last Saturday against the Predators. However, Fritz was a healthy scratch for game No. 3, as Tom Kühnhackl made his Islander debut and took his place in the lineup.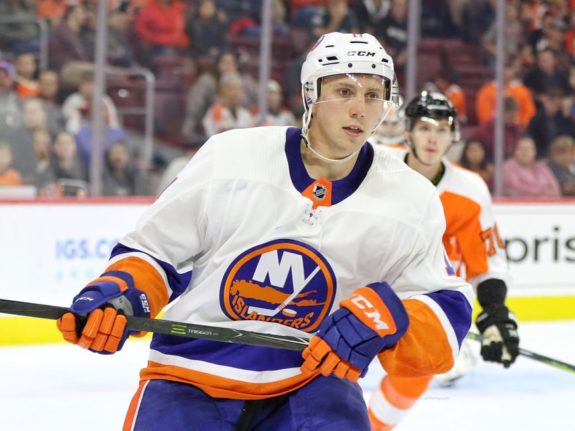 Now Fritz, most likely to make room for Ladd coming off the IR, heads back to Bridgeport where he has scored 31 goals and 92 points in 117 games over the past three seasons.
Even though Fritz is headed to the minors for now, that doesn't mean he won't be back with the big club at any point this season. "I've got a lot of time for Tanner right now," Trotz told Andrew Gross of Newsday on Thursday. "He's a player that I think is continuing to improve. I don't think that's the last you'll see him for sure."
Kovar and the Islanders Part Ways
It just didn't work out. On July 9, the Islanders took a chance on Jan Kovar, signing the Czech Republic native to a one-year deal worth $2 million. Three months later, he and the Islanders have agreed to part ways before Kovar played a single game for the organization. What went wrong?
There was a lot of hype surrounding Kovar. The 28-year-old center scored 286 points in 285 games with Magnitogorsk Metallurg of the KHL over the course of five seasons and recorded five points in six games at the Winter Olympics with the Czech Republic.
However, his preseason was underwhelming with one goal and an assist in four games. Ultimately, it was his contract status that made the decision for the Isles so easy. Kovar was waiver-exempt so the team made him one of their two final cuts (defenseman Devon Toews the other) to comply with the NHL's 23-man roster limit.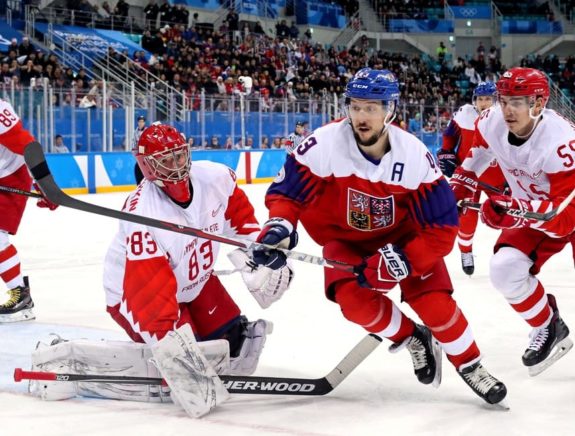 But unlike Toews, Kovar didn't report to Bridgeport and was said to be "taking some time to figure out his next move". Five days after that was reported, it was announced that the Isles had placed Kovar on unconditional waivers for the purpose of contract termination.
According to KHL insider Aivis Kalnins, Kovar is still seeking a chance to play in the NHL but is more likely to rejoin Magnitogorsk Metallurg where he has spent the past five seasons of his career.