It's somehow appropriate that the New York Islanders play the Boston Bruins on Monday. Of the tens of thousands of NHL games played since the league was founded in 1917, few looked like a bigger mismatch and ended as a bigger upset than the Islanders' visit to Boston Garden on Jan. 18, 1973 — exactly 48 years ago.
The expansion Islanders were on their way to the worst season in NHL history; they finished 12-30, with six ties, 30 points and set a league record for futility (the marks for fewest wins and points have long since been eclipsed). New York arrived in Boston on a 12-game losing streak, after they defeated the Minnesota North Stars 4-2 in their final game before the Christmas break for their fourth win of the season; they scored 13 goals in those 12 losses.
Overall, the Islanders had a 4-37 record with four ties through 45 games. That included an 0-4-0 mark against the defending Stanley Cup champion Bruins, who outscored them 28-9
Boston Garden 'Wasn't a Fun Place'
"Back then, we had a lot of guys who were just thrown together — misfits," Islanders center Lorne Henning remembered years later. "Boston Garden wasn't a fun place to play. We thought we were going to get hammered."
The Bruins weren't quite the dynamic force that had won the Cup in two of the previous three seasons, but they were 10-2 with one tie in their previous 13 games and had lost just two of their previous 24. A game against the worst team in the NHL figured to be an easy win that would let future Hall of Famers Phil Esposito, Bobby Orr and Johnny Bucyk pad their scoring totals and put on a show for the home fans.
Not surprisingly, considering the opposition, the Bruins started rookie goalie John Adams instead of veteran Eddie Johnston. The Islanders started their own rookie goalie, a kid named Billy Smith they'd snagged from the Los Angeles Kings in the 1972 NHL Expansion Draft.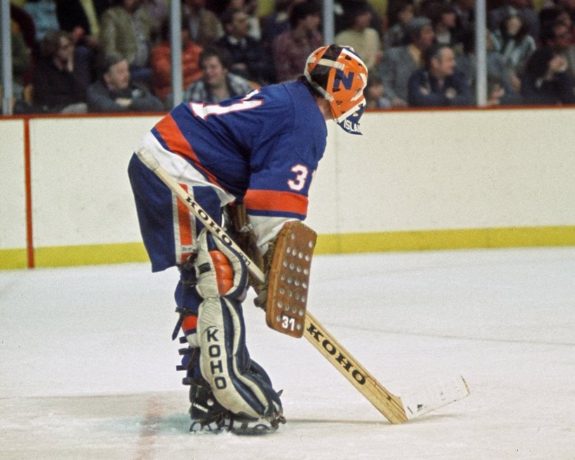 "I think they must have had a big party the night before," Henning said of the Bruins. "They weren't very fired up to play us."
To the consternation of the crowd, the Islanders grabbed a 1-0 lead when Don Blackburn, a 34-year-old journeyman forward who began his NHL career with the Bruins 10 years earlier, scored 2:16 into the game. The crowd was further upset when New York's prized rookie, forward Billy Harris, made it 2-0 at 10:36.
The booing began in earnest when Henning scored at 12:52 and continued after Islanders captain Ed Westfall, an ex-Bruin and fan favorite who had sipped champagne with his teammates after Boston won the Cup eight months earlier, made it 4-0 at 15:55, and Blackburn scored again at 17:46 to give the Islanders a 5-0 lead.
"We caught them flat‐footed. We got one, two, three goals and we just on kept on going," said Islanders coach Phil Goyette, who was fired less than two weeks later. "We charged at them from the start."
Bruins Wake Up
Bucyk quieted some of the boobirds with a late goal, but the home side got an earful when the Islanders skated off after 20 minutes with a 5-1 lead.
Johnston replaced Adams to start the second period, but Westfall scored his second of the game at 1:31 to restore the Islanders' five-goal lead. However, the role reversal quickly ended, as the Bruins returned to their elite form and the Islanders played like the team that hadn't won in nearly a month.
Wayne Cashman scored a power-play goal at 4:16 to make it 6-2, and Bucyk got his second and third goals of the night before the period was halfway gone, cutting Boston's deficit to 6-4.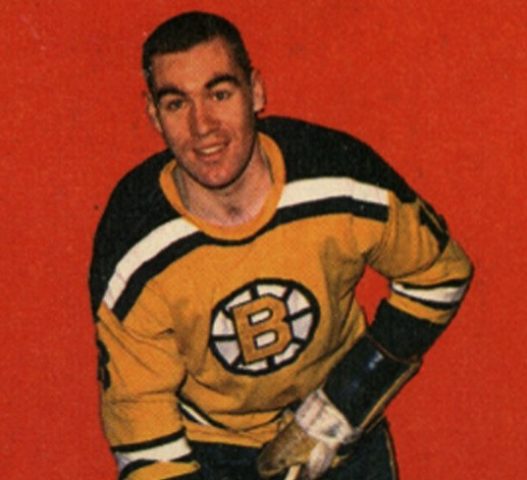 "We weren't used to success," Westfall said years later. "Our big lead started to dwindle, and the poise of the Bruins was showing."
The Islanders may have bent, but they didn't break. Defenseman Bryan Lefley stepped out of the penalty box and scored his first NHL goal on a 3-on-1 break to put New York ahead 7-4 after 40 minutes.
However, there was still 20 minutes remaining, and the Bruins had no intention of being embarrassed by the expansion team from Long Island. Cashman scored his second of the night at 6:50 and Terry O'Reilly threw the puck from behind the net off a skate and over the goal line less than two minutes later, making it 7-6.
Using His Head
Again the Islanders refused to break. Tom Miller scored at 11:00 after some sloppy defensive play by the Bruins in their own zone for an 8-6 lead. Bucyk's fourth of the night at 12:37 got Boston within a goal again, but Smith stopped everything he saw for the rest of the night, even using his mask to deny Cashman's blast from the slot to keep the Islanders ahead.
"Wayne Cashman took a shot from the blue line that hit me in the head," Smith told Sports Illustrated. "[Billy] Harris picked the puck up and went down and scored, or we sure as hell would have blown it." Harris, the first player taken in the 1972 NHL Draft, did just that when he scooted around the defense, cut in on goal and beat Johnston to make it 9-7.
Bright Spot for Islanders
The Islanders held on for the victory, by far their most satisfying win in a historically bad season. "Western Union (a ticker service) is going to have all kinds of queries when they send out that score," Isles general manager Bill Torrey chuckled.
It was a nightmarish evening for the Bruins, who couldn't believe that a rag-tag expansion team had beaten them – at home, no less.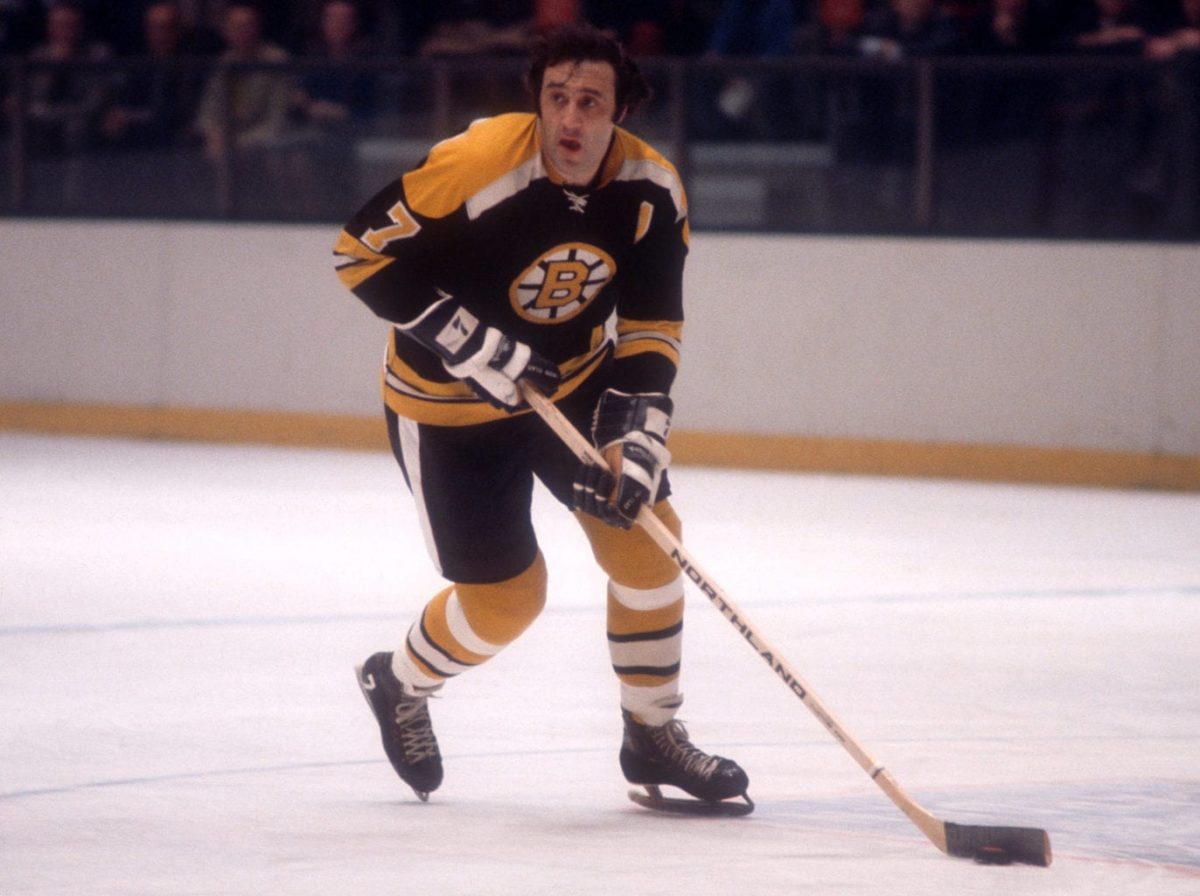 "We got caught with our pants down. It was embarrassing, really," Esposito told author Barry Wilner. "Here we are, the champions of the NHL, a so-called powerhouse, and these guys come into our building after losing 12 games in a row and whip our butts."
For the Islanders, it was a night to remember during a forgettable season. "It was unbelievable," defenseman Gerry Hart said. "It was like winning the Stanley Cup."
Seven years later, the Islanders experienced their own Cup win, defeating the Bruins in the Quarterfinals along the way. Smith was in goal and Henning started the play that led to Bob Nystrom's Cup-winning overtime goal in 1980, a play that gave birth to a dynasty that saw New York win four consecutive championships and an NHL-record 19 consecutive Stanley Cup Playoff series.
But the shocking win against the defending Cup champions still has a place in Islanders history: In 178 regular-season and playoff games against the Bruins since that night, they have yet to score nine goals again.
---
---