The Ottawa Senators kicked off their 2020-21 campaign against the Toronto Maple Leafs on Friday night, playing for the first time in 310 days. It was technically the longest offseason in franchise history, but it was well worth the wait. This season, the Senators have many new faces in the lineup that vary in age — nine of them to be exact — so fans didn't know what to expect going into camp.
As most projected the Sens to finish last in the North division, they came out with tons of fire and energy in game one but leveled out the second night against Toronto. It's going to be a short season this year, but the plan seems to be off and running in Ottawa. Thomas Chabot opened the season scoring Ottawa's first goal, and top prospect Tim Stützle also got on the board for the first time in his NHL career. Here's the latest news from the Senators over the past couple of days.
Item One: White Scratched Game 1, Plays Game 2
One of the bigger changes to the lineup before puck-drop against the Maple Leafs on Friday night was D.J. Smith's decision to make forward Colin White a healthy scratch. White, Ottawa's first-round selection (#21) at the 2015 draft, has still yet to secure his position in the Sens lineup. In the 2018-19 season, White played 71 games and recorded 41 points but his totals dropped last year where he only notched 23 points in 61 games.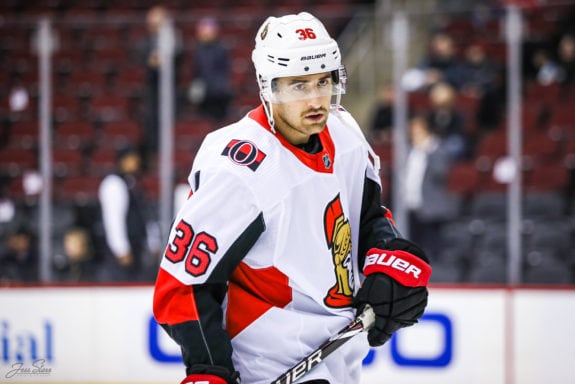 All signs were showing that White had a great training camp, but Smith wasn't pleased with how it ended. The decision to scratch White was a bit of a headscratcher, no pun intended. White is in the second season of his six-year, $28.5 million deal, but Smith said this wouldn't be a permanent decision and, as a result, veteran Artem Anisimov was scratched the next night for him. Smith also said he wasn't going to be making any changes on Saturday, but that clearly was reversed.
It's no secret that the organization wants White to be more consistent in his preparation and overall play. As the club has said many times in the offseason, every spot in the lineup must be earned. "He's got to skate, he's got to track and he's got to do all the things like forecheck, skate, block shots and play solid in his own zone and let the offence take care of itself. He's been fine. It's just a situation where we had some older players and some guys who played really well," Smith said before facing the Leafs.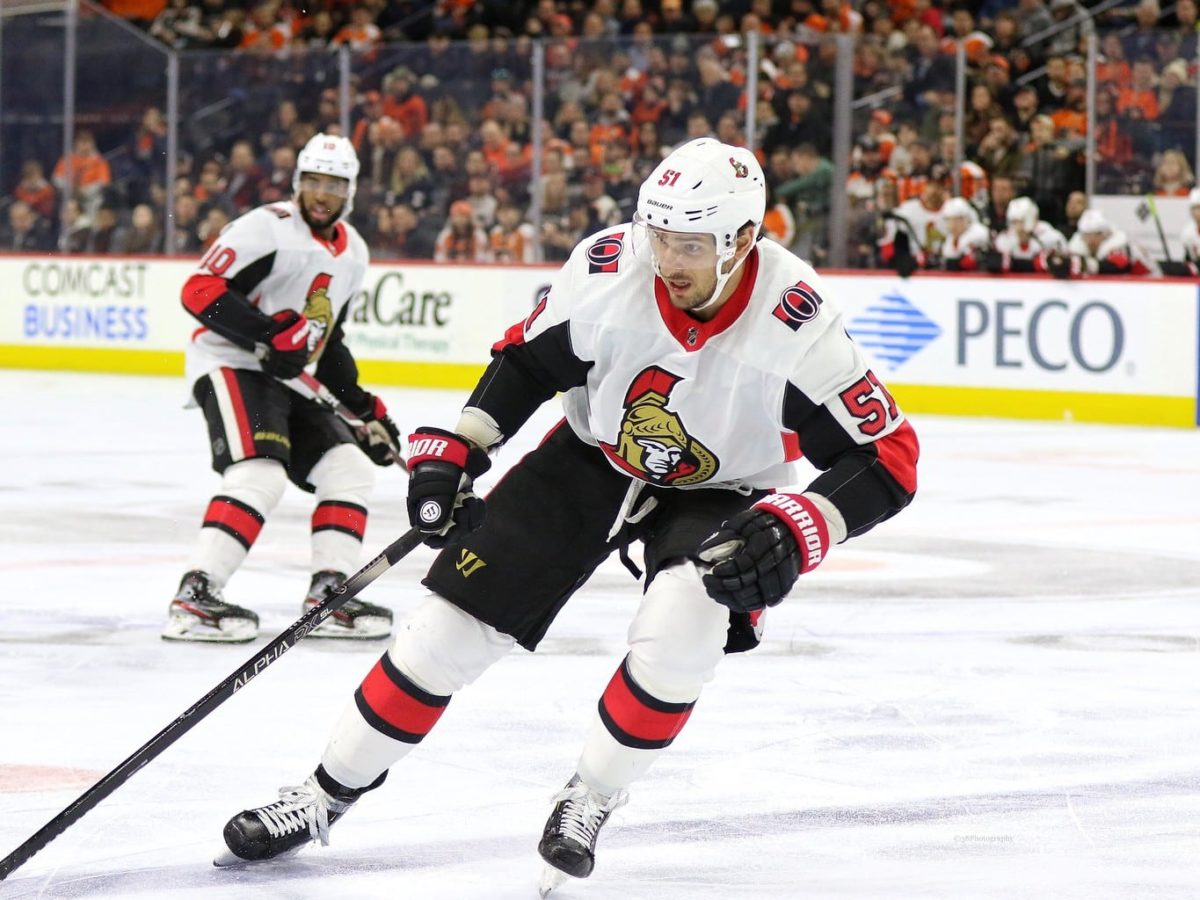 Smith's decision wasn't based soley on White's camp, but also on the players ahead of him. With the addition of veteran players like Derek Stepan and Cedric Paquette just before camp began, the Senators have a lot more depth in the middle now. Anisimov's performance in camp was a surprise for the coaching staff and they felt he deserved the chance to play. Anisimov was virtually invisible in game one, so White got his chance in game two and recorded one assist in a 3-2 loss to Toronto.
Item Two: Batherson, Norris, Tkachuk Line Shines
Speaking about lineup surprises, young forwards Josh Norris and Drake Batherson got their first chance at top-line minutes and didn't disappoint. Of course, their counterpart Brady Tkachuk was a big help but this top-line looks deadly for the Senators. Norris, who was acquired from the San Jose Sharks as part of the Erik Karlsson trade in 2017, played only three games in the NHL prior to Friday night's season opener, while Batherson had played 63 but has spent most of his time in the AHL.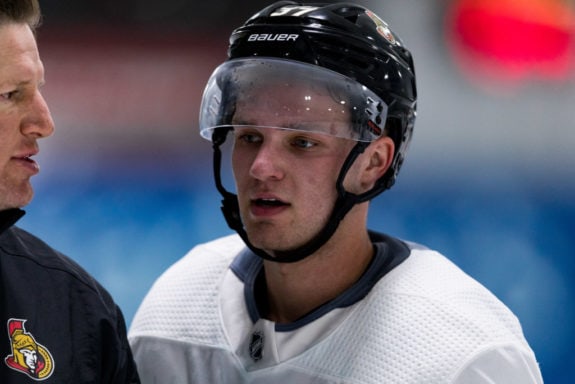 It didn't take long for the line to get going. In Friday night's game, all three players combined for seven points in the 5-3 victory over the Maple Leafs. Tkachuk recorded one goal and added two assists while both Norris and Batherson got a pair of assists each. It was good to see Norris finally get his chance and the Sens have big expectations for him down the middle of the ice. On the other side, Batherson, Ottawa's fourth-round selection (#121) in 2017 has really developed into what looks like a complete NHL player.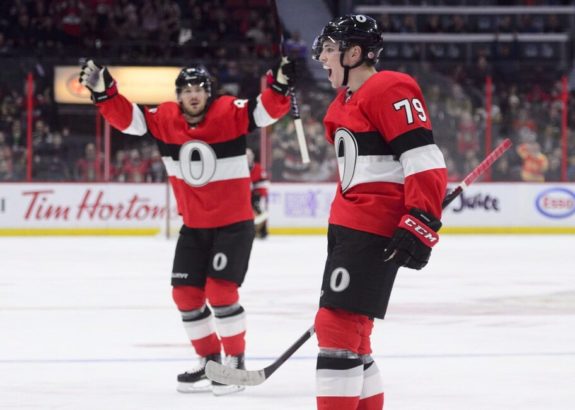 Batherson spent time developing his game with the Belleville Senators in the AHL where he recorded 116 points in 103 games. "The biggest thing is, so many people want to rush young players into the lineup and you hear, 'why isn't this young guy playing or that guy playing?' I think what people don't understand is, you can't play until you're ready," Smith said pre-game Saturday. Smith continued by pointing out the fact that just because high picks get opportunities right away, doesn't mean that's always the best for their confidence and overall game.
Batherson is a prime example of the Sens being patient and using their development system to choose the right time to bring players up to the big club. All question marks and finger-pointing at Pierre Dorion's decision last year to send Batherson down to the minors is now in the rearview and he looked like one of the best players on the team this past weekend.
Item Three: Paul Stands Out, Stützle Scores
Another player who spent time developing and finding his stride in Belleville was forward Nick Paul. Paul, selected 101st by the Dallas Stars in 2013, was acquired by Ottawa as part of the Jason Spezza trade back in 2014. After spending the better half of the last five seasons in Binghamton and Belleville, occasionally getting games in the NHL, Paul has started the 2020-21 season with a bang. He signed a two-year deal worth $2.7 million back in October and now has to prove he's here to stay with the big club.
He's off to a hot start with a goal and an assist through the first two games but his play off of the puck and his attention to detail are what's stood out so far. "The big thing with Nick is that he wins the fitness award every year. He rarely gets tired. He's big, strong, tough, and he's got good detail to his game and can play different scenarios," Smith said before Saturday night's tilt. He's starting to look reliable and someone the Sens and Smith can depend on every night.
The second game where Paul got his goal was also where Stützle got his first. The young German centerman played his first NHL game on Friday, his 19th birthday. He would, unfortunately, have to wait for his late birthday gift, but it was spectacular once received. He made a great effort to keep the puck in the offensive zone, throw it back to Chabot from the point, and then ridiculous hand-eye skill was on display. You can see the full play here.
"It was definitely a great feeling. It was a puck which was pretty high in the air. I wanted to get the puck to the net and I thought I hit it pretty good and it went in," Stützle said after the game. What Sens fans should take away from this is that he was adamant about not being able to get the win in the end.
It's a great sign of the leadership and determination the young man shows. Through his first two games, the entire NHL has taken notice of his game. He looks like he hasn't missed a step since the World Juniors came to an end, but it's just the start of a very long and promising career.
What's Next For the Senators?
The Senators will continue to be at home for a little longer when they host the Winnipeg Jets on Tuesday and Thursday night this week. Along with Stützle getting his first goal in Ottawa, Stepan and Austin Watson joined him.
Through the two games, coach Smith has already shown he's ready to experiment with the lineups, too. White was subbed in for Anisimov after one game, Mike Reilly replaced Christian Wolanin on Saturday and during the season opener, and the experiment of Chabot and Erik Gudbranson as a pair was quickly broken up through one period. They've shown a ton of swagger and won't let the other teams in Canada push them around. We're off and running in 2020-21 and it will be interesting to follow the ebbs and flows of the Senators all season long.
---
---