If the life cycle of a franchise looks like a bell curve, the St. Louis Blues are at or near the top of theirs. They won the Stanley Cup at the conclusion of the 2018-19 season, so, naturally, they are not fixated on the future of the team four or five years down the line.
Consequently, the Blues' prospect cupboard is looking emptier than some might like. But a fanbase should always be aware of what the future holds for their franchise. In this article, we will examine the Blues' current prospect pyramid, an annual sorting of the team's prospects into tiers. You can see past pyramids here:
Some of the players from those past pyramids, including Robert Thomas, Sammy Blais, Zach Sanford, and even Jordan Binnington, have graduated to become major players for the Blues. But who might be next? Before we dive into the names, let's remember what a prospect pyramid is in the first place.
What is a Prospect Pyramid?
The concept of a prospect pyramid was created by podcaster, Youtube personality,  and Sportsnet correspondent Steve Dangle. Tired of arbitrary 1-20 rankings, Dangle decided to rank them in tiers that would eliminate the needless arguing over who was, say, the fifth versus the sixth or the eleventh versus the twelfth.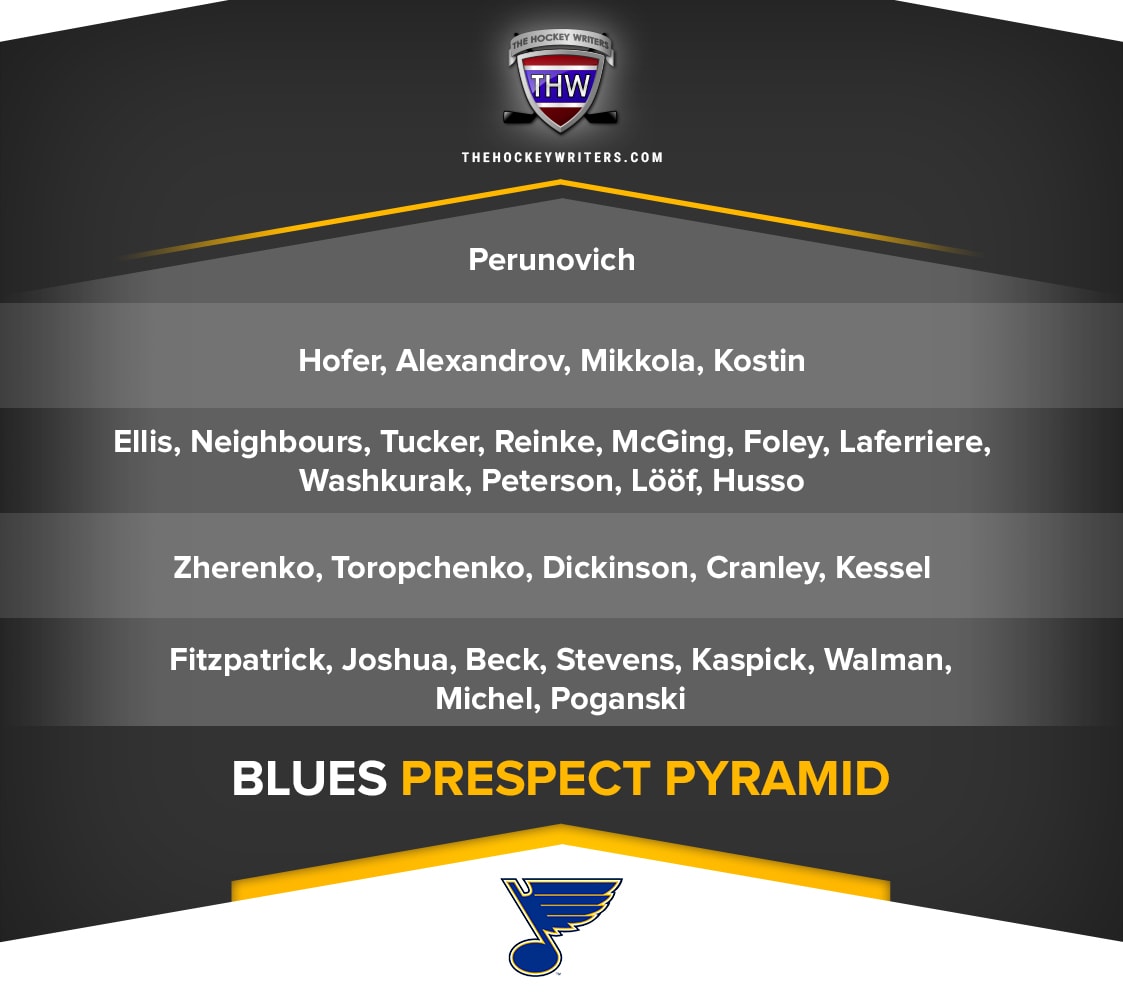 Here, the tiers are valued as follows: Tier 1 is reserved for the league's elite prospects. Alexis Lafrenière is a clear example of such a prospect, and the strictest definition of Tier 1 might include only him. But Quinton Byfield and Tim Stuetzle could be included as well. Tier 2 is meant for prospects who are likely to be very, very, very good NHL players; strong top-six forwards, top-pairing defensemen, or starting goalies, and should be there soon. Tier 3 is for players who could fall into the Tier 2 category but might be further off, and/or with slightly lower ceilings.
Tier 4 players have a shot at being pretty good NHL contributors; in the top nine, starting defenders, or fringe starters/strong backups. Tier 5 is where a player's chance of making the league taper off a bit. If they do make it, they'll likely be bottom-six forwards, third liners, seventh defensemen, or backup goalies. Finally, Tier 6 is a catch-all category for the rest. These players either have an uphill battle to make the NHL or there is too little information available to make an assessment.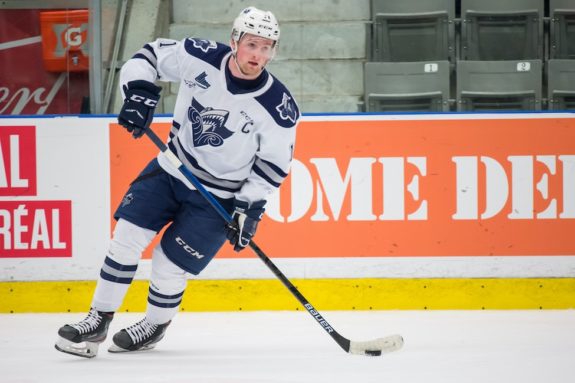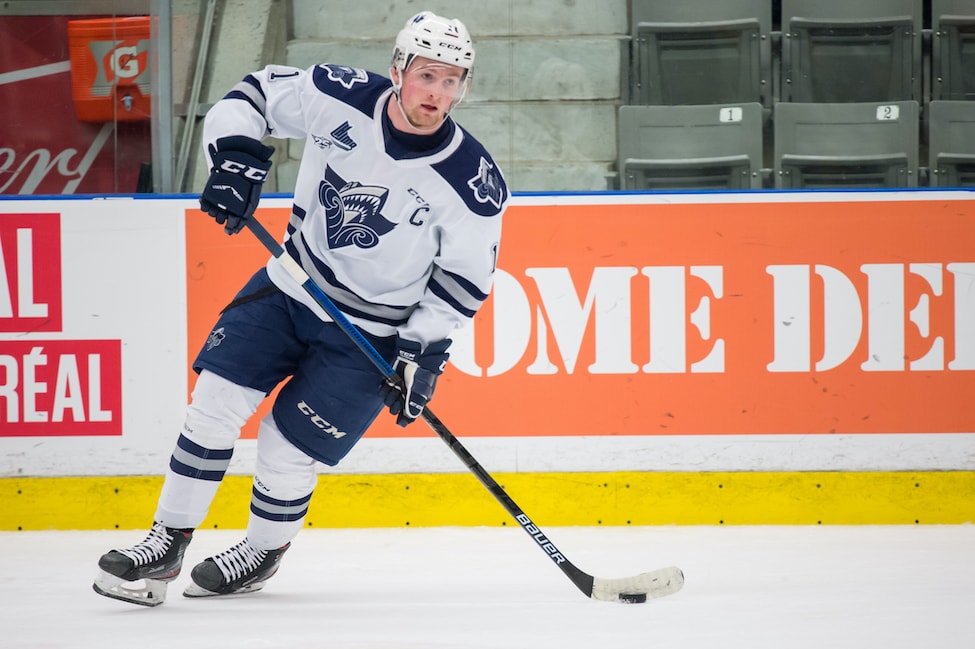 Two more things should be considered for this pyramid: first, each player is placed in a tier based on a synthesis of their talent and their readiness. If a player has a high ceiling but is a long way from the NHL they will be lower down on the pyramid. Finally, while the Blues drafted a new group of prospects in June, there is relatively little information about them at this point. We will include them in this discussion, but take their ranking with a grain of salt. Now, let's get to the prospects!
Tier 1 is Empty
With everything we've said so far, it should come as no surprise that Tier 1 of the pyramid is empty. Originally, Tier 1 was meant to be reserved for the most elite of the elite prospects. In his most recent pyramid, Dangle argued that his original restriction was too severe; however, if elite is truly to mean elite, the original definition is fitting.
The Blues have not had a Tier 1 prospect enter their organization in many years, at least not since they drafted Erik Johnson first overall in 2006. And even then, in a weaker draft, one could argue Johnson didn't fit the mold. So Blues fans should not consider it a condemnation for the organization not to have a Tier 1 prospect. Typically, the teams that do have struggled for many years and earned top draft picks as a consequence.
Tier 2: Scott Perunovich
As the Blues organization ages, there's a risk that they won't have even so much as a Tier 2 prospect in years to come. But thanks to some expert drafting in the second round in 2018, that hasn't happened yet. The Blues were so excited to draft Scott Perunovich that year that they brought a jersey with his name on it to the draft, a rarity for any prospect outside the first round. And the undersized left-handed defenseman, who had been passed over in two previous drafts, has more than validated their confidence in him.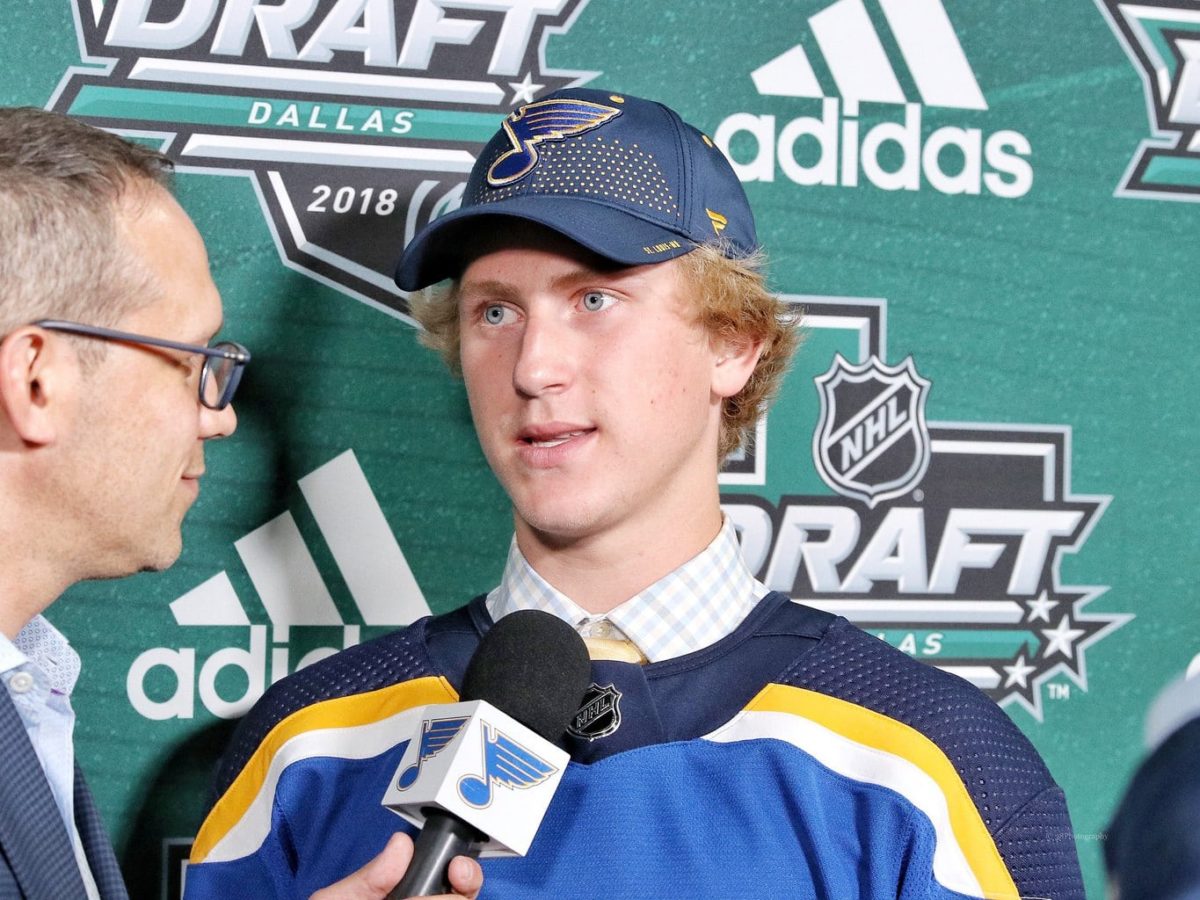 Playing with the University of Minnesota-Duluth Bulldogs in the NCAA, Perunovich became a better and better offensive-defenseman. In fact, his Bulldogs looked to be on their way to a third-consecutive NCAA Championship before the COVID-19 pandemic cancelled the season. Even so, his 40 points in 34 games earned him recognition as the Hobey Baker Award winner, hockey's equivalent of the Heisman Trophy for the best player in the NCAA.
Perunovich is an elite puck-handler whose hockey-IQ and skating should more than compensate for his size as he transitions to the next level. He has incredible vision on his passes and is as creative a playmaker as you'll find on defense. There are questions about how well he'll defend at the next level, but he has skill enough to at least become a player like former Blue Kevin Shattenkirk: dangerous on the power play and a dynamic playmaker, even if he needs to be protected in his own end a bit. He is unquestionably the Blues' most untouchable prospect.
Tier 3: Joel Hofer, Nikita Alexandrov, Niko Mikkola, Klim Kostin
The Blues saw two breakout performances at last year's 2020 World Junior Championship: Joel Hofer and Nikita Alexandrov. Hofer entered the tournament unlikely to see the ice for Team Canada but took over in relief during a game and never let go of the net, posting a 1.30 goals-against average (GAA) and a .946 save percentage (SV%) along with a shutout and a 5-0-0 record. He was named the tournament's best goalie for carrying his team to a gold medal. He also looked good (34-8-5, 2.49 GAA, .915 SV%) during his first full season with the Portland Winterhawks.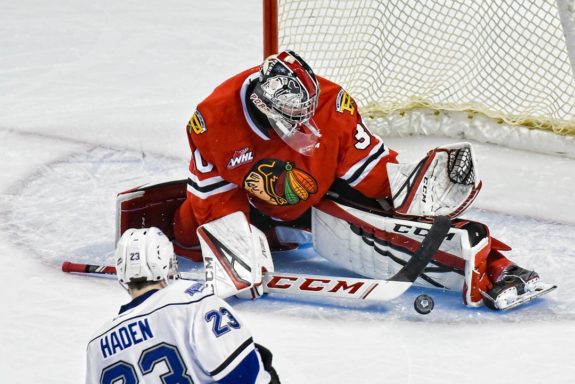 Alexandrov was on the other side of that gold medal matchup, and managed two goals and six assists in seven games. He also posted 54 points in 42 games with the Charlottetown Islanders of the QMJHL. The Athletic's Senior Prospect Writer Corey Pronman says "Alexandrov shows great touch with the puck, and creates chances for his teammates very well with his vision and small-area skills. He also has a very good shot and can score from range" (from '2020 NHL organizational rankings: No. 20 St. Louis Blues,' The Athletic NHL, Aug. 31, 2020).
Hofer has the potential to one day become an NHL starting goalie, and he has the size pro organizations covet at 6-foot-5. Alexandrov could develop into a middle-six forward with power play potential. Unfortunately, as with many players in this article, we haven't gotten to see either Hofer or Alexandrov since the pandemic cancelled the season. Both players were expected to play in the American Hockey League with the Springfield Thunderbirds, but the Thunderbirds opted out of the season and the Blues will be sending their prospects to the Utica Comets.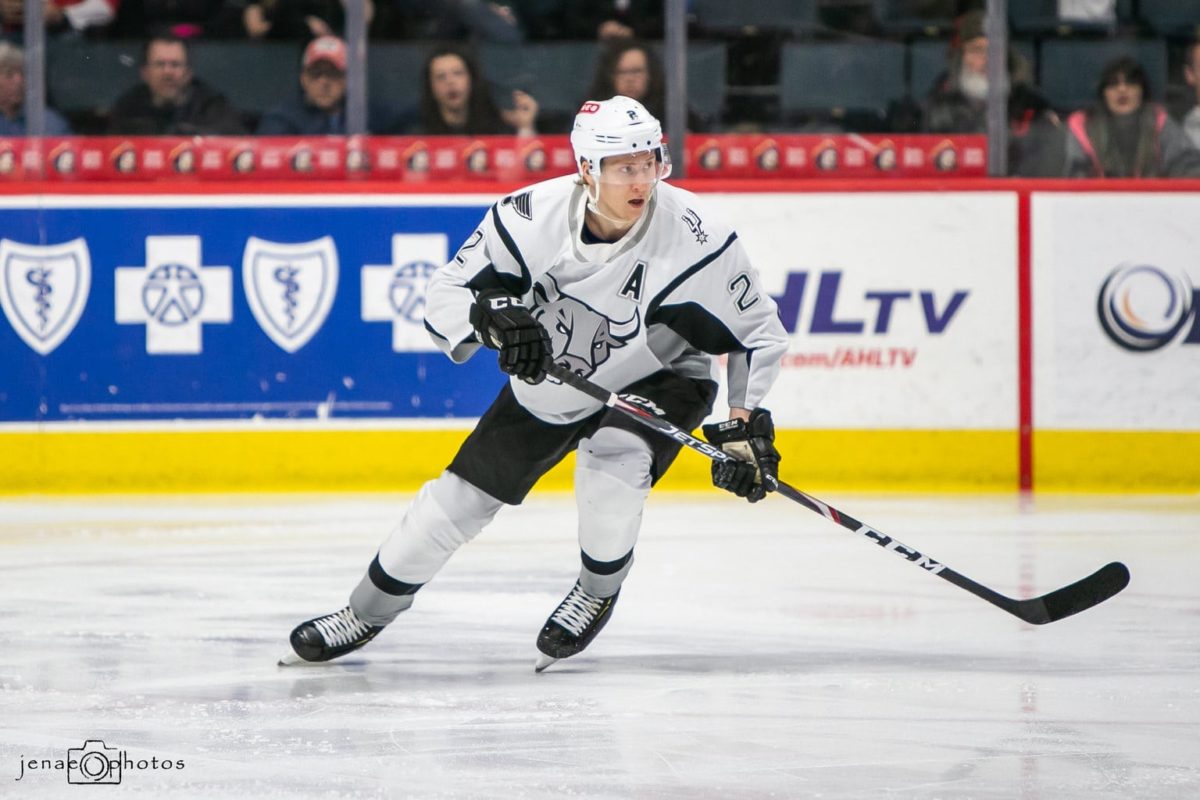 Niko Mikkola is an interesting enigma. He possesses almost no offensive upside, but even in the modern-day NHL, he looks to possess enough skating, size, and defensive ability to make it. Pronman explains: "when you are 6-foot-4, skate well for that size, play hard and can make a good first pass, I think that's enough to project to play at the top level." Mikkola was a key player in Finland's run to gold at the 2019 World Cup of Hockey. He even got a five-game cameo in the NHL last season and looked capable. Now, the Blues just need to find a slot for him, because he's ready.
Kostin is an enigma in his own right, and many wonder whether he'll reach the potential he once seemed to have. He had a better AHL season in 2019-20, though he had four NHL games and scored his first goal. He has struggled with discipline at every level and made headlines as captain of Russia at the 2019 WJC with an immature display on ice. Kostin still has plenty of skill, but he has to prove that he can put it all together before getting a permanent role in the NHL.
Tier 4
Forwards: Jake Neighbours, Hugh McGing, Erik Foley, Mathias Laferrière, Keean Washkurak, Dylan Peterson
Jake Neighbours
The Blues spent their first-round draft pick in the 2020 Draft on Jake Neighbours, a big forward playing with the Edmonton Oil Kings of the Western Hockey League (WHL). Standing 5-foot-11 and with over 200 pounds already on his frame, Neighbours is cut in the mold of a traditional power forward.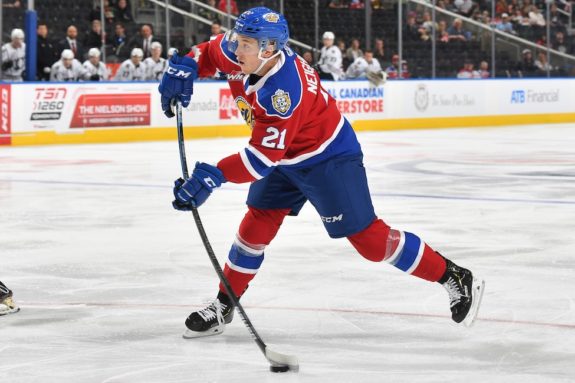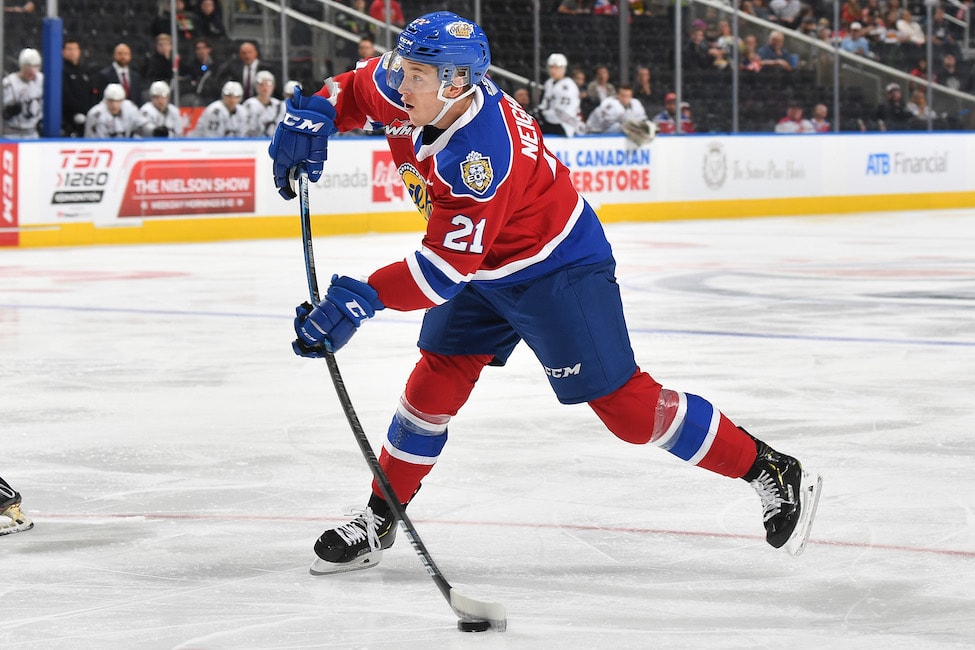 Taking Neighbours with the 26th pick was viewed by some as an overreach. Scott Wheeler of the Athletic had Neighbours ranked 51st in his pre-draft rankings, but did say positive things overall: "he's strong on the puck, I expect him to take a step as a goal scorer next season… [and] he gets to his spots as a shooter with ease" (from 'Wheeler: Updated ranking for the 2020 NHL Draft's top 100 prospects,' The Athletic NHL, Sep. 21, 2000). But general manager Doug Armstrong seemed pleased with the selection, comparing him to former Dallas Stars player Brenden Morrow.
But suddenly, Blues fans could get a chance to see Neighbours sooner than anyone expected. Due to the strange circumstances of the 2020-21 season, the Blues added Neighbours to the taxi squad on January 17 after an injury to Robert Bortuzzo. With no home in the WHL this season, could he see a surprise NHL debut at just 18? Time will tell.
Hugh McGing
Hugh McGing is the embodiment of an undersized dynamo, but most give him a solid chance of making the NHL. Listed at just 5-foot-9 and 174 pounds, McGing spent four seasons at Western Michigan University, finishing as their captain, with 117 points in 147 games. He is a strong and speedy skater with plenty of tenacity, can kill penalties, and if he makes the NHL, he will be a hit with fans (and with undersized color commentator Darren Pang). The only question for McGing is whether he'll provide enough scoring to offset his size.
Erik Foley
Erik Foley was sent to the Blues' as part of the Paul Stastny trade, and he looked likely to be able to join the team as a bottom-six power forward. Unfortunately, shortly after the trade, Foley began dealing with concussion issues that have never subsided. There is always hope for such players — Nolan Patrick has returned to the Philadelphia Flyers — but there is no certainty that Foley will ever play again.
Mathias Laferrière
The Blues selected Mathias Laferrière in the sixth round in 2018, and he has a good chance of contributing at the NHL level, which isn't a guarantee for a sixth-round pick. He played most of his junior hockey career with the Cape Breton Eagles (formerly the Screaming Eagles), maxing out with 74 points in 68 games in the 2018-19 season (though he was on pace for more in the following season before the season was canceled). The Blues signed him to an entry-level contract at the start of the shortened season.
Like a lot of Blues prospects, Laferrière has high hockey IQ, and adds to it a strong shot. If his skating improves and he continues to perform at a consistent level, he could be a bottom-six forward for the Blues in the future. With the Thunderbirds opting out of the season, Laferrière is staying in the QMJHL, but the Eagles have traded him to the Blainville-Boisbriand Armada.
Keean Washkurak
Keean Washkurak is the kind of player Blues fans will fall in love with if he makes the NHL. OHL coaches have voted him the Eastern Conference's hardest worker two years in a row. But hard work alone may not get him to the NHL. His offense will need to develop more. He did have 52 points in the 49 game shortened season and is now honing his game in Slovakia with the OHL still on pause. He's smaller, but a good skater. Can the work ethic get him to the biggest stage? Time will tell, but no one will try harder.
Dylan Peterson
A third-round pick from this year, Dylan Peterson is a project. He's entered Boston University, a program that produces NHL talent. In his draft review, Pronman said "Peterson's numbers may not wow you on initial glance, but he's a player with a very intriguing toolkit who showed progression during his time at the U.S. NTDP" (from 'Grading the Blues' 2020 NHL Draft: What we know about St. Louis' class,' The Athletic NHL, Oct. 7, 2020). It'll take a while to have a clearer picture of Peterson's projections.
Defense: Tyler Tucker, Mitch Reinke, Leo Lööf
Tyler Tucker
Tyler Tucker is proof that every pick matters. The 200th pick from the 2018 Draft originally caught the eye of the Blues' scouts due to his grittiness. But since his draft, he has transformed into a high-quality scoring threat, managing 59 points in 68 games with the Barrie Colts in 2018-19, and going even further with 56 points in 55 games split between the Colts and the Flint Firebirds in 2019-20. That put him eighth amongst OHL defenseman in scoring, directly behind certain future NHL players like Thomas Harley and Ryan Merkley.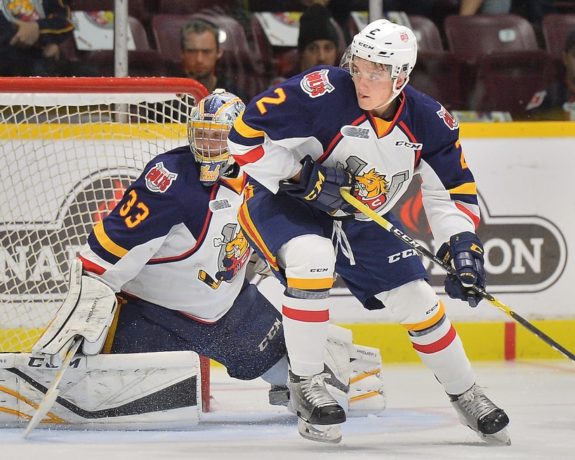 Pronman was effusive in his praise of Tucker, saying "Tucker was one of the top defensemen in the OHL, showing great two-way instincts, hard physical play and a good shot," but he admitted that "his skating will need to improve for the NHL level." One more concern for Tucker is discipline, totaling 182 penalty minutes in his final two OHL seasons. Still, with his offensive evolution, there are plenty of reasons for Blues fans to be excited about the former seventh-round draft pick.
Mitch Reinke
The Blues signed Mitch Reinke as a college free agent, and it looks like it was a smart move. He immediately made his NHL debut on a shorthanded Blues' roster but has been in the minors since then. In his first season with the San Antonio Rampage of the AHL, he broke a franchise rookie defenseman scoring record set by Keith Yandle many years before, notching 45 points in 76 games. The next season was bumpier, but he was starting to hit his stride before the pandemic shortened the season.
Reinke is a smart offensive defenseman and has one characteristic that makes him stand out among Blues defensive prospects: he's a right-handed defensemen. The Blues have very few youngsters on the right side, so he fills a coveted need. But he is soon to turn 25, and his time to be considered a "prospect" is quickly evaporating. With this season's strange taxi squad scenario, he will likely look to make an impact and grab a more permanent NHL place.
Leo Lööf
In taking Leo Lööf with the 88th pick in the 2020 Draft, the Blues took a chance on a bounce back candidate. In the season before his draft year, Lööf was a standout player in his age group in Sweden. But he regressed some in his draft year. As Pronman put it in his draft article: "Lööf has size, he competes well and he has some skill, but he doesn't make a ton of plays and his skating is average." Now, Armstrong is just hoping he catches back up to his peers.
Goalies: Colten Ellis, Ville Husso
Colten Ellis
The Blues typically spend at least one pick on a goalie in each draft, but in the 2019 Draft, they took two. Ellis was the first, selected with the 93rd pick. He is an undersized goalie, but extraordinarily athletic, and, playing in the QMJHL, might remind some Blues fans of Jake Allen.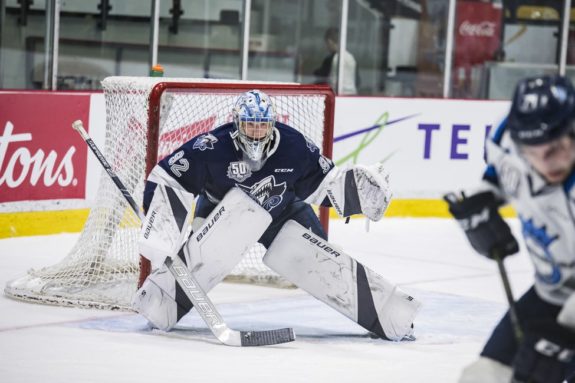 Ellis spent several seasons playing with the Rimouski Océanic behind Alexis Lafrenière, but after the first-overall pick's departure, they traded him to the Charlottetown Islanders. He's looked strong there in early returns, with nine games under his belt before the QMJHL season was paused again. But he had a 2.33 GAA with a shutout in that time. Ellis needs to work on his fundamentals and his positioning, and he needs to control his movement better in the net. If he can master that, he has the athleticism to overcome his size.
Ville Husso
Blues fans once expected young Finnish netminder Ville Husso to be their goalie of the future, before the revelation named Binnington arrived. But now, Husso enters the season as the team's primary backup even without a game of NHL experience. It's time for Husso to prove himself at the highest level. He'll turn 26 early in February and he's struggled some recently in the AHL. If he can perform well in the NHL this season, the Blues may have a long term solution as a backup or starter. But if he struggles, it may be time for the organization to move on.
Tier 5:
Forwards: Alexei Toropchenko, Tanner Dickinson
Alexei Toropchenko
Once upon a time, many Blues fans had high hopes for Alexei Toropchenko. The 2017 fourth-round pick had an impressive career with the Guelph Storm after coming over from Russia, culminating in 43 points in 62 games in the 2018-19 season. He added a very impressive 19 points in 24 playoff games that season. His OHL career, combined with his size (he stands 6-foot-3) convinced many Blues fans that he had a bright NHL future.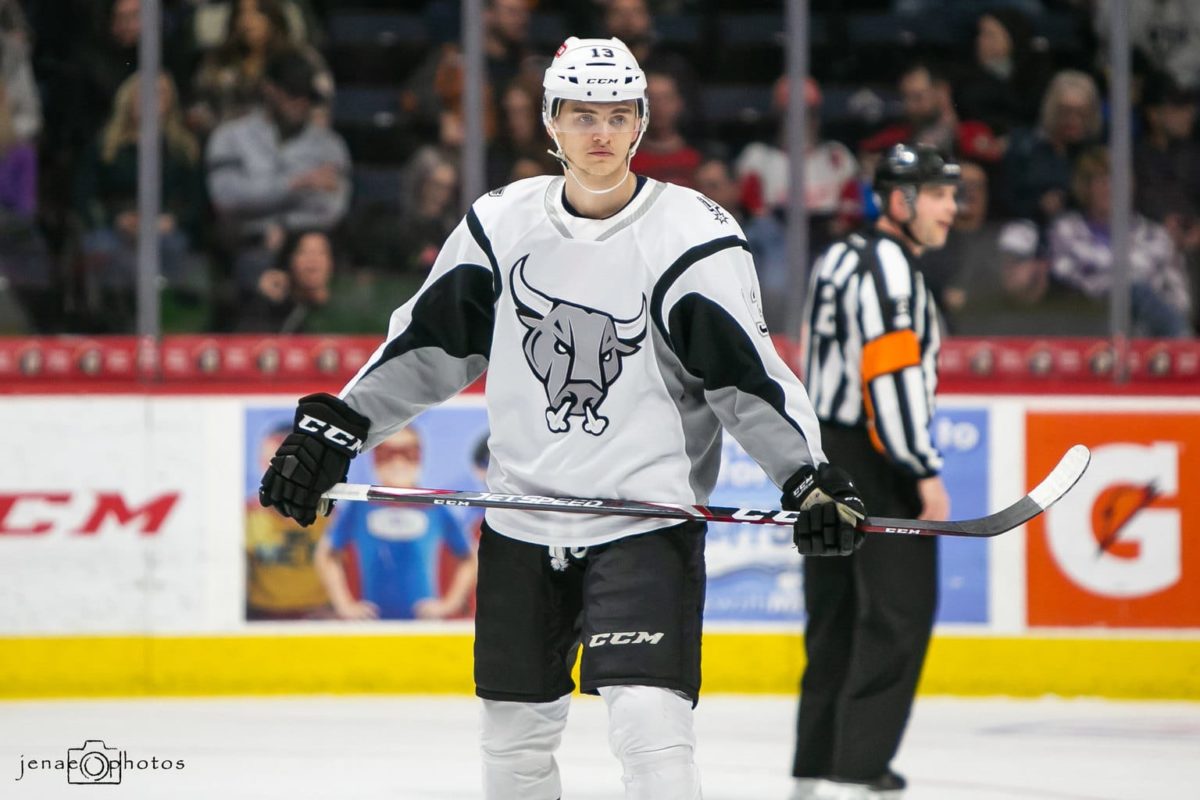 But Toropchenko had a brutal first season in the AHL with the San Antonio Rampage. He managed just 9 points in 59 games. On the bright side, he already has 9 points with the Kunlun Red Stars of the KHL, where he will likely spend all of the 2020-21 season. Toropchenko is not versatile enough to have much of an NHL future without some offensive upside, so he will need to find a consistent scoring touch if he wants to take the next step in his career. He has flashes of brilliance, but he needs to find some stability.
Tanner Dickinson
The Blues selected Tanner Dickinson with the 119th pick in 2020, hoping he will one day join the 14 other Sault St. Marie Greyhounds products that are currently playing in the NHL. But he has an uphill climb. With just 40 points in 64 games last season, he isn't an offensive dynamo. And Pronman wasn't very complimentary: "I don't see much about his game that jumps off the page. He has average size and speed, and I would call his skill level good but nothing amazing."
Defense: Matthew Kessel
No relation to the legendary Kessel siblings Phil and Amanda, Matthew Kessel will be looking to make his own name in hockey. Like Reinke, Kessel is a right-handed defenseman, and he filled an obvious draft need for the Blues entering the 2020 Draft. But he seemed an average player, other than his size at 6-foot-3, and with little offensive upside.
But like Tucker, Kessel may have developed his offensive game seemingly overnight. After contributing 11 points in 34 games at UMass (Amherst) in his draft season, he already has 14 points in 13 games in his sophomore season. If he can develop significant offensive upside, a righty like Kessel will rise up the prospect pyramid very quickly.
Goalies: Vadim Zherenko, Will Cranley
Vadim Zherenko
Another player who entered with little hype who seems to be evolving quickly, the Blues drafted Vadim Zherenko out of Russia late in the seventh round in 2019. But he's had two phenomenal seasons since his draft. In his current season, he has a 2.44 GAA and a .931 SV% playing with men in Russia's second-highest league, the KHL. If those kinds of numbers keep up, he may join the wave of young Russian goaltenders who are taking over the NHL.
Will Cranley
A sixth-rounder in 2020, Will Cranley has had up and down performances the Ottawa 67's of the OHL. He's certainly got size, at 6-foot-4, and scouts appreciate his character and ability to improve. But in 21 games with the 67's in the 2019-20 season, he had a 2.81 GAA and a .894 SV%, which is troublesome during a dominant 67's season. With nowhere to play this season, his immediate future is on hold. But goalies always take time to develop, and no one will give up on Cranley just yet.
Tier 6: Evan Fitzpatrick, Dakota Joshua, Noah Beck, Nolan Stevens, Tanner Kaspick, Jake Walman, Jeremy Michel, Austin Poganski
Forwards: Dakota Joshua, Nolan Stevens, Tanner Kaspick, Jérémy Michel, Austin Poganski
Dakota Joshua
The Blues acquired Dakota Joshua from the Toronto Maple Leafs for future considerations prior to last season. he had a standout career at Ohio State University and was a fifth-round pick of the Maple Leafs in 2014.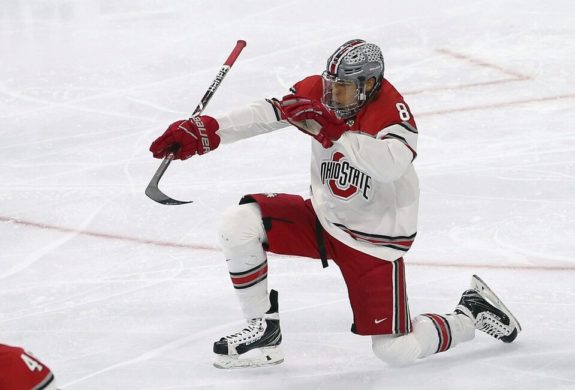 In his first season with the Blues organization, Joshua split time between the AHL with San Antonio and the ECHL with the Tulsa Oilers. He played 50 total games and managed just 18 points. At 24, it seems more likely than not that he doesn't make the NHL.
Nolan Stevens
Another player with NCAA roots, Nolan Stevens had a distinguished career at Northeastern University, serving as their captain in his senior season, in which he managed 42 points in 38 games. The 2016 fifth-round pick also has strong NHL bloodlines, as his father John has served as a head coach for both the Los Angeles Kings and the Dallas Stars. Nolan had 31 points in 50 games in the AHL in 2019-20, and still has a chance to serve the Blues in a bottom-six and penalty-killing role.
Tanner Kaspick
Tanner Kaspick built his reputation in the WHL, rising to the captaincy of the Brandon Wheat Kings in his final season with the team. But since leaving juniors, he has struggled to establish himself. Kaspick has spent two seasons with the Blues' AHL affiliate, and has managed just 22 points in 105 games. He's still just 22, but he needs to find another gear to pass other prospects on this list.
Jérémy Michel
Jérémy Michel has the honor, if you can call it that, of being "Mr. Irrelevant," the final pick in the 2019 Draft. With that, it's fair to set expectations for an NHL future fairly low. But Michel did manage 42 points in consecutive QMJHL seasons with Val-d'Or Foreurs, and had 13 points in 15 games early in the 2020-21 season. The Lévis, Quebec native is too young to write off yet.
Austin Poganski
Austin Poganski is a player making a case to earn an extended look in the NHL in the near future. Another NCAA product, he served as the captain of the prestigious University of North Dakota program in his senior season, proving his qualifications as a leader. That adds a layer of appeal to his value as a bottom-six forward.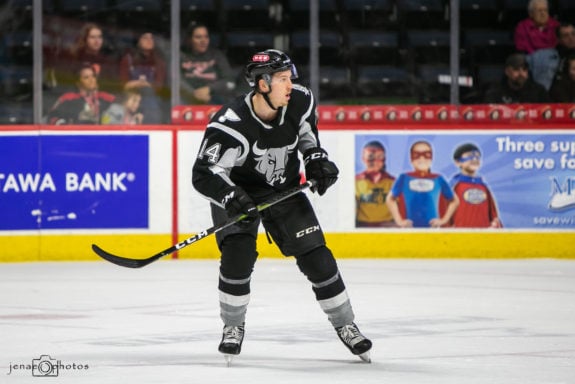 But what has really set him apart is his recent production. He managed 30 points in 56 games with San Antonio in 2019-20, and even made his NHL debut in one game, a distinction he shares with only one player in this tier (Jake Walman). Poganski offers size, standing 6-foot-2, weighing over 200 pounds. And he had a strong training camp prior to this season, earning him a spot on the Blues' taxi squad. He has a chance to make an impact in the NHL in the near future. He'll just need to seize the opportunity if he gets it.
Defense: Noah Beck, Jake Walman
Noah Beck
Another right-handed defenseman from the 2020 NHL Draft, Noah Beck also stands a tall 6-foot-3. He produced 27 points in 42 games with the Fargo Force in his draft year, and has moved onto Clarkson University, where he has two points in 13 games so far. Not much is known about Beck, but as a 194th overall pick, he has a long road to walk before he even enters the NHL conversation.
Jake Walman
Soon to turn 25, former 2014 third-round pick Walman has played just the one NHL game last season. But he had a much stronger 2019-20 season at the AHL level and had a fairly good training camp, and was moved to the taxi squad along with Neighbours after Bortuzzo's injury. He could make a mark this season, but if he doesn't, it's tough to see him developing into a consistent NHL player.
Goalie: Evan Fitzpatrick
Evan Fitzpatrick once looked like the bright spot of the Blues' goaltending pipeline, but those days have quickly evaporated. After a midseason trade to the Acadie-Bathurst Titan in the 2017-18 season, Fitzpatrick got a head of steam and helped carry his new team to a Memorial Cup Championship. He played 20 playoff games and had a .925 SV% and a 2.10 GAA.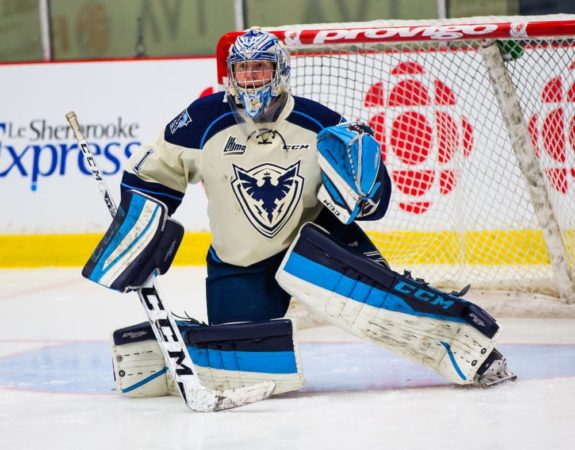 Unfortunately, it looks like that may have been the pinnacle of his career. He struggled in eight games in the AHL, and has looked lifeless in two seasons at the ECHL. His SV% has never been above .891, and his GAA has never dipped below 3.30. Due to the strange circumstances of the season, Fitzpatrick will report to the Utica Comets in 2020-21, but it remains to be seen how much he'll be used.
The Bottom Line
The Blues still have some terrific young talent in their organization, headlined by Thomas and Jordan Kyrou at the NHL level. But beyond that, their prospect pool is a story of quantity over quality, for the most part. Any of the players in Tier 2 through 5 could potentially make an impact in the NHL someday, but it's difficult to project who has the best chance from the lower tiers. Fans can be excited about Perunovich and the players in Tier 3, but Armstrong will likely be looking for ways to deepen his prospect well a bit over the coming years.