One of the surprising Toronto Maple Leafs' signings of the offseason was to ink long-time NHL veteran Joe Thornton to an NHL league-minimum contract. Obviously, from the Maple Leafs' perspective, the organization believed Thornton could add value to the team's roster at a cost-effective option. Thornton's goal in signing this contract was obvious; he wanted to have one more crack at the Stanley Cup before he retired.
Related: Maple Leafs' Matthews & Tavares Call Out Team: No Response & No Gas
Thornton had obviously looked over his possibilities and decided that the Maple Leafs was a team that had a chance to take a long Stanley Cup run at the end of the 2020-21 season; and, he wanted to be a part of that run.
Thornton Was Seen as a Third-Line Option
When Thornton's signing was announced, most hockey pundits believed he would assume a role centering the Maple Leafs' third line and, in that role, play up to 10 minutes per game. Many believed Thornton had too little speed and perhaps not enough gas in his tank any longer to make much of an impact much past those limited third-line minutes.
But Maple Leafs' head coach Sheldon Keefe had a different plan and surprised everyone when he announced, prior to the beginning of the training camp, that he was putting Thornton on his team's top line as a left winger, partnered with young Austin Matthews at center and Mitch Marner on the right wing.
Thornton Made a Big Impression on His Teammates During Training Camp
During the team's training camp, Thornton's veteran leadership impressed his much younger Maple Leaf teammates. For example, during one practice Thornton was seen offering Matthews some insights about low-post positioning. Marner, too, was impressed by Thornton's level-headed approach to the game and his seeming ability to ignore the hype surrounding playing in Toronto, which is arguably one of the hot beds of hockey in Canada.
Related: The 8 Best Defensive Forwards in Hockey History
Marner shared that he appreciated the old-school approach that Thornton brought to the game. He noted that he believed Thornton didn't ever engage social media or know anything about it.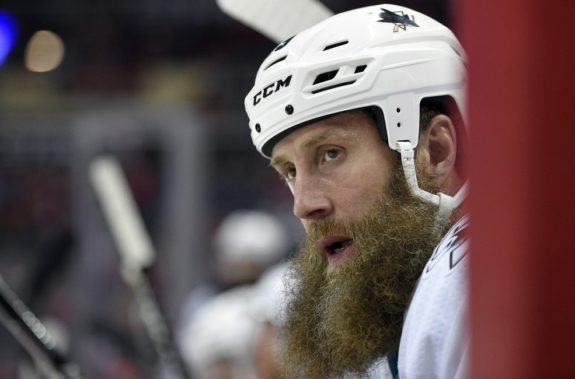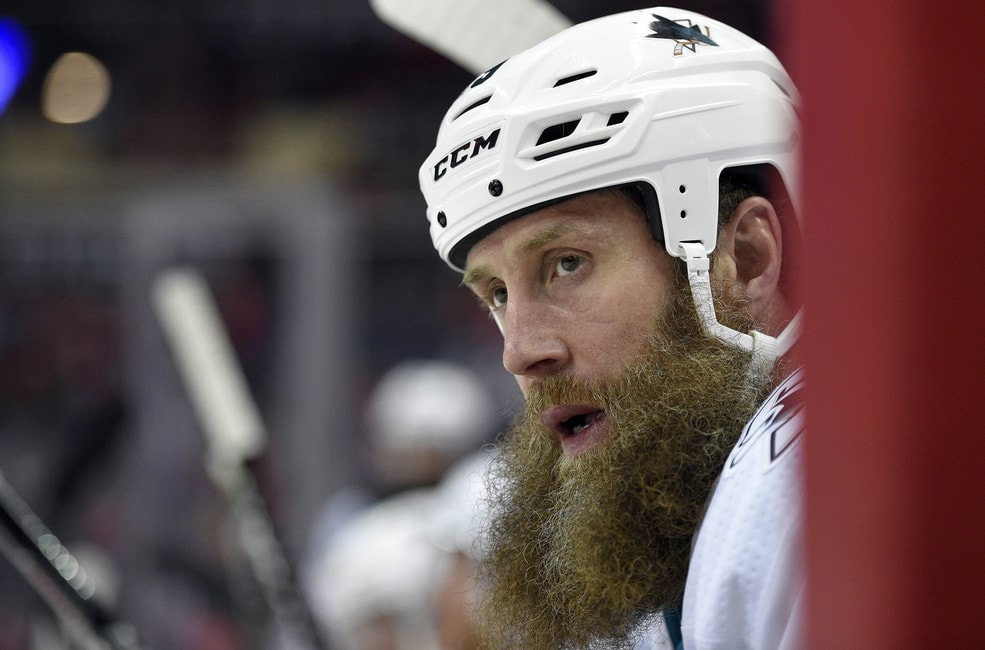 However, instead of wondering what world Thornton was living in, Marner noted that Thornton was "great in that aspect. He can just go out every day, be the same guy and joke around. We (he and the 23-year-old Matthews) are going to be the same, not going to focus on outside noise, just what we have to do every day. We know there will be bad days, and when that happens, we'll come in here with the same energy we always have and figure out what we have to do better." (from "Old pro Joe impresses young Leafs," Lance Hornby, Toronto Sun, 11/01/21).
Game Three Chemistry on the Maple Leafs' Top Line
During Saturday's game three 3-2 victory over the Ottawa Senators, the Maple Leafs' top line was clicking. Thornton scored his first goal in a Toronto uniform and added an assist on Matthews' game-winning, third-period, power-play goal. His game showed that Thornton was more than the addition of intangibles. He could still produce on the ice.
As a result, not only was Thornton a "good" team addition, he was a productive one. In the Sportsnet video below, Thornton breaks down his first goal with the Maple Leafs that helped propel the team back into the win column. His interview with Kyle Bukauskas discussed how quickly the Maple Leafs turned the page after an ugly loss to the Senators. Then, Thornton talks about how scoring his first goal with his new team.
Thornton Describes His Line's Effectiveness This Season
Bukauskas asked Thornton what he liked about the team's effort on the second night of their back-to-back games against the Senators.
Related: Toronto Six 2021 Season Preview
Thornton responded that he thought the team was "just aggressive" for the entire game. The night before, he believed the team had regrettable moments; however, during Saturday's game the team was "really aggressive for the entire 60 minutes" and "played at our tempo all night."
He noted that the back-to-back offered the team a "brand new start" and a "good chance to redeem ourselves." He also added that they had done just that and "will go home with the split and get ready for Monday."
Was This the Top Line's Best Game of the Season?
When Bukauskas asked if the game was the best his line played in their three games together, Thornton's thoughtful answer seemed to be perhaps and perhaps not. He believed the line had their chances the night before during the loss but "tonight we just buried our chances, and that was the difference."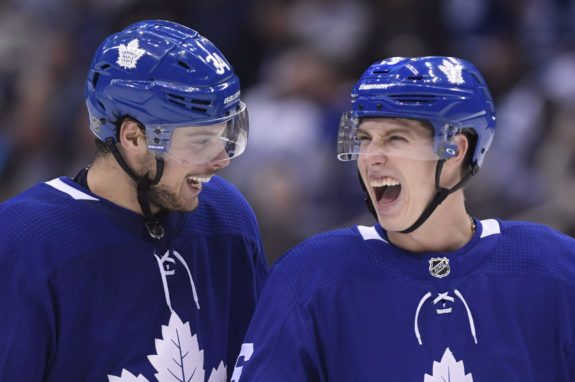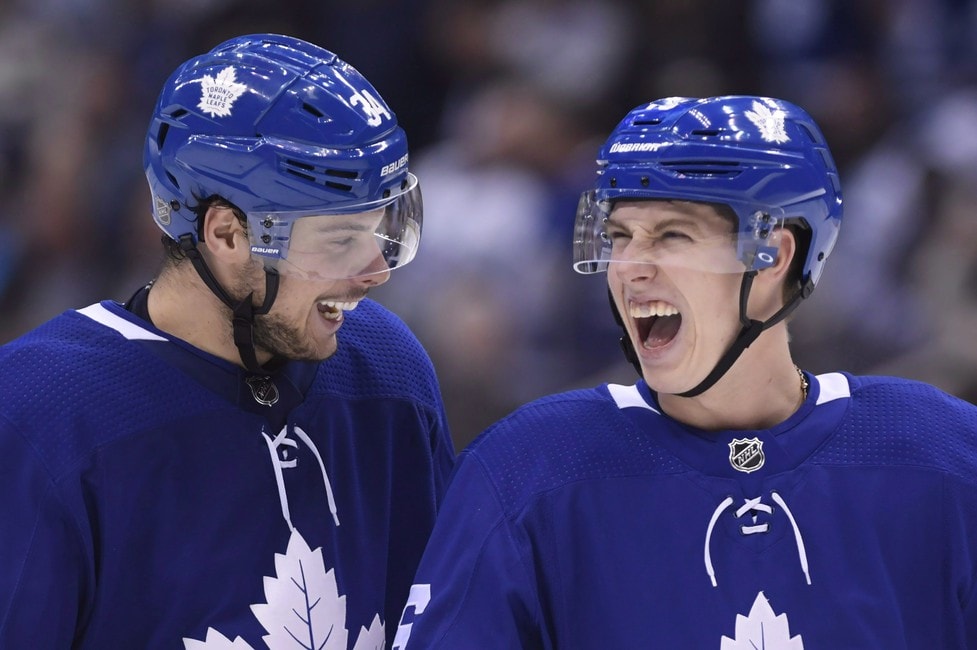 However, he noted that "we've been getting lots of chances, even the first game against Montreal." He added that "tonight we just bear(ed) down a little bit more and found the back of the net." Still, he liked "the way the line's been playing so far."
Matthews Was Option One: Trickery Was Option Two
About his first goal, Thornton admitted that "I was going to pass it over to Mattie (Matthews) but the defense took him away." Instead, he engaged "just a little bit of trickery out there."
Related: Maple Leafs News & Rumors: Matthews, Thornton, Liljegren & Lehtonen
The result? Thornton's first goal in the Blue and White. From watching his celebratory reaction after the goal, it was obviously one that he appreciated. By the way, it was the 421st goal of his long NHL career.
---
---