The Montreal Canadiens would not have been able to reach the Eastern Conference Final a year ago if not for the heroics of goaltender Carey Price and defenseman P.K. Subban. However, it was the exceptional play from Lars Eller that allowed the team to sweep the Tampa Bay Lightning in the opening round, and the Danish center was the difference in a tight seven game series victory against the Boston Bruins in round two.
Eller has had many ups and downs in his five year career with the Habs, from lengthy scoring droughts to a 13 point postseason last spring. He has often played his best hockey when the Habs needed him most, and appears to be heating up once again with the playoffs less than a month away.
It is a continuing trend from a player who scored 13 points in the last 12 games of the lockout shortened regular season, helping the Canadiens to win their division. Eller was knocked out of Game 1 against the Ottawa Senators courtesy of a questionable-at-best head shot from Eric Gryba. The Habs lacked his offensive presence the rest of the series and were quickly ousted in five games.
Eller had a career high in points that season, though he played just 46 games. The fact his career high in points is just 30 tells us he may not be a first line scoring center, but he has developed into an excellent two way option on the third line. His size, defensive presence and sporadic bursts of scoring compare favourably to third line centers who have won Stanley Cups recently.
The difference is, Eller deals with a lot of hate spewed his way from Habs "fans" who expect far more from the two way middle man than he has consistently delivered. Many people took to twitter before the NHL's trade deadline to display their desire for Eller to be shipped out of town.
https://twitter.com/FredPoulin98/status/572823068114087936
https://twitter.com/HabItHerWay/status/572482730467987457
Since he arrived in Montreal in exchange for Jaroslav Halak, who was coming off an incredible run to the Eastern Conference Final, it was hoped Eller would develop into a first line scoring center with size that the Habs have been waiting to find for many years. He is in the first year of a four year deal that will have him earn 3.5 million per year against the salary cap, which hasn't helped to lower expectations.
It appears to be time to drop the thought that Eller will ever be a first line scoring threat, and embrace the 25 year old, 6'2″, 210 pound center for what he is: an exceptional third line center.
Stanley Cup winners need reliable 3rd line centers
Twice in the last three years Jarett Stoll has held down the third line center position on the Stanley Cup winning Los Angeles Kings. The most points he has scored in that time span is 27 in 78 games last season. Dave Bolland similarly has his name etched on the Stanley Cup twice thanks to his work as a third line center. His highest point total in that time frame was 37, though his 16 points in the 2010 postseason was a huge reason the Blackhawks were able to end a 49 year Cup drought.
Jarrett Stoll getting ready for a round of Golf with #stanleycup @HockeyHallFame @NHL @lakingspr # HNIC pic.twitter.com/ptK7NmyhE5

— Philip Pritchard (@keeperofthecup) August 4, 2014
The Bruins acquired Chris Kelly to be their third line pivot in 2011 which ended in a Cup victory, and he chipped in 13 points in 25 games on that run, though he scored just 28 points in the regular season.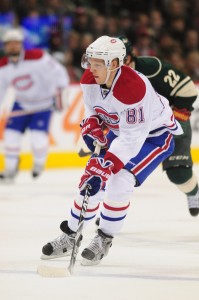 What do Stoll, Bolland, Kelly and Jordan Staal, Sami Pahlsson, John Madden and Matt Cullen have in common? Aside from winning Cups from the third line center role in the past dozen years, they are all defensively responsible players who kill penalties, win faceoffs and add spurts of offense from time to time.
Who else fits that description? Well, Eller's faceoff percentage of 53.7 ranks in the top 20 in the league, his role on the league's 6th best penalty killing unit continues to grow and you don't have to look any further than last year's postseason to see that Eller can add timely scoring as well.
It would be great if Eller could bring that offense on a more consistent basis, but taking a look at how he is used shows it would be difficult for the big center to score often. First of all, he ranks 15th on the Habs in power play ice time per game. In 64 games this season, Eller has been on the ice for less than 32 total minutes while the Canadiens were on a man advantage.
Offensive linemates would boost Eller's production
Even while playing at even strength, Eller has not had the most offensive linemates to help him find the back of the opponent's net. His two most frequent linemates this season by a mile are Brandon Prust and Jiri Sekac. Prust is closer to an enforcer than a sniper, and Sekac showed flashes of offense in his rookie season, but was very inconsistent in his first season in North America. The next two players that have been on the ice with Eller the most are rookie Jacob De la Rose and Rene Bourque who went unclaimed on waivers earlier in the year.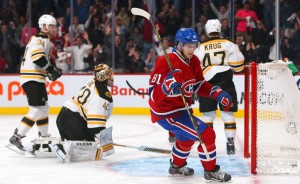 Still, Eller has scored ten goals at even strength, which ranks 5th on the Habs roster. Playing primarily with De la Rose and the newly acquired Devante Smith-Pelly since the trade deadline, the Habs have a big, responsible third line that has every bit as much offensive potential as the Bourque-Eller-Gionta trio from a year ago.
De la Rose is a smart player who plays a defensive game well beyond his 19 years of age, but offense is not a big part of the young players game. At least not yet. He has just three points in 21 games in his rookie season. Bourque was nothing short of abysmal offensively for the Canadiens, scoring just two assists in 13 games this season.
During last year's playoff run, Eller was playing alongside Bourque and Brian Gionta, a pair of veterans who were struggling to score all season. Bourque exploded in the postseason with Eller, but it just goes to show when Eller gets hot, it doesn't matter who is on his line, or if he gets the most desirable ice time. However, his offense continues to run hot and cold each season.
With better linemates, more offense would naturally come. With David Desharnais, Tomas Plekanec and Alex Galchenyuk battling for ice time on the top two lines, the best option for the Habs may be to continue utilizing Eller as a big, strong, two way third line center.
With this year's Stanley Cup playoffs less than a month away, and Eller scoring four points in his last five games, it appears the big center is getting hot at the right time for the Montreal Canadiens once again. He may not ever be the centrepiece of a Stanley Cup championship in Montreal, but much like Stoll, Bolland, Kelly, Pahlsson and Staal, Eller could play a depth role in a 25th banner being hung in the Bell Centre rafters.