On the surface, at least, it may appear as though the Montreal Canadiens overpaid for depth forward Lars Eller's services over the next four years.
After all, he will be getting an average of $3.5 million per year over the next four seasons, which is actually $400,000 more than Eller asked for, according to Hockey Night in Canada's Elliotte Friedman.
Eller (MON) requests $3.1M…Canadiens counter with $1.65M

— Elliotte Friedman (@FriedgeHNIC) July 23, 2014
That being said, as argued by The Score's Thomas Drance, there's a reason for that, as Montreal will now be buying out several years of the 25-year-old's free agency. And for the next two seasons he will be making just $2.5 million, a much more reasonable figure for a player whose career high is 30 points.
Another Coup for Bergevin
However, there should be an asterisk beside those 30 points. He scored that many last season in just 48 games (46 actually). Over an 82-game season those 30 points become 51. When was the last time you heard of a 50-point scorer making just $3.5 million a year (aside from teammate David Desharnais)? Maybe, just maybe, general manager Marc Bergevin knows what he's doing.
We're talking about a league in which salaries sky rocket and P.K. Subban can realistically end up making a few million more than the arguably more valuable Shea Weber essentially just because teams can spend that much.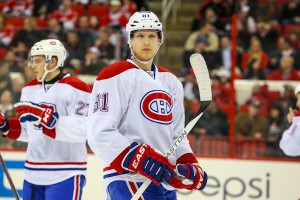 With the cap going up year after year, it should be little surprise that salaries are inflating as well, oftentimes unjustifiably and in the face of cold, hard logic. I mean, Florida Panthers forward David Bolland just got $5.5 million a year for five seasons when the most he's ever scored is just 47.
The point is, while Eller has never officially scored more than 30 points in a season, he has the potential to score much more. And, even if he doesn't, $3.5 million per season is not unheard of for a third-liner. Just look at these cap-hit comparables, care of capgeek.com. Eller is far from the most embarrassing name on that list, with players like Scottie Upshall, Paul Gaustad, and Jarrett Stoll populating it as well.
Not-so-Old Eller
Sure, Eller may be a third-liner, but this is still a young guy who, at the start of last year, acted as the team's de facto first-line center and scored seven points in the team's first five games. This is a guy who ended the previous season on a tear with 13 in his final 12. Finally, this is a guy who scored 13 in 17 playoff games this spring.
There is little doubt his success this past postseason had something to do with his raise. By the same token, there should be little doubt he's able to raise his game to the next level, as he's done it time and again in the past. The only problem is his consistency level, but that too should rise with maturity over the next few years.
So, yeah consider Eller a huge winner and the Habs losers right now if you must. In time, though, those roles may reverse sharply. Eller will probably still end up a winner, though… or, more accurately, playing for a winner if the team's recent moves—this one included—are anything to go by.