James Reimer and the Toronto Maple Leafs came to terms on a two-year contract, worth $4.6 million annually, to avoid going to salary arbitration. It was the second such signing by the Leafs, with the intention of avoiding arbitration. Reimer may be signed, but the bitterness has hardly passed between both sides and I can't imagine this does anything to change Reimer's desire to be traded. For the moment, at least, he is slotted to be Jonathan Bernier's backup and this has some in the world of hockey media all kinds of upset. Damien Cox, take it away:
Weirdness of the biz; Reimer's inability to fill for injured Bernier costs 3 coaches, 2 execs their jobs. And he gets $4.6 million.
— Damien Cox (@DamoSpin) July 25, 2014
This isn't the first shot at Reimer from the media and it certainly won't be the last. When Jonathan Bernier went down with an injury, James Reimer didn't keep the Leafs in the playoff picture. Or so the narrative goes. This after Reimer guided the Leafs to their first playoff appearance since before the 2004-05 NHL lockout, just a season before. How did Reimer do so, you might ask. Reimer posted a .924 sv% that season on a team that was habitually out-shot and beaten senseless in the possession battle.
.@DamoSpin you're aware the Leafs got outshot 65 times in 82 games and allowed the 4th most shots ever recorded, right

— Jeff Veillette (@Jeffler) July 25, 2014
That was with regards to last season, which James Reimer apparently blew. It's almost like the Leafs had no business being in the playoff picture to begin with. The most disturbing bit though, is that it's clearly not just the media that attaches such a negative connotation to Reimer's name. Apparently Leafs management is impervious to facts, numbers and stats as well, or they wouldn't have felt the need to add Jonathan Bernier last off-season. Did a team with a young goaltender that just posted .924 sv% need an upgrade in goal? Probably not. Does a team who's collapse in game seven against the Bruins in their first-round playoff series is pinned heavily on the goaltender need one? Apparently so.
Perception and Reality
There is something very skewed in how we evaluate goaltenders. From the media, fans and even general managers alike; people can't quite put their thumbs on goaltending. It's the ever prevalent battle between perception and reality that is to blame for this. The romanticized "eye-test" and the objectivity of  stats, rarely do they meet in the middle. Rarely is there a compromise to be found. On a case by case basis, you can find examples of this that exclude James Reimer. Having grown up in Vancouver, I've had to spend much of my life watching fans and the media alike vilify Roberto Luongo, who just so happens to be the best goalie in the franchise's history by every accepted stat available — it's not even close, either. Further down the west coast, Jonathan Quick is praised with great frequency as one of the league's premier goaltenders. It's amazing how much media-equity a Stanley Cup or two can afford you. But if Jonathan Quick is so great, why is he only posting 91.85 sv% at even-strength over the last two seasons?
.@DamoSpin pic.twitter.com/7vKDbxcycn

— Domenic Galamini (@MimicoHero) July 26, 2014
Getting back to my locality, why is Ryan Miller considered an upgrade on Eddie Lack? Last season's stats would indicate the exact opposite…
You get the point by now. Goaltender performance is almost impossible to predict and even more difficult to properly analyze. For my moneys worth, nothing should be more important than a goalies sv% in evaluating their play. This makes it hard for me to understand why James Reimer, who's one spot lower than Roberto Luongo for even strength sv% over the last two seasons, can't get an iota of respect as a starting goaltender.
What I have to think is the main issue with Reimer is that he has, even at his best, never necessarily looked comfortable in the crease. His motions can at best be described as robotic. There is some fluidity to his movements, but overall Reimer relies heavily on his positioning and size more than he does any set of inherent skills or reflexes. Reimer is also widely considered a bit of a rebound machine. I have to imagine this plays some role in the perception of him as not an NHL goaltender. But again, if the sv% is showing that it works, why knock it?
About Reimer's Collapse
I can't pretend to have watched the Maple Leafs game seven loss to the Boston Bruins in the 2013 playoffs. You can think of this as a hindrance to my ability to analyze it, but in reality, it gives me the ability to look at the numbers from that game in the most objective sense without any perception biases. Really, it's better for everyone I didn't watch that game.
What sticks out immediately at me when observing what happened in the Leafs seven game series that was pinned in large on Reimer, is that the Leafs really didn't play well. Not at all. In their particularly crushing defeat at the hands of the Bruins in game seven, things were especially difficult on the goaltending. This was one such occasion where James Reimer couldn't bail out Randy Carlyle and his god-awful system that season — the last such occasion, that season.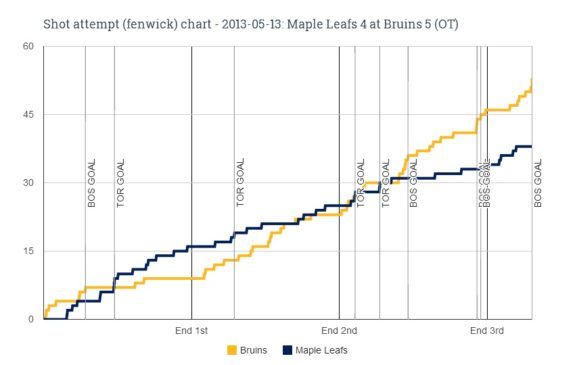 The Leafs controlled only 43.7% of shot-attempts in that series and I'm supposed to believe goaltending is at fault? Right… But such is the plight of the goaltender. Luongo couldn't get that final victory in 2011 to secure a Vancouver Canucks Stanley Cup victory and he'll be viewed as a choker. Jonathan Quick can post awful numbers, but as long as he possesses those two Stanley Cup rings, he's a hero. Corey Crawford? He's just somewhere in the middle getting grossly overpaid.
One day, the NHL will catch up to the rest of the sports world in the analytics department and we'll have some means of predictive evaluation of goaltenders. As bullish as I am on Reimer, relying entirely on sv% has it's downfalls. Don't think so? Look at what happened to Devan Dubnyk, who always had respectable sv%, until last season when it fell off a cliff. For now, everything I can use to objectively derive an opinion on James Reimer has me believing he can aptly perform as an NHL goaltender. Even a starting goaltender! One day he'll get his due. It just won't be in Toronto.