Tuesday night could be the last night of Team USA's 2016 World Cup tournament. After coming into the World Cup as one of the favourites to win, Team USA is on the brink of elimination at the hands of their rivals, Team Canada.
Team USA came into the tournament with one goal: to beat Team Canada. They specifically built the team to wear Team Canada down, and much to people's dismay, that meant leaving players like Phil Kessel and Kevin Shattenkirk off the roster.
If Team USA makes an early exit on Tuesday night, I'm sure all National Hockey League teams that have a star player on the team will be thrilled to learn they'll be back in time for the start of camp. Other than that, the 2016 World Cup will largely be looked at within the United States as a huge defeat and essentially an embarrassing effort.
So in saying that, what does Team USA have to do to win Tuesday to avoid such a scenario? Other than almost everything having to go their way, they can start by focusing on these three things.
Slow Down Sidney Crosby
Sidney Crosby has played like Sidney Crosby should be playing so far in the World Cup. On Saturday night, Crosby was all over the ice contributing in almost all categories on the score sheet. If Team USA has any hope of advancing, they need to limit Crosby.
The reason Brandon Dubinsky is on Team USA is exactly for that reason. John Tortorella and management can phrase it any way they want, however, his job is to take on Sid.
On Tuesday night, as it turns out, Dubinsky will not be in the lineup. This begs the question: why is he on the team instead of a player like Phil Kessel? With Dubinsky out of the lineup, that means it will take a collective effort to shut down Sidney Crosby. By roughing him up and shadowing the star player, it could knock him off his game or limit what he can do on the ice.
Make Powerplays Count
Building a team around grit and sandpaper players is fine, but not when you're going against an offensive powerhouse with an MVP goaltender. Let's face it, the composition of Team USA is flawed. There were many questions surrounding the team when it was announced and there are even more now.
In order for this team to score most effectively against Team Canada, they'll need to capitalize on their powerplay opportunities. In any game, the team that makes the most of their powerplay chances usually comes out on top. If the Americans want to be that team Tuesday night, they'll have to play smart, draw penalties and execute when they have the man advantage.
It'll be hard to resist the urge to give a player like Brad Marchand an extra shot after the whistle, but that resistance might be the key to putting a goal on the board. You can't have a powerplay if you're going to the box with offsetting penalties. Playing smart hockey almost always leads to a victory. If the Americans can do that and take advantage of their powerplay opportunities, they'll be in good shape to have success.
Rattle Carey Price
This might be the biggest key to victory for Team USA. Carey Price is back, and that's bad news for the rest of the field at the World Cup. On Saturday night he looked like the old Carey. He was calm, cool and unflappable.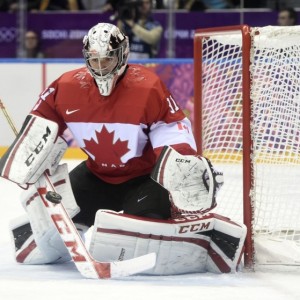 In order for the Americans to squeak a few by him, they'll have to attack the net.
In an excerpt from USA Today Sports, forward Kyle Palmieri explained the game-plan perfectly.
"One of the things that made us successful in those pre-tournament games is guys getting to the net," Palmieri said. "Whether they're pretty goals or dirty goals they all count. There's no pictures on the scoresheet".
Against Price, the easiest way to score is by throwing everything on net. To have success against an MVP-type goaltender is to throw everything you can at him and make it so its hard for him to see the puck. The most common goals that go in on Price are those that he can't see.
If Team USA can find a way to get under Price's skin by using misdirection and attacking the paint, they could stay alive for one more game.
What to Expect
John Tortorella said it perfectly when discussing the upcoming game against Team Canada to USA Today Sports:
"Tuesday is our championship game," Tortorella said. "We knew we'd have to go through Canada. That game has just come earlier for us here right now, and that's the way we're approaching it".
Tortorella is right, Tuesday night is Team USA's championship game. They built this team specifically to go through Canada and they'll get a chance to show that. If they do, the questions surrounding the team will surely slow down but if they don't, it opens a whole new door of criticism until Team USA steps on the ice for their next international hockey challenge.
---
The Hockey Writers coverage of the World Cup of Hockey 2016 is being brought to you by PrimeSport, the official Fan Travel & Hospitality Package Partner of the World Cup of Hockey 2016.