Slowly but surely, another NHL season is upon us that will bring many storylines. While some journalists will cover the games, some hardworking men and women will gather as much information as they can and present their latest findings. But before any of that happens, there was a meeting of minds at the Rochester Institute of Technology's second annual Hockey Analytics Conference.
Over time, the amount of analytic research and data collection at the NHL level has grown exponentially and has become more mainstream by the day. The progress was notable this year, because, of the three conferences I have attended, this was the first one in which terms like "Corsi" and "Fenwick" were not introduced at the beginning of the schedule. Whether this displays confidence that the audience knows what these fancy words mean can be interpreted in different ways, but it brings an interesting dynamic to show how far the industry has come.
This year, there were the usual presentations seen from previous conferences. Among the subjects discussed: Maximizing a hockey team's line combinations; finding inefficiencies in the entry draft using over-aged players; creating a draft lottery that can improve league-wide parity; and discussions regarding a better way to analyze goaltending beyond wins and quality starts.
As presented at #RITHAC (and to be written about and studied more on @HockeyGraphs…I promise) pic.twitter.com/RHrJGW2wjL

— Nick Mercadante (@NMercad) September 10, 2016
It is noticeable that the days of using RTSS reports to track advanced statistics have slowly become yesterday's news, as the latest innovations have come from by-hand in-game tracking. There was no bigger example of that than Ryan Stimson's passing project. During the conference, he and Matt Cane dove into the data to explain who were the better teams and individuals at defending passes that lead to better scoring opportunities. The one warning they mentioned during their presentation, however, was that the sample size of each team's data does not cover the entire length of the season.
Therein lies the issues with the new wave tracking research. That is not to say that the likes of Stimson and Cory Sznajder's All Three Zones project from years past, along with other projects, are making excuses for their flaws. If anything, this is a reminder that documenting 1,230 NHL games every year is daunting. If anything else, this is a cry for help for the NHL to use technology that will deliver tracking data like the NBA does with SportVU and Major League Baseball does with StatCast.
Bridging the Gap
In some ways, this latest trend in analytics is not new, as coaches and video coordinators have performed such projects before. Thanks to the internet, however, the major difference from years past, is bringing the information to the public domain rather than keeping it private within an organization. At the end of the day, the analytics community is striving to find the perfect formula to win hockey games. The same is no different for coaches, journalists, fans as well as TV and radio commentators.
What also stood out in this year's conference was that instead of having the schedule be full of educational presentations, the day was filled with panel discussions from individuals with different backgrounds in the hockey and sporting world. The conference started with a multi-sport discussion of data visualization and what is necessary to communicate statistics to the public.
Data viz panel with @dataandme, @IneffectiveMath, & me. Yes, that's a baseball graphic at a hockey conf. #RITHAC pic.twitter.com/vx8tMEuWco

— Meredith Wills (@Bbl_Astrophyscs) September 10, 2016
The biggest challenge is to make sure the audience understands the complicated data that is being presented. "Everything starts as complicated," stated Micah Blake McCurdy, but according to Meredith Willis, it is all about creating a presentation that achieves what the audience wants to hear answered. Along with that, McCurdy understands through experience that you can't make everyone happy and "the data should make sense to you first."
Interpreting Analytics
Next, five NCAA head and assistant coaches brought their perspectives on how they interpreted analytics to make their teams better. Some still believe that it is easier said than done to ingrain statistics into the players as if to have them achieve certain targets mid-game. Oswego head coach Ed Gosek made the point that using analytics can over-complicate matters with a 25-game season and a short period of time to practice and teach their system to the players due to NCAA regulations.
Some statistics, however, can be interpreted quite easily, as RIT goaltender coach Mike Germain admits with his use of save percentage in the home plate area (from the goal crease, to right in between the faceoff dots, and the top of the faceoff circle). Canisius' head coach David Smith admits that he has a team of video coordinators tracking shot attempts as well as zone entry and exit success rates but even he admits that analytics can not cover up bad performances via the eye test.
Like Gosek, Smith admits that clogging a player's mind with analytics over-complicates things during an in-game situation and that it is best to keep things simple and have players focus on executing the game plan. Some coaches, like Cortland coach Joe Cardarelli, admitted to making game-to-game adjustments after a five to six game sample; but when it comes to line matching, coaches like Smith said that at the end of the day you have to play your best lineup because everyone at the Division 1 college level is considered good.
Analytics and Writing
Lastly, a panel of four members of the hockey media chimed in on how analytics has affected their profession and how they use them within articles. For Scott Cullen, he uses analytics to carve out a niche in a Toronto market driven by gossip and narrative grabbing. Others, like Bill West and Alison Lukan, use analytics to further explain how and why a game is won or lost. Most of the panel shared their fears of overloading the reader with new age numbers. However, using those numbers can be seen as educating the reader and can serve as an eye opener to what can be or has been seen on the ice.
Take Lukan's piece on Alexander Wennberg for example. Despite his lack of experience, Wennberg became one of the few bright spots in a tumultuous season for the Columbus Blue Jackets, scoring eight goals and 40 points in 69 games. Wennberg's 1.9-percent relative shot attempt-for percentage or his team-leading Stimson's primary passes per 60 minutes could have been used as the main talking points for the 21-year old's rise to stardom. Instead, Lukan married the statistics with player and coaches interviews to help create the consensus opinion.
Site Manager and Editor of Today's Slap Shot, Carolyn Wilkie, agreed on such a standard of writing such stories. Along with that, she felt that internet sites have an advantage over newspapers because of their ability to use of gifs and videos to convey ideas. "People want evidence," stated Cullen.
Conclusions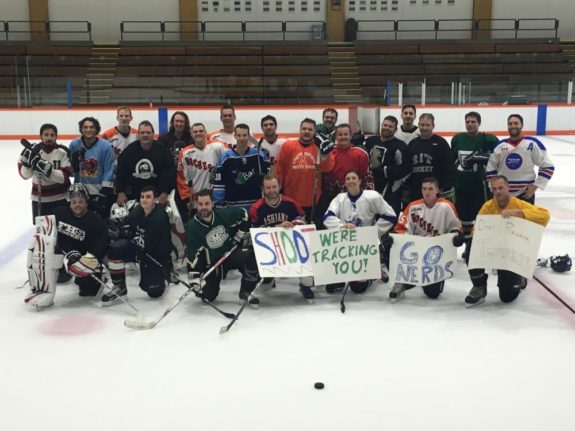 Before the day was over, there was a hockey game to be played at Frank Ritter Ice Arena. Yes, it turns out plenty of those that would be stereotyped as "not watching the game" and sitting behind a computer actually know a thing or two on how to play it. Take Matt Cane's shootout goal for instance.
@Cane_Matt doing his thing. pic.twitter.com/S0OoH8ul97

— DCSportsDork (@DCSportsDork) September 11, 2016
Sadly, no score, let alone shot attempts or primary passes, was recorded during this epic contest.
It was another great weekend within the hockey analytics community. Conferences across Canada and the United States have become commonplace and many former presenters have been hired by NHL teams. It was loads of fun to see some of them return to enjoy the presentations while wearing their team's embroidered gear. If you ever attend these hockey analytics conferences, I highly recommend watching the presentations as well as joining in on the social gatherings before and after the conference to get to know all the leading minds of the industry. If anything, it is another way to find a great group of friends to talk about a game we love.
It is clear, advanced statistics has grown over the years but with the rise of shot attempts has come the rise of the phrase "puck luck". Personally, I don't like the term (even though I have emphasized it in some of my work) and neither do others. Collecting data beyond shot attempts will help in that regard, and that is why it is in such demand. However, in-game tracking cannot be done alone, nor through inefficient methods. Advanced technology has to be the key to growing the analytics community and the NHL has to help facilitate it.
Tracking can lead to further research that hasn't been done before, like actual time of possession, a player's shot speed, a player's shot type and quantity of tape-to-tape passes can be beneficial to eliminate "puck luck" as much as possible. Like any other sport, hockey will always have the "funny bounces" and other inexplicable events that lead to a win or a loss. Eliminating doubts as to whether the better team won is the object of the analytics game, so that's why we will continue to push for more answers and ask the tough questions.