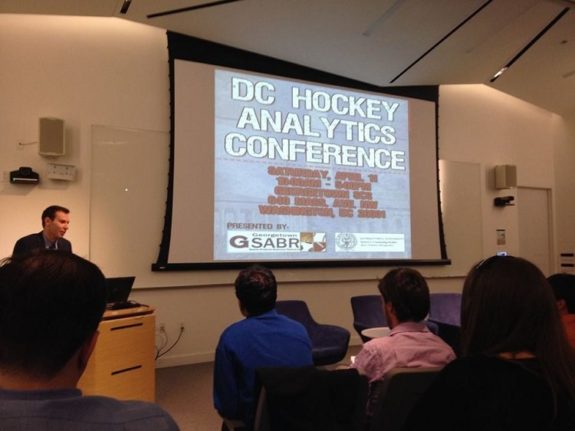 For Washingtonians, last Saturday was the time tourists and locals alike gathered at the annual Cherry Blossom Festival. For many hockey fans, you would think last Saturday was the last time to see their local team on the cheap before they head to the rich and famous Stanley Cup playoffs. Instead, many gathered at Georgetown's School of Continuing Studies at the DC Hockey Analytics Conference. This is now the fifth conference of it's kind overall and the second in the United States.
This recent get-together of some of the greatest mathematical minds in the sport was organized by Arik Parnass of Hockey Prospectus and Robb Tufts of St. Louis Game Time. While the one in Pittsburgh ran multiple fifteen-minute lectures that kept going with a few breaks in between, the DC Conference added a panel for every three lectures. Each panel seemed to incorporate a theme from analytics in hockey journalism to manually tracking new data by watching the games.
Now I could go on about every person's individual lectures, and I recommend you take a look at each of them once they are streamed online and see what you think for yourself. However, I would like to give everyone some advice at these events. If you are thinking of going to the next hockey analytics conference, I recommend meeting the presenters and others that share the same level of interest as you do at the meetups before and after the presentations. You get to understand where their backgrounds and interests are as people outside of the excel spreadsheets and programming code. Including yours truly, sometimes those in the hockey analytics community would like to hide our immediate profiles on twitter and replace them with funny pictures and cool graphs. But last time I checked, there's surely a person typing in those tweets.
While Micah Blake McCurdy (aka Ineffective Math) maybe busy tracking score effects and playoff probabilities, he is a diehard Senators fan and an Aussie Rules Football enthusiast. Trust us, we made sure we gave him an ovation when his team clinched a playoff spot during one of the lunch breaks. Sam Ventura and Muneeb Alam are finishing their various degrees at Carnegie Mellon and Columbia University, respectively. Parnass used to help cover the Washington Capitals from the media side of things. Lastly, there's Rob Vollman.
Many now know Vollman as the man who has written two hockey abstracts and has been the inventor of the player usage charts we know today. But what makes Vollman not just a great writer but a wonderful inspiration for me is his simplistic writing style that is enough to make people of any expertise understand every bit of new wave hockey statistics. He understands that it's not about finding the one formula that nobody else knows that makes him and him alone smarter than anyone else in hockey, but also about teaching the masses and having them understand it as well. Like A.C. Thomas in Pittsburgh, he may be the biggest celebrity, but he is more than happy to give the floor to the younger generation as well and is just as happy watching on like a proud father while learning something new themselves.
When watching others create such aspiring projects, you tend to wish to find the next big thing with them. But sometimes the aspirations get in the way of doing what you do best. When I finally had the chance to meet with one of my role models and tell him about my aspirations of absolute granduer, Vollman told me about his ethos and continue to work on doing what I do best. It was a moment that caught me by surprise and still makes me baffled how I was able to pick myself off the floor after turning into a puddle.
Vollman also mentioned to not just me but the rest of the audience at the conference was that the best work of late has been that from collaborative teams. In Pittsburgh, some from the outside the community were wondering who would replace the many bloggers that went on to get hired by NHL teams. Welp, with the quality and content of the presentations that November, that was answered pretty quickly.
Now, the sense has been how so many great minds can ever get their ideas across towards such an old establishment. Along with that, we're a little back to square one with how, when and if an NHL team can ever create a full fledged analytics staff that will ever have their opportunity to let the communication take place, let alone let their opinions matter when the tough decisions have to be made (aka the Trade Deadline, Free Agency and the draft). Either way, there's definitely reasons why Tyler Dellow's tenure with Edmonton did not work out. James Santelli's lecture in the Pittsburgh conference still comes to my head when thinking about such things. While the Pittsburgh Pirates have an analytics team, it took a traveling analyst to be around the baseball team most of the time in order to get their information across. It is still a reminder of what NHL teams can but sometimes haven't experimented with in terms of improving that communication between more traditional minds in the front office with the more forward thinking and newly hired statisticians.
The collaboration of so many projects within the community have been so amazing to follow because it goes to show how research can be done at a team level. Along with that, if anyone on the team were to be hired by an NHL team, fears of losing the data for anonymity's sake will be squashed as proverbially the next person up will go on to continue the endeavors. Ryan Stimson's passing project wouldn't be possible without the hard work of various bloggers for many NHL teams. Cam Lawrence's (aka Moneypuck) work into success rate of junior league prospects has been with the help of fellow Vancouver Canucks blogger's Rhys Jessop and Josh Weissbock (whom also writes for the Hockey Writers). Even from the outside, Jessop wouldn't as great a podcaster as he is now without Garret Hohl. Lastly, there's the tireless endeavors of Ventura and Thomas at WAR-on-ice.com.
To this day, it blows my mind how much those two not only pursued how to be one of the better replacements for the now-defunct extraskater.com, but also continue to find ways to add new numbers and make the website the ultimate juggernaut in hockey analytics. Ventura's presentation of their development of a hockey equivalent to WAR is proof of their efforts throughout the last seven months. Just don't ignore their efforts in detailed goaltending save percentage, scoring chance data, score-adjusted shot attempt data and many more. With Thomas moving from Carnegie Mellon to the University of Florida and Ventura leaving academia for future endeavors, some may wonder if WAR-on-ice.com will crash down the same ways extraskater, capgeek and mc79hockey have too. With the setup that both Ventura and Thomas have created, we can be assured that it will be very difficult for that to happen.
I was also very impressed by the presentations of Timo Seppa and Jack Han. Each worked as video and analytics coordinators for Quinnipiac University men's and McGill University women's Ice Hockey Team, respectively and have been able to develop the skills necessary to communicate their research to the coaches and players. For Han, he couldn't stop mentioning how his newly found job has been a life-changing experience by having the opportunity to know such amazing players at a level of hockey that, despite improving, is unfairly more difficult to make a living at beyond college than men can. Both Seppa and Han's experiences make you think if the best possible route for a future analytics guru for an NHL team, is the same as those in the coaching and playing profession: you got to start from the lower levels. After all, it's how Kyle Dubas made it from the OHL's Sault Ste. Marie Greyhounds to the Toronto Maple Leafs.
When all the presentations were over, many of the audience and presenters walked four blocks over to the Penn Quarter Sports Tavern to watch the madness that was about to ensue from so many important hockey games. Beforehand, you had Tufts going wild while watching the highlights of his Blues scoring goals at will against one of the better teams, analytically, in Minnesota. By the time the clock struck seven, chaos was the name 0f the game. From one screen to the next, you had Pittsburgh and Boston struggling to score goals and hold on to a playoff spot, a Toronto-Montreal game that turned out to be the game of the night for the Maple Leafs' shear comedy of errors, the Islanders' failure to secure home-ice advantage in the last regular season game at the Nassau Coliseum and Boston University's heartbreak. If you thought that was a struggle to fit into one sentence, try being everyone's set of eyeballs. You would think that, for one night, all the best statistical minds in hockey have completely discarded their belief in large sample sizes. I think we need to keep having these conferences on the last day of the regular season. We may be on to something.
Like the one in Pittsburgh, the DC conference was plenty of fun and a life-changing experience of being able to talk to some of the best in the business. I do wonder that after five of these events in traditional hockey markets (Calgary, Ottawa and Edmonton round out the remaining three that have occurred) if it is time to have them over to the "non-traditional" ones. The hockey blogosphere in Los Angeles, San Jose and Dallas have proven that they know their Corsi from their Fenwick.
Lastly, who will be the next in writing the next great book in analytics. Like Vollman said, not one person can do it alone. Bill James had Tom Tango, Jonah Keri and others to keep the engine going in baseball. With so much material online and so little time, I think we're due for something from a different voice and as great as the internet has been for everyone, having something more permanent in one's hands is like another seal of approval that the community's made it.