The Sabres are once again struggling and once of the worst teams in the NHL.  However not everything is bad in hockey heaven.  Buffalo has arguably the #1 prospect pool in the NHL.  Outside of the big club the season is going very for the Sabres and their prospects around the world.
Down on the Farm
The AHL affiliate of the Sabres, Rochester Americans are off to a great start this season.  The Amerks are off to a 6-2 start and are being lead by promising prospects Mikhail Grigorenko and Joel Armia.  In his first year with the Amerks, Grigorenko has 4 goals and 3 assists in 8 games.  Grigo is playing top line minutes and starting to thrive as the go to guy in Rochester.  Coming off of a strong training camp, many wondered how the young Russian would respond to not making the team.  Well the 20 year old center has shown his maturity has evolved and he's embraced his role in Rochester.  The Sabres have to avoid the urge to recall Grigorenko too early.  They need to let Grigo lead the Amerks for the entire season and take them on a playoff run.  Keeping the prospects away from the losing atmosphere will benefit in the long run.
Another promising prospect who is having a great start is Finnish winger Joel Armia.  The 2011 first round pick had a very disappointing season in his first year playing in the US for the Amerks.  However this year the skill set that made Armia a first round pick in 2011 are starting to show through.  The 21 year old winger is using his size, speed, and skill to become a force on the ice.  Armia has 4 goals and 4 assists in 8 games this season.  Armia has spent time playing on the wing with Grigorenko.  The chemistry building between the two could be great for the Sabres next season when both should be ready to join the big club.
A few other players who are off to great starts in Rochester are Chad Ruhwedel, Johan Larsson, Mark Pysyk and goaltender Andrey Makarov.  Makarov in particular is starting take control of the starting role over fellow young goalie Nathan Lieuwen.  Makarov is 3-0 with a 1.44 GAA, one shutout, and a .959 save percentage.
http://youtu.be/fxagpQeOKo0
Growth in Juniors
In the CHL a few players are emerging early this season.  2013 2nd round pick Justin Bailey of the Kitchener Rangers has really stood out as one of the top players in major junior hockey this season.  In 12 games Bailey has 9 goals and 7 assists.  Bailey has an incredible shot and quick release to go along with his 6'3 194 lbs. size.  The Buffalo native is climbing the ranks among Sabres prospects.  If Bailey continues to grow in juniors I believe he may have a shot next season in Buffalo.  He may stick around the entire season, but may earn himself a 9 game tryout.  Bailey is a lot of fun to watch and someone Sabres fans should keep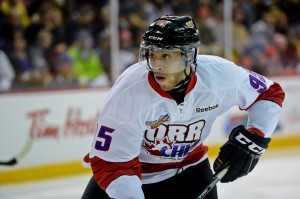 an eye on this season.
Another prospect off to a great start is 2014 2nd round pick Brendan Lemiuex.  Lemiuex is has 7 goals and 5 assists in 11 games.  The 18 year old winger is continuing to grow after a strong showing in camp.  Lemiuex will likely find himself in juniors again next season, but is a promising player to watch.
Lastly camp surprise and another 2014 2nd round pick Vaclav Karabacek is continuing to raise eyebrows in Gatineau of the QMJHL.  Karabacek has 12 points in 15 games.  The Czech winger stuck around in camp a lot longer than many expected.  Karabacek like Lemiuex will spend next season in juniors, but his rapid growth is something exciting for Sabres fans to keep an eye on.
Excitement of NCAA Hockey
Many people overlook the excitement of college hockey and the great players who are all over the US.  Hudson Fasching is off to an excellent start at Minnesota University.  Fasching was acquired at the trade deadline last season from the LA Kings along with Nic Deslauries, in exchange for Brayden McNabb and two 2nd round picks.  Fasching has 5 points in 5 games and was recently named Big Ten player of the week a few weeks ago for the Gophers.
Another exciting prospect to watch is 2013 2nd round pick JT Compher.  Compher has 3 points in 5 games for Michigan University.  I've always connected Compher to a Chris Drury type player.  His leadership skills and two way hockey skills are going to have Sabres fans excited for the future with Compher.  In his second season at Michigan, the Sabres hope that he continues to build on his Big Ten Freshman of the year honors last season.
Everything may seem like doom and gloom now in hockey heaven, but the future for the Sabres is still extremely bright.  A lot of positives are happening for the Sabres outside of the NHL.  Hopefully after the season the franchise will start to turn around and the young talent will start to show up at the NHL level.