The circumstances were incredibly similar the very last time the Montreal Canadiens and New York Rangers met in the playoffs, prior to Game 1.
Three Years Ago…
The year was 2014. A Guardians of the Galaxy flick was on its way to being one of the top movies at the box office that year. People were jamming to something by Lorde on the airwaves. And, oh, yeah, the Habs stunk it up in Game 6 of their Eastern Conference Final against the Rangers, one they would ultimately lose, along with the series.
In that game, the Habs were trailing 1-0 off a goal from a bottom-line forward entering the third period and failed to get anything going in that final frame. Rangers goalie Henrik Lundqvist had even made a critical save on one of the team's recent additions via trade. Sound familiar?
It should, at least if you substitute out Dominic Moore for Tanner Glass and Thomas Vanek for Shea Weber. The shot count in those final periods were eerily similar too. The Rangers had 13 in both frames. Montreal managed one more for a total of just six on Wednesday night.
The More Things Change
Take away Michael Grabner's empty-net goal to make it 2-0 and it would have essentially been the same game, which would not be a good omen for the three next games (at least, of course). And therein lies the key difference. This sorry excuse for a hockey game was the first of the series, not the last. Adjustments can still be made.
That's in part what head coach Claude Julien brings to the table, which his predecessor did not, the ability to adapt and make changes if need be (even if, curiously, few seem to be in the pipeline for Game 2).
#Habs: Voici les trios.

Pacioretty-Danault-Radulov
Byron-Plekanec-Gallagher
King-Shaw-Lehkonen
Galchenyuk-Ott-Martinsen

— J-F Chaumont (@JFChaumontJDM) April 13, 2017
Habs defence pairs appear to be unchanged as well.

— Аrpon Basu (@ArponBasu) April 13, 2017
Fans can disagree with Alex Galchenyuk being kept on the fourth line when so much as common sense dictates otherwise, but, regardless, this is the time for the Habs to make subtle changes to their strategy, not panic.
For example, the Habs had home-ice advantage in that 2014 series only to go down two games to none and squander it. So, there's solace to be found in how the Habs came oh, so close to forcing a seventh contest… within one shot actually of tying that deciding Game Six (that is if they would have been able to get any off). And from there who knows?
The point is this thing is far from over, especially seeing as the Canadiens managed to nearly go the distance with Dustin Tokarski in nets instead of Carey Price. That's another big difference.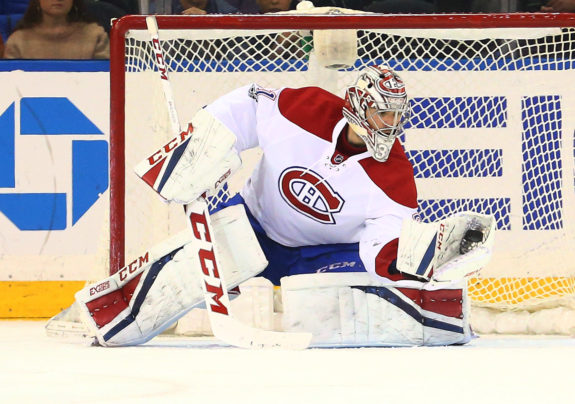 Key Differences
While Tokarski played admirably and wasn't the reason the Habs lost, you can't help but assume they would have managed more of an effective attack knowing the man who would go on to win both the Hart Memorial and Vezina trophies in 2014-15 was still manning their crease.
What's done is done though, meaning in this one specific case it isn't. There is still a lot of hockey left to be played and this series can go either way, even if history is not on the Canadiens' side. Anyone can take a look back and wonder. Having Price in the crease affords the Canadiens the luxury of not having to.
The circumstances are similar, but not the same and it's a completely different series. That's all anyone needs to know.