The situation between the Colorado Avalanche and Ryan O'Reilly has remained at a point of child-like inflexibility between both parties for months now. This is nothing really new to Avalanche fans who have gotten more and more used to their front office trading players with even a perceived notion of not being totally happy with their contracts. Just ask players like Sandis Ozolinsh, Chris Drury and Alex Tanguay, guys who were all huge parts of a successful team until Pierre Lacroix showed them the door.
The newest addition to this list of players is Ryan O'Reilly, and this one seems to be very reminiscent of what happened with Chris Drury, mostly in how it affects the fan base. Fans are very upset with what is happening with O'Reilly in a way that I haven't seen since Chris Drury was traded. Some at the Avalanche and some at O'Reilly. It has become a cloud that is hanging over the Avalanche, and is now end argument of pretty much any given situation that the team encounters.
If the Avalanche lose a game or struggle on faceoffs, the team is missing O'Reilly so much and now must give in to his every wish and demand because the team is lost without him. If the Avalanche win a game he's now expendable and should just be happy that he was even offered anything. Something that I never thought I would say about O'Reilly now must be said; his continued presence with this team is a distraction that will only be solved when he's gone.
Which leads into the some of the reasons that it would benefit the team to trade O'Reilly.
The Locker Room
Outside of the sideshow that has become pretty much every story out of Denver, you know this has to be taking a certain toll on the players as well. After practices, games, anything that involves a member of the media talking to the Avalanche, these guys are asked about Ryan O'Reilly. I know they're trained to say all the right things when asked about these types of situations, but they are human as well and could begin to resent the situation in which they have been placed. After all, they are the ones that are currently working their butts off to earn the money in their contract, not sitting behind their agent saying how much they deserve.
Put it in terms of your job. There's always that person in every office or place of employment that never pulls their share. They leave for lunch early and come back late, their computer is almost always on Minesweeper, or Solitaire, or some other game. Yet when you give your bosses a presentation and they tell you, "Nice job," that person is the first one to say "Thanks" and shake the boss's hand. You know how you feel about that person and you know how you treat that person with your fellow co-workers when they aren't looking. Right now, Ryan O'Reilly is that person.
Is it possible that O'Reilly could come back to this locker room and be welcomed with open arms? Maybe, but one couldn't help but be shocked if players were spiteful of this.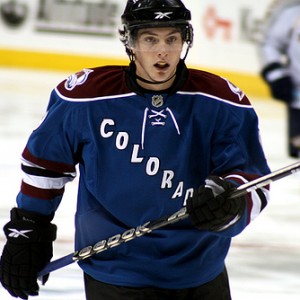 One of the big story lines last season was what a leader O'Reilly was turning into. Well, it's safe to say that that persona has withered away, especially with the polar opposite behavior of Matt Duchene. Duchene was also up for a new contract last season and was coming off of his worst year as a professional, thanks largely to the fact that he played the majority of the second half of the season injured. Still, Duchene could have said to the team that they knew what they would get from him and all they needed to do was look at his first two seasons as proof. Then he could have held out for a bigger contract.
Instead of that, Duchene basically said he knew that he had to prove that he deserves that big contract thanks to his third season and decided to take a smaller "bridge" contract so that he could go earn his big money. Duchene went to work out with Sidney Crosby in L.A. and has changed his  diet and his commitment level and it has shown in his game this year. Duchene is currently tied for the team lead in points with 10 (3 goals, 7 assists) in only 11 games. Points are great, but his all-around game has improved as well. Not to mention his locker room presence, when things are needing to be said, he's the guy that is stepping up and saying them. Right now, Matt Duchene is the one that owns this locker room, and Ryan O'Reilly would simply be a spectator.
Trade Value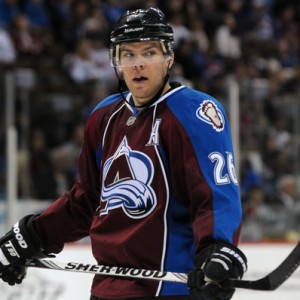 The Avalanche need help on their roster, especially on the blue line, and Ryan O'Reilly is the piece that is most likely to provide the best trade value. People like to throw Paul Stastny's name around with trades a lot, but his contract is one that makes him harder to move. Plus, in the end, Stastny is a much more proven and consistent player than O'Reilly, you need only look at his stats to see that. Stastny has only had one season, a season in which he missed half of the year with an injury, where he scored less than 50 points. Contrast that with the fact that O'Reilly has only had one season where he has scored more than 26 points.
That being said, since O'Reilly is the one that had the breakout season a year ago, he's the one that is most fresh in the mind of all teams. Not to mention, even if a team does agree to pay him the $5 million a year he reportedly to wants, they come off paying less than they would to Stastny.
There is also no denying that O'Reilly plays a very strong defensive game, as he did lead the NHL in takeaways a year ago. Does that make him more valuable than Stastny? Maybe, but you can bet that teams would be attracted to his defensive abilities and could be talked into parting with top-four defender, something that the Avalanche desperately need right now, given the right package.
It's Probably Going To Happen Anyways
As I mentioned up top, the Avalanche have a history of this. In more recent years they have been prone to trading guys that seemingly had attitude problems. Guys like Kyle Quincey, T.J. Galiardi, Chris Stewart and Craig Anderson all fit that bill, and were all sent packing. Put that together with the organization's history of trading guys because of contract disputes, like Sandis Ozolinsh who was traded the year after his holdout, and it just looks clear that this is mostly likely going to happen anyways.
It's time to say goodbye. Hopefully this soap opera of a situation can at least end up with the Avalanche receiving defensive help, because they need it.
I'm a Denver native who has been a fan of the Avalanche since they came to town and a fan of the game before that. I started writing my own blog a couple years ago before moving to Bleacher Report and becoming a Featured Columnist there. You can also find me the Burgundy Brigade Podcast