The 2016-17 season has been a roller coaster one for the Tampa Bay Lightning. The team has been so all over the place that the campaign can best be described as a "Wonkavator". A Wonkavator, as described in Roald Dahl's children's book, Charlie and the Chocolate Factory, is a means of conveyance that goes sideways, longways, frontways and slantways.
Seems an accurate portrayal of 2016-17 for Tampa's hockey team.
With the crucial losses of team leaders Steven Stamkos and Ryan Callahan to injury, as well as dealing away veterans Brian Boyle, Valtteri Filppula and Ben Bishop, the Lightning have dealt with personnel changes, fluctuations in the standings, and inconsistencies of play.
The inconsistent play, coupled with injuries up and down the lineup, have caused Head Coach Jon Cooper to shuffle lines and make numerous call-ups from the Lightning's American Hockey League(AHL) affiliate Syracuse Crunch.
The production of rookies like Gabriel Dumont, Adam Erne and Brayden Point have been a big reason for the Lightning staying afloat in the Eastern Conference and have been a pleasant surprise to the Lightning brass. But you have to look at the backend to find the biggest and perhaps the most unlikely contribution to the Bolts' season.
Jake Dotchin, a 22-year-old defenseman from Cambridge, Ontario, was called up in the wake of a Victor Hedman illness and has been a mainstay on the number one pairing (alongside Hedman) since his recall from Syracuse.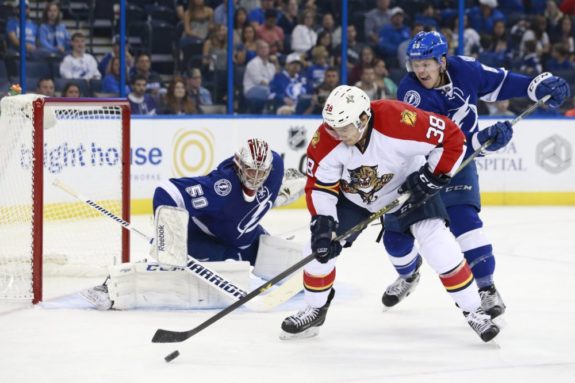 Dotchin's consistent play has gained the trust of his head coach and earned him more ice time. Overall, his average time on ice is 18:07, but in four of his last five games he's played well above that time. At the beginning of the season, Dotchin's name was hardly in the conversation for regular Nation Hockey League (NHL) minutes. He was projected, at best, to be an emergency call-up.
But with the inconsistent play of the Lightning defense, as well as the trade of Nikita Nesterov on January 26th, Dotchin's role has been elevated and his play has followed suit. It's quite a story for a relative unknown to impress as much as he has.
[irp]
Dotchin's Journey
The Lightning used a sixth round pick (161st overall) on a defenseman from the Owen Sound Attack of the Ontario Hockey League. The scouting report on Dotchin was of a defense-first, physical guy that isn't afraid to get in the dirty areas. The physical aspect of his game was evident in Barrie, where he closed out his Junior career, and also in Syracuse where he received 236 penalty minutes in three seasons.
But whether or not he would develop a well-rounded game was the question. Big, physical defensemen are swooned over by general managers, as long as they can move the puck and are responsible in their own end, and at the time of the 2012 NHL Entry Draft, Dotchin's projection was uncertain.
He paid his dues, though. After signing a three-year deal in 2014, the 6-foot-3-inch, 210-pound defenseman has been developing his game for the Lightning's AHL affiliate under the tutelage of Rob Zettler and Benoit Groulx. There he has kept the physical aspect of his game while adding definition to his offense and honing in the intricacies that make an NHL defenseman. His yeoman's work in the minors eventually caught the eye of Lightning brass and after being projected as a third pairing defender, Dotchin is playing first pairing minutes in the NHL.
[irp]
The Victor Hedman Influence
What better way to begin a professional hockey career, playing the most difficult position in the sport, than to play it alongside one of the best. You cannot argue that a lot of Dotchin's success thus far has been because of number one defenseman Victor Hedman. It was a smart move on Cooper's part to pair him with Hedman because it gives the rookie freedom to jump in on the rush or make a big hit knowing #77 has him covered.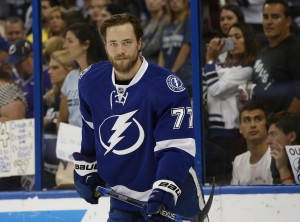 You also cannot under value the education Dotchin receives day-to-day from the Swedish All-Star. That will pay dividends for Dotchin as his career moves forward.
Dotchin's success thus far at the NHL level has been an immense surprise for the Lightning, especially considering that of the six players selected before him in the 2012 draft, only Andrei Vasilevskiy (first-round) and Cedric Paquette (4th round) have contributed more.
It's just more evidence of Steve Yzerman's brilliance.
Graduated with a Bachelor's Degree in Journalism from Western Illinois University, where I also played 4 years of Rugby.