New York Islander fans need to let the image of Joshua Ho-Sang passing to John Tavares and the puck hitting the back of the net sink in. If the rookie's play over the last week is any indication, it's going to happen often- and for years to come.
A Pleasant Surprise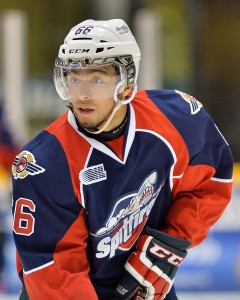 After only scoring a goal in his first five games, Ho-Sang has five points in his last three contests. Now with three goals and three assists in just eight games, Ho-Sang has been the Isles' most dynamic offensive player. With a playoff spot in the balance, Ho-Sang may, in fact, be one of the missing pieces the Isles need in order to reach the postseason. Ho-Sang's effect on the team has long-term value as well. If his play so far has been any indication, the Isles have someone who has the ability to be a star in the NHL.
Defying Expectations
The road to the NHL for Ho-Sang hasn't been an easy one, though. On the first day of Isles training camp in 2015, Ho-Sang woke up late and was sent home. Returned to his OHL team in Niagara, Ho-Sang responded with a 63-assist season. In 2016, Ho-Sang didn't make the Islanders out of camp. Instead, he was assigned to the team's AHL affiliate in Bridgeport. After being scratched from games early this season, Ho-Sang found his game in the AHL. With 26 assists and 36 points in 48 games, Ho-Sang left his early career issues in the dust.
Even with a need for more offense and players like Matt Duchene on the market, Islanders general manager Garth Snow made just that one move this trade deadline. That was to call up Ho-Sang. Pundits and fans thought it was a ploy to move the youngster, but it was anything but. Ho-Sang's impact has been almost immediate. His six points since his arrival are more than Jarome Iginla and Viktor Stalberg have with their new teams, combined. As two of the bigger names that changed addresses a few weeks ago, Ho-Sang is not playing like a rookie.
Trust of Coaching Staff
As a result, Ho-Sang has quickly earned the trust of the Islanders coaching staff. And that's even with his play away from the puck not nearly as solid as his offensive play.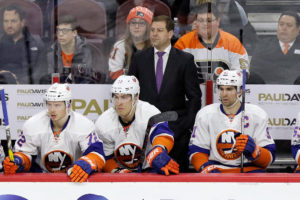 "Watching him play, I was like 'Geez, he's going to have a good career. But he's got to learn a lot of things,'" Weight told New York Newsday on Tuesday after the Islanders 3-2 overtime win where Ho-Sang earned an assist on the game-winning goal. "So, yeah, I am (surprised). I don't think I'm astonished, but I'm pleasantly surprised at how fast he's come along. I had him out there with three minutes left in a 2-2 game that's arguably our biggest of the year, so that's a pretty good sign."
A Vital Component Already
With 13 games left to play, the Islanders have the final playoff spot in hand. But with injuries to Casey Cizikas and Johnny Boychuk, they need their youth to step up. That's exactly what Ho-Sang has done. Not since the late-season arrival of Kyle Okposo in 2008 have the Islanders had a rookie be such a pleasant surprise. Just like Okposo, Ho-Sang has that first-round pedigree. His passing and skating ability is real. Ho-Sang is the guy to replace the departed Okposo for years to come.