The Montreal Canadiens recent six-game winning streak was unceremoniously snuffed out by the Calgary Flames on Thursday. While the 5-0 setback was disappointing, it hopefully isn't much cause for concern going forward. After all, they did follow it up with a 4-1 win over the Edmonton Oilers. Even with only minor changes in the lineup since the trade deadline, how they lose shouldn't be anybody's focus. It's how they win that's important.
Winning by a Nose
The most interesting part of the streak is that in the first four games, the Canadiens held a lead for a grand total of five minutes and seven seconds. The bulk of that time, 4:58, came in the first game against the Toronto Maple Leafs. Only one of the six games was won by more than one goal, a 4-1 win against the New York Rangers, and four of them were won in overtime.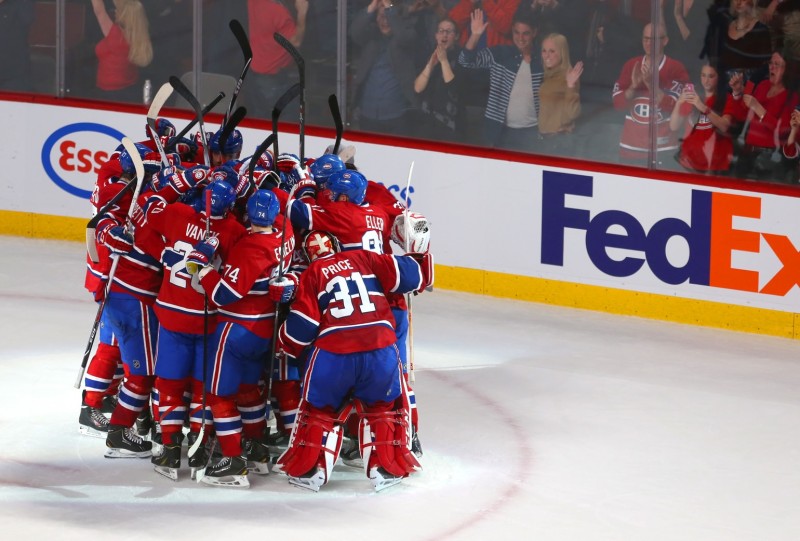 Some would argue those games could have gone either way, and there's a case to be made for that. Montreal was outshot in the first two games and the Columbus Blue Jackets hit a couple of third period cross bars in game three. So why did they go Montreal's way?
Credit needs to be given to the Canadiens. They generated over 30 shots of their own three times, held the opposition to under 30 shots four times, and only surrendered 1.33 goals against per game on average. They don't score a lot of goals, but they're highly opportunistic. They've earned some of this luck. Perhaps there is more to this season though.
Returning to Form
Goalie Carey Price is definitely a huge part of the recent success. He went through a mid-season phase under old coach Michel Therrien with regular human-type stats and allowed some untimely back breaking goals. It's evident he's now himself again. His numbers since Claude Julien took over reflect it, reaffirming the team as contenders.
If you want more proof of how crucial Price is to team success, look no further than last season.  In 2015-16, he played just 12 games and won 10 of them. After he was injured and out for the season, the Canadiens plummeted from first in the Eastern Conference to a 13th place finish. Price has definitely stolen his fair share of games this season but if he's not been consistently rock solid, maybe the 2016-17 Canadiens have that knack for creating their own luck.
Only Scoring When It Counts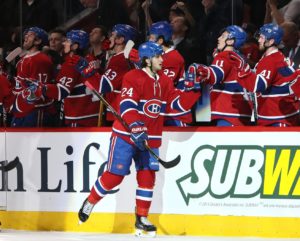 According to NHL.com, after 69 games the Habs sit 17th out of 30 teams in goals for with 187. That puts them on pace to end the season with 223. It's somehow good for first place in the Atlantic division and fifth place in the ridiculously lopsided Eastern Conference. Yet it's only two more than the 221 they managed last season when they finished a full eight places lower. It's also very similar to the totals for every season so far this decade.
From 2009-10, the Canadiens have never scored less than 212 goals and never more than 221. For a team that doesn't score, they're remarkably consistent at it. So how have they managed to be in the bottom 10 or 15 in goals scored for eight years and still managed to be in the division top-four in six of those years, winning the Atlantic two of the past four seasons? Maybe there's still a little of the old Montreal Forum magic floating around the Bell Centre.
After all, what's the point of being the Canadiens if you can't take advantage of history?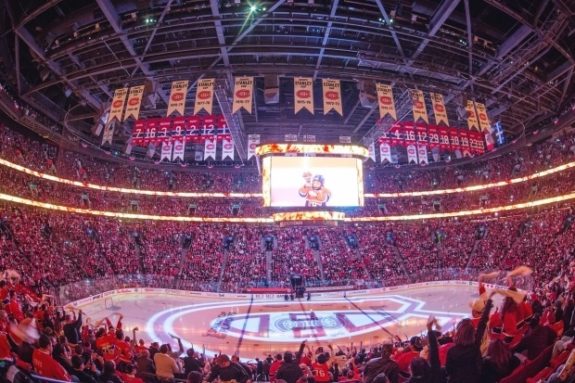 In 2016-17, the Habs lead the entire league in total wins and winning percentage in games when trailing after two periods.  They've accomplished 10 wins when down after 40 minutes, showing a real resiliency and scoring efficiency. Of course, they've trailed after two periods a total of 29 times which is slightly worse than average, but not that far off the other Eastern Conference juggernauts that will have to contend with them in the playoffs.
For instance, the Pittsburgh Penguins (24 times), Rangers (22 times), Blue Jackets (20 times) and Washington Capitals (20 times) were down after 40 minutes fairly often themselves for being high scoring teams. Pittsburgh is second overall with a .333 winning percentage, but not as good as Montreal's .345 percentage.  New York and Columbus assembled only 22.5 percent and 20.0 percent, respectively.  Washington, the supposed Stanley Cup lock at the moment, is a dismal 15.0 percent, or 2.3 times less successful than the Habs at third period comebacks.
With Price now stopping some shots at key moments it provides the team with a chance to win, but someone (or something) is scoring those game winners. All of these teams have similar stats when it comes to holding leads so that edge in experience, and possibly divine intervention, when clawing back into games could play a huge part in favour of the Canadiens in a seven game series.
Do You Believe in Magic?
The best part of the six-game winning streak was that it featured three consecutive overtime wins. It's a stretch to draw comparisons to the 10 straight overtime victories of the 1993 playoffs that propelled them to their last Stanley Cup. On the other hand, it's also fun to believe the hockey Gods and the ghosts of the Montreal Forum may be smiling down yet again on the sport's most mythical franchise.