Over this summer, the Maple Leafs have made several astute hockey moves. Whether we are talking about their signing a plethora of bottom six forwards to increase competition and solidify the roster, their attempt to ice a more balanced group of defenseman, or their hiring of Kyle Dubas, the summer of 2014 has been a successful one for the Leafs.
Of all their moves, there is one that stands out as the best: Signing Jake Gardiner to a 5 year $20 million dollar contract.  Acquired in a trade that just missed the cut on being one of the 5 best trades of the post-Gilmour era, it is exciting to know the Leafs will have Gardiner in the lineup for the next five years.
Now, I know some people have called this an overpayment. After all, Gardiner put up just 31 points last year, while often seeming like the whipping boy for the coaching staff. Whether that's just tough love or an inability by said staff   to recognize what they have in Gardiner, we'll find out this season, but in the meantime, the management group made a smart decision.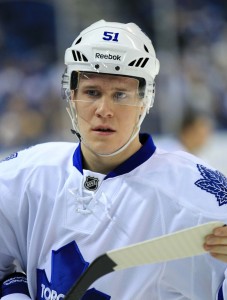 Critics will say that Gardiner is an offensive defenseman who is prone to making bad decisions and who is too high-risk to be effective. They will say that his contract is too much too soon.  They are wrong.
First of all, before getting into any stats, let's just look at the player: Gardiner is an elite skater with great passing and puck handling skills. His speed is such that he can compensate for any bad moves he may make. He creates offense when he is on the ice, and while his defense may be subpar, he is far more likely to play in the offensive zone anyways, thus largely neutralizing, or at least  minimizing, his main weakness. In fact, though he isn't the world's most physical player, his size (6'2 180lbs), speed and puck-handling make him far more effective in his own end than people seem to think. Sure, he'll frustrate you with isolated high-risk plays, but those aren't as bad as you think – they just tend to stick in your head when they lead to an opposition goal.
Last season Gardiner had 31 points, good for 45th in the NHL among defenseman, but this is better than it looks because he was not on the first power-play unit and he was ranked 73rd in ice-time. It is reasonable to assume that as Gardiner matures, becomes more relied upon, gets more PP time and more ice time, that his point totals will drastically increase.
On the advanced stats side of things, Gardiner's value becomes even more apparent. Last season, he was the Leafs best possession player. What this means is that when he was on the ice, the Leafs had the puck more than at any other time. Even if you deride his defense, it barely matters because what the science shows is that when he plays, the Leafs aren't usually in need of defense. The stat to look at here is "CF% REL"  which is his Corsi, relative to when he is not on the ice. This shows that when Gardiner is on the ice, the Leafs take 5.6% more shot attempts than when he isn't.  While 6% more shots might not seem like a lot, it only takes  a second or two to take a shot but you have to have the puck to attempt one, and if you are taking 6% more shots, then logically, you have the puck for a lot more than 6% of the time.  Keep in mind, this is just 5 on 5. On the Powerplay, perhaps Gardiner's best skill, he is even better.
In addition to the value Gardiner already empirically provides, he is only 24 years old and bound to get better. The Leafs are paying him $4 million per season this year, and if he is utilized better, and plays how he did last year, that's good value. If he – as is almost a guarantee – continues to improve and even comes anywhere close to scratching the surface of his potential, this contract is going to provide insane value to the Leafs.  If a star, top pairing, defenseman in the NHL is currently worth between $7 and $9 million dollars per season, then Jake Gardiner is already providing value.  There is no way PK Subban is worth twice what Gardiner is, in terms of what each player provides his team.  If Gardiner reaches his potential and becomes a top pairing defenseman, then the Leafs will be getting savings of between $2 and $5 million dollars per year between his contract and what he could be worth on the open market.  Not to mention that this contract runs between the prime ages of a players career of 24-29.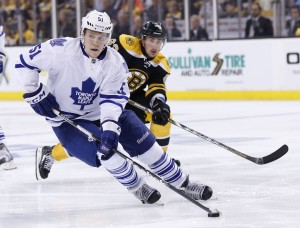 By getting Gardiner to agree to this contract, the Leafs have potentially added a top tier player at the price of an average player.  Even if Gardiner regresses, if he doesn't live up to his potential, $4 million dollars for a fast, high-risk, kind-of-alright puck moving defenseman with size (which is an absolute wort-case scenario) is still a good deal.  The Leafs literally cannot lose with this deal, and if Gardiner hits even a fraction of his potential, this could well end up being one of the most team-friendly contracts in the NHL.  And, in a salary-cap system, Team Friendly means Fan Friendly because it means more money to ice a better team.
Thanks for reading