PITTSBURGH — Another game.  Another goal.  James Neal's first period tally sparked Pittsburgh to a 3-1 win over Montreal Thursday night and tied him with Phil Kessel for the NHL goal-scoring lead at seven.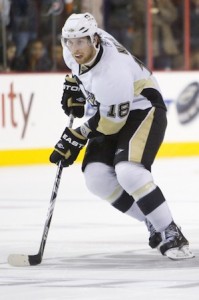 Neal's quick wrist shot from the slot initially beat Montreal goalie Carey Price, but it rang the post before ricocheting off Price's back and finally dribbling into the net.
"When things are going good you get bounces like that," Neal said after the game with a smile.  He's been saying that a lot lately.
Neal's hot hand and touch of luck has made the absence of Sidney Crosby (concussion), Evgeni Malkin (knee), and Tyler Kennedy (concussion) a little easier to stomach for the Penguins. It's this type of production that fans and GM Ray Shero hoped to see from Neal after he was acquired from Dallas at the trade deadline last season.  Neal scored 21 goals in 59 games with Dallas at the start of last year, but added just one to that regular season total after the trade.
"It was frustrating," Neal said of his late-season struggles with Pittsburgh.  "I wanted to come in here and score goals and help the team win.  It was just tough finding the back of the net."
When a young player is traded away from the only organization he's ever known it can take time to adjust to a new team on the ice.  Different coaches, new systems, unfamiliar faces in the locker room.
What we often forget to consider is the off-ice impact a trade can have on a 23-year-old as well.
"The whole thing coming in here, being traded, it was just a big change," Neal said.  "You leave your friends.  You're living in a hotel.  Your life's changed upside down with a phone call.  But [looking back], I'm glad it happened and I couldn't be in a better place."
Neal said he's made Pittsburgh a home and having a full training camp with the team has played a big role in his hot start.
"I'm not new to everything now," he said.  "I know what to expect and know what to do."
Gaining a full understanding of a system as complicated as coach Dan Bylsma's can be vital to the success of a goal scorer.  At the NHL level, an extra split-second thought can be the difference between getting a shot on goal or having it blocked.  Instead of thinking and making decisions about where he should be on the ice, Neal is now simply reacting.
Finding time and space is also a lot easier on a line with Evgeni Malkin.  In this game against Washington last week, Malkin commanded the attention of the entire Capitals team on his end-to-end rush before dishing the puck off.  This wasn't happening for Neal last season with Mark Letestu and Alex Kovalev as his linemates:
Another way for a goal-scorer to find success is to head to certain areas of the ice that are so familiar, he can almost shoot with his eyes closed.
Focus on Neal for an entire shift in the offensive end and you'll notice him heading to the same two spots on the ice: the top of the left circle and the bottom of the right circle.  Coach Dan Bylsma pored over hours of film this offseason breaking down every single goal Neal has scored in his NHL career.
The Penguins also recently told James Mirtle of The Globe and Mail about an advanced stats model they've been working with from the Sports Analytics Institute:
"SAI's model has introduced the Penguins to in-depth shot location analysis and goal scoring probabilities – using a statistic called predicted goals scored – that they make available after every NHL game."
There's a good chance Bylsma and his staff combined this scoring probability data with the spots on the ice Neal has been most successful in the past to determine the best areas to score.  Bylsma hinted at this type of offseason analysis in pregame comments last week:
"Every coach says 'go to the net, go to the net' but that doesn't always translate into more goals.  So we worked hard this summer trying to find ways to score more 'dirty' goals.  Some of it is individual skill development around the net, but a lot of it was going to certain areas on the ice.  We did some homework and we've worked it into our practices differently than we have in the past."
Neal said that getting open in the scoring areas is his focus every night.  "When you're playing with some good playmakers and some great players like I have been you want to get yourself in good spots to get shots off."
Which leads to the most basic reason for James Neal's success: he's shooting the puck more than ever.
"I always want to put [the puck] on the net, be at the net," he said.  "That's where you're going to score your goals."
This season is still in its infancy, but Neal is averaging almost 1.25 attempted shots per game more than he did last year.  One of Neal's current teammates knows first-hand how difficult he can be to contain when he's shooting the puck often and with confidence.
"I know him well from playing in the West [Conference] and in the same division for a long time," said defenseman Zbynek Michalek, who spent five seasons with the Phoenix Coyotes before coming to Pittsburgh last summer.
"I hated playing against him.  He's got a great shot.  He's a big, strong guy and when he goes to the net and uses his shot he's one of the top players in the league.  Right now it seems like he's finally got that confidence going."
Can James Neal keep it going or is this just a streak of good luck?
His high shooting percentage should regress back in line with his career average over time, but one advanced statistic shows that Neal's recent success may not be a fluke.
The Backhand Shelf's Daniel Wagner recently wrote about PDO numbers and how they can give us insight into whether teams and individual players can be expected to sustain hot or slow starts.  According to Wagner:
"To calculate PDO, you simply add together a team's even-strength shooting percentage and even-strength save percentage, multiplied by 1000 to give us a nice looking number to work with. For the entire NHL, the PDO number must equal 1000, because every shot is either a goal or a save.

What was found is that over time, this number always regresses to 1000: a team with an unsustainably high shooting percentage and save percentage will see those numbers drop."
Wagner goes on to describe how we can apply the PDO methodology to individuals by using the team shooting and save percentages only when a certain player is on the ice.  Heading into Thursday's games, Phi Kessel had a PDO of 1178 indicating an unsustainable hot start for the sniper (last year's NHL range for individuals was 934 to 1062).
James Neal's even-strength PDO heading into Thursday was 978, showing maybe even potential for improvement.  He won't maintain his current 64-goal pace, but it'll be interesting to see what happens to his numbers after Malkin and Crosby return to the lineup full-time.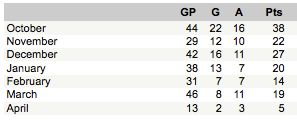 Neal is no stranger to fast starts.  In fact, he could probably be nicknamed 'Mr. October' based on how he began the last three seasons in Dallas (see graphic to the right).  But Stars coach Joe Nieuwendyk said last year that Neal needed to find a way to produce more consistently in order to take his game to the next level.
After games, Neal is constantly asked by reporters how he and the Penguins have found ways to be successful without help from their injured stars.  He usually offers the cliche lines about working hard and 'playing their game', but truthfully, these are the only Penguins Neal has ever known.
He didn't win a Stanley Cup with this group in 2009. He watched Sidney Crosby torch the NHL with 66 points in 41 games last year on television like the rest of the world.  For now, he can only dream and wonder.
Neal played three games on Evgeni Malkin's wing earlier this season and showed good chemistry with the creative Russian.
"I played with him all preseason so I got a pretty good feel for what he wants to do," Neal said of the injured Malkin. "He comes with so much speed up the middle and makes so many good plays out wide.  If he gets the puck, you just try to find an opening and he's going to find you.  He's so highly-skilled, I can't say enough about him."
But despite the early season chemistry with Malkin, Neal was supposedly acquired from Dallas to play with Sidney Crosby.  Bylsma has mentioned on a few occasions this fall that he'd like to see what Crosby can do between two pure shooters in Neal and Chris Kunitz.
"I sit beside Sid every day in practice," said Neal.  "I got to skate with him before [training] camp.  It'll definitely be an unbelievable chance to be able to play with him and hopefully we can do well together.  Anybody you play with here you have a good chance of playing with some pretty good guys."
Time will tell whether Neal cools off or he can turn his first full season in Pittsburgh into a career year.  Neal's efforts have been appearing on the highlight reels and scoresheets every night so far, but he admits that his goals have only been one aspect of the team's success.
"Everyone knows what they have to do and every guy has a job out there. You go around the [locker] room, each guy battles every night."
With the whirlwind of an unexpected trade behind him, Neal can finally just focus on doing his job:
"Shoot the puck and go to the net.  When you're doing that, good things happen."
 ___________________________________
Mike Colligan is the Pittsburgh Penguins correspondent at TheHockeyWriters.com and an NHL analyst at Forbes SportsMoney.
You can email him at MJColligan@TheHockeyWriters.com or follow him on Twitter: @MikeColligan