The mulletted coif of Jaromir Jagr is instantly recognizable to almost any hockey fan, making it an alluring piece of art for a new beer from Block Three Brewing in St. Jacobs, Ontario. The punny new Czech pilsner is called Jaromir Czech Jagr (it's a Jaromir lager).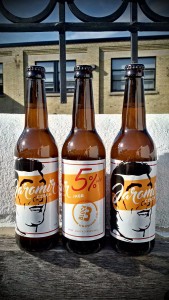 The microbrewery launched the beer over the weekend. "We knew we wanted to brew an easy drinking Czech Pilsner," said Graham Spence, a co-founder of the brewery. "It's such an easy drinking beer and with patio weather, this is something we were looking for in a beer ourselves."
Doing a lager can be a bit of a challenge for microbreweries due to space constraints. They can take up to six weeks, to brew, while ales can be completed in just two-to-three weeks.
"When it came to the name, which is usually one of the hardest parts, it just sort of happened," Spence said. "Being fans of hockey, our brewery has its own team, the name just sort of came to us so we decided to roll with it."
Rolling with it allowed them to put out the run with the great art above.
"I think the only complaint we have heard about the beer is that we didn't make it 6.8%."
The group of Leafs fans and "one weird Canadiens fan" founded the brewery in 2013, just hoping to make some beers that they all liked. They predominantly serve their brews locally around the Waterloo region. But they do free tours and tasting at their brewery and are clearly a hockey friendly locale.