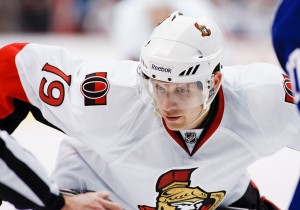 Over the course of the past six months or so there has been a great deal of speculation surrounding Jason Spezza and his future as an Ottawa Senator. Many NHL Insiders have been reporting varying rumors of the seriousness of Ottawa General Manager Bryan Murray trading his star centre. After the recent NHL General Manager meetings Bryan Murray confirmed the speculation.
"I don't want to trade the guy, really, and I know I won't get the value, in all likelihood, that I should get for him," Murray said. "But I think that Jason feels maybe there's a change that he would like to have happen, and if that's the case we'll try to do what we can."
It is clear now that while Jason Spezza is not taking the Danny Heatley route of demanding a trade, he is most certainly ready for a change of scenery. Now at the age of 30 with one year left on his contract at a $7 million cap hit with only a $4 million salary, his offensive abilities and experience would be invaluable to a number of clubs.
What would it take to acquire Spezza?
In order to secure a trade for Jason Spezza it has been reported that the package would include a current NHL player, preferably a centre, a prospect and a first round pick. One team that seems to make a great deal of sense in their pursuit of Jason Spezza is the Nashville Predators. The Hockey Writers Colin Fitts wrote on this from a Nashville perspective.
Nashville as always is solid on the blue line and in goal; however they have continued to be offensively starved. With new Head Coach Peter Laviolette in place a player like Jason Spezza would definitely be on his wish list to create more offense for his new club. The move to Nashville would also reunite Spezza with a former longtime Senator Mike Fisher.
What could the Predators offer?
Going along with the report that it will take an NHL centre, a prospect and a first round pick the Predators have all these assets to spare. In this case who would the Senators be targeting for a good return on a deal involving Jason Spezza?
The most obvious name would be Colin Wilson, a natural centre that has spent the majority of his time in the NHL on the wing thus far. He mostly played with Mike Fisher and Patric Hornqvist last season and the year before with David Legwand and Martin Erat.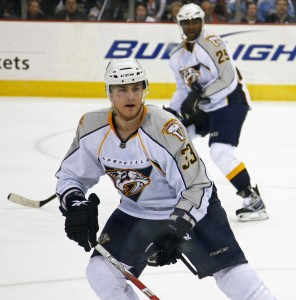 Over the past three seasons he has been slowly brought along at the NHL level with no more than 23% defensive zone starts during that time. He has also averaged just less than 15 minutes of ice time per game during his time in Nashville. With Jason Spezza averaging more than 18 minutes per game there would be additional ice time added to his responsibilities in Ottawa.
As a centre his faceoff winning percentage will require improvement. He has not been higher than 49% of the NHL level thus far. However with his size and being just 24 years of age there is sure to be improvement in this through the coming seasons.
In reviewing his scouting report at Hockey's Future he is a player that has a great deal of potential. Quite frankly he appears to have the potential to be a first line playmaking centre, much like Jason Spezza but he would play with more intensity.
"Wilson is an instinctive player with a combination of size, power and elite-level skill. His greatest attribute is his tremendous hockey sense. His great on-ice vision and awareness allows him to anticipate and make very good reads on developing plays. Wilson also possesses superb hands. His great patience with and distribution of the puck is really something to marvel at. The confidence that he exudes and his ability to step up his game when called upon are matched by his intensity and relentless pursuit of excellence. His tireless work ethic and unyielding commitment to his off-ice conditioning are evident in the areas of his strength and power."
Which prospect could be targeted?
The Senators will surely want Colin Wilson to be the centerpiece of any return coming from Nashville for Jason Spezza. With that in mind a safe, projectable prospect would be an ideal addition to this transaction. Although the Senators have many defensive prospects in the system Jonathan-Ismael Diaby could be of some interest. As stated in Hockey's Future his greatest asset is his size.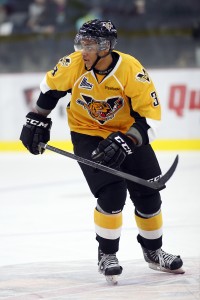 "First and foremost, there is his size. Diaby is blessed with great natural talents and is a punishing force on the blue line. He pairs that size with a nasty edge and good skating ability, allowing him to play a physical style without sacrificing positioning. He can make a solid first pass out of the zone, but his game is primarily defense-first."
Diaby is projected to be at best a second pairing defensive defender, although it is more likely that he becomes a solid number five or six that plays on the penalty kill. The 6'5" 240lb defender was drafted by the Predators in the third round of the 2013 NHL Draft at 64th overall. He finished his final QMJHL season with the Victoriaville Tigers and saw action in four games with the Predators AHL affiliate the Milwaukee Admirals while contributing one assist.
The final piece
The final element of this trade would be the Nashville Predators first round pick in this year's NHL Draft. The Senators own pick at number 10 is now with the Anaheim Ducks as part of the Bobby Ryan deal. The Predators first round pick is 11th overall which would put Ottawa only one spot behind where they would have picked. At that slot the Senators should be able to add another solid prospect for the future.
Although the first round pick may be thought of as the best part of the return for Jason Spezza, they key truly is Colin Wilson. He was thought to be having a breakout season last year with 19 points in 25 games, which would be 62 points over a full 82 game schedule.
However his totals dropped back to just 33 points this past season. Some of this can come back to the fact that he had a completely unsustainable 26.9 shooting percentage in 2012-13 which fell to 9.8% this past year. He has been in and around the 14% mark for his career so it is not unreasonable to expect a bounce back next year, especially with increased minutes.
Looking towards the future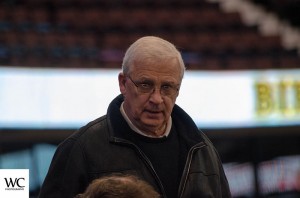 In the end with Colin Wilson becoming an Ottawa Senator they could boast a solid top centre grouping, albeit a very young one overall. This would include Kyle Turris, Colin Wilson, Mika Zibanejad and Zack Smith. If Wilson and Zibanejad can at the very least become 50-60 point men consistently this would set up the Senators for a great deal of success in the future.
Granted all of this is simply speculation at this point and Bryan Murray made it clear that there is no rush to deal his captain and star centre.
"It'll probably be another few weeks, at least, before anything comes down that might be a worthwhile trade [to talk] about," Murray said.
So hold on to your hats Senators fans, this could be a slow process in which Bryan Murray will take his time to find the best return for Jason Spezza.