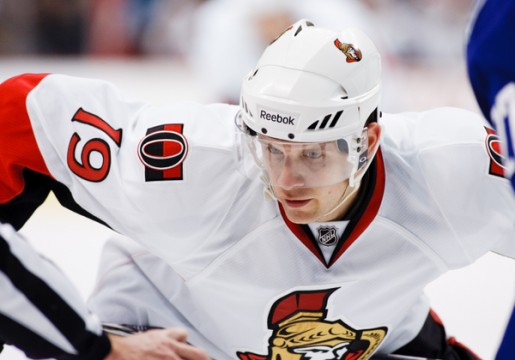 While most of the hockey world focuses their attention on the Stanley Cup Finals, rumors of player movement have heated up and Jason Spezza is the talk of discussion. Wednesday in New York City at the GM's meeting, Ottawa Senators' Bryan Murray confirmed the unlikelihood of Spezza returning to Canada's capital.
At GM meetings, Bryan Murray confirms Jason Spezza has "requested we give him a chance to go elsewhere." More later.

— Elliotte Friedman (@FriedgeHNIC) June 11, 2014
From TSN:
"I don't want to trade the guy, really, and I know I won't get the value, in all likelihood that I should get for him. But I think that Jason feels maybe there's a change that he would like to have happen, and if that's the case we'll try to do what we can."

…

"Obviously I'd like to win a hockey game next year, so getting a player back that can play in the league, that has played in the league, would be important."
One of the supposed landing spots for the (soon to be) 31-year old center is Nashville, Tennessee. Spezza is entering his final year of a 7-year contract and will become an unrestricted free agent next summer if not re-signed. His cap hit will be a tough to swallow $7 million, but his actually salary will be $4 million. The hefty cap hit will turn teams away who are close to the cap ceiling, which may make it difficult for Murray to get an ideal return for the captain. However,this contract is great for teams — like Nashville — who have struggled to reach the cap floor.
Murray sees a team like the Predators to be of interest to the Senators because it would prevent seeing playing against Spezza more than twice a year. Bruce Garrioch of the Ottawa Sun wrote on June 3:
League sources say the top candidates to acquire Spezza are in the West because Murray hasn't really been willing to entertain much interest from the East — including Florida and the Rangers.

The Anaheim Ducks, St. Louis Blues, Nashville Predators and Vancouver Canucks are all believed to have an interest in Spezza, who had 23-43-66 points in 75 games last season.

"The issue the Senators are facing is they aren't going to get as good a player back if they deal Jason Spezza," said a league executive Tuesday.

"You don't get No. 1 centres just anywhere. Guys who get those kinds of points are hard to come by. They'll get a No. 1 pick in the draft but that guy isn't going to help them anytime soon."
The seasoned veteran will be entering his 12th season in the NHL, but still possesses the scoring touch. While Spezza will never replicate his 92 point season in '07-'08, he can produce 60 points, something a Nashville player has not done since '08-'09 by J.P. Dumont. Spezza will also provide the team a true first line center, with Mike Fisher and Matt Cullen playing on the 2nd and  3rd lines, respectively. Sound similar? It should because those three were centers during the Senators' 2010 playoff appearance.
While Spezza becoming a Predators would be great, his presence brings upon a double-edged sword to the organizational depth chart. Nashville has an overwhelming supply of centers, but none of them are top line worthy like Spezza. Given that, questions raise about the future of Colin Wilson and Craig Smith in Nashville, who have yet to fulfill their potential in the League. If this deal is to get done, either (or both) will have to head north in exchange. Otherwise, it clogs up the development stages of sub-21 year old Swedish centers Calle Jarnkrok and Filip Forsberg.
This may be the move that will help compliment new head coach Peter Laviolette's style of play. The talent in the free agent market is shallow this summer and teams will overpay for what they believe to be the "missing piece". With a Spezza trade, the auctioning for his services have already turned away 16 teams (all in the Eastern Conference), leaving 14 in the West open to bid. The odds for a good trade is on Nashville's side, which gives GM David Poile leverage in trade talks.
Colin Fitts is a Nashville Predators staff writer and is a credentialed media member of the Chicago Wolves. From Nashville, Tennessee, Colin majors in journalism and public relations at Columbia College Chicago. Follow him on Twitter, @FittsTHW. Email: 22fitts [at] gmail [dot] com.