OK, New York Rangers fans, it's gut check time. Three straight losses to the Los Angeles Kings in the Stanley Cup Final have made the Blueshirt bandwagon a heck of a lot less populated nowadays. The Rangers obituary has already been written–and it's just a matter of time now.  After all, no team in history has erased a 3-0 Final deficit to win the Stanley Cup since the Toronto Maple Leafs did it in 1942 against the Detroit Red Wings. But there is still at least one game left to be played, and the Rangers (unlike 28 other NHL teams) are still playing.  Until they lose that last game, the NHL season–and the Rangers' season–will continue. And the true fans will be there to see it. Don't join the bandwagon jumpers and desert your team now.  That's not the act of a true Rangers fan.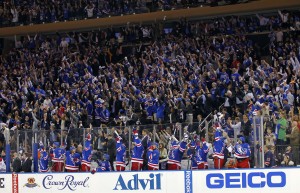 Not That Wide a Margin
It would be one thing to write the Rangers off if the three Kings wins were blowouts, or showed complete domination. The real story is quite different, though. Two overtime games that featured two-goal Ranger leads at multiple points, and a third game where all three goals came off of deflected shots is not a dominating performance.  No, these two teams are much closer than the series margin shows. The Rangers have been in this series from the beginning, and the stats show that.
Yes, the Kings lead in all major categories, but not by as much as you'd think. Their advantage in shots on goal is only 102-97, even though they outshot the Rangers in game 1 by 43-27. Coming into the series, the Kings lead all playoff teams in hits by a wide margin, but hits in the Final are 113-109 thus far. Even faceoffs are now only 110-105, and this is an area where the Rangers were sorely lacking. Put it all together, and you get a series that has been much closer than the 3-0 margin in wins. This series is a bounce or two away from being 2 games to 1–in either direction. If the Rangers can truly put the trials of the past three games behind them and play totally in the moment, then there is still a sliver of hope. And as long as a sliver of hope remains, no true fan will leave their team.
A Team to Believe In
Rangers fans, your team is an improbable Stanley Cup Finalist to be sure. Not many picked them to advance this far in the playoffs–not with the Boston Bruins and Pittsburgh Penguins dominating the Eastern Conference. They have beaten the odds just to get here–and they are no stranger to improbable comebacks. Just ask the aforementioned Penguins. This is a team that has had to dig deep, and knows how to play their best hockey when facing elimination. Judging from their comments so far, they still believe in themselves–and well they should.  The least you can do as true fans is believe in them as well.
Now is the time to support this Rangers team. They have survived a truly awful start to the current season, a 3-games-to-1 deficit against a team with many more offensive weapons, immeasurable personal tragedy, and have weathered each storm. They have rewarded your loyalty with their first trip to the Stanley Cup Final in 20 years. This is a team to be proud of–they deserve better than to be abandoned when things look the darkest.
So break out the "lucky" Richter, Lundqvist, and Messier jerseys. Get the rally caps on for tonight. Paint the TV room Broadway Blue. Drown out John Amirante, even if it's only from your living room. Don't hold anything back–because this team will be leaving everything out on the ice tonight.  And win or lose, it has been and will continue to be one hell of a ride. Be glad that you got to witness it–because you never know when it will happen again.
The time for analysis is over.  This game is not about X's and O's, but about heart. And heart is something this year's Rangers have in spades. Believe in them like they believe. We'll leave you with the following words from the immortal John Belushi. Put the video on loop–keep it playing until you believe again. Oh yes, one more thing–LETS GO RANGERS.