Jessica Koizumi, who scored the first goal in NWHL history, announced her retirement from professional hockey Monday. She also announced that she will be joining the coaching staff of the Ohio State University women's hockey team.
"This was the hardest career decision I have had to make — to retire from playing professionally in the NWHL in what I thought would be my last season," Koizumi wrote in a letter announcing her retirement. "Being a part of the first paid professional league in North America (NWHL) last season is something I didn't believe would happen in my lifetime. I hope the league sustains for generations to come because it was a dream come true… I am looking forward to the next chapter of giving back to the game from a different vantage point."
It's a powerplay goal for the @CTWhale_NWHL by Jessica Koizumi (@jzumi56) pic.twitter.com/Hu5Jrq9k9u

— NWHL Gifs (@nwhlgifs) October 11, 2015
Back to the WCHA
Incoming Ohio State head coach Nadine Muzerall has wasted little time adding some impressive talent to her staff. Muzerall, a former assistant coach for the University of Minnesota, was named the fourth head coach in school history on Saturday. It's a big opportunity for both Koizumi and the school. They are putting a coaching staff in place that could bring Ohio State closer to competing with the schools that have dominated women's collegiate hockey for years (even if they've suffered a temporary setback with the loss of leading scorer Claudia Kepler).
"We're very excited to have [Koizumi] on staff, she's exactly what we need here," said Muzerall in a statement. "She has an immense amount of experience as a player and coach, and I couldn't be happier to bring her to Ohio State. She is the complete package and she wants to help build this program."
Koizumi not only brings professional experience to the table but has a successful track record as a coach, having spent many years as an assistant coach at Yale. Prior to that, she coached at North American Hockey Academy, Totino Grace High School, and at Minnesota Duluth where she was a graduate assistant.
The combination of her experience as a player at both the University of Minnesota Duluth and in the NWHL could help attract players to the program. "Jess is very well-respected in the hockey community and among recruits," said Muzerall, "her ability to relate well to our current and prospective student-athletes will be an important asset for us."
The impact of having a former NWHLer as an allure shouldn't be undervalued in this transitional period for the Ohio State program. Muzerall knows well the importance of recruiting, having come to the school after serving as an assistant at the University of Minnesota, where she played a part in recruiting for coach Brad Frost.
"Coach Muzerall comes from a wealth of success and I look forward to helping her build a championship culture in Columbus," Koizumi said. "I want to thank Diana Sabau and Coach Muzerall for welcoming me to the Buckeye family. I am extremely anxious to get on campus and start coaching our team."
The Whale Find a Replacement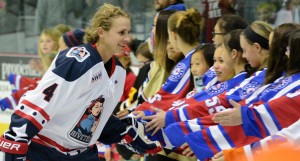 Koizumi not only nabbed a place in the record books with the first goal in league history, she was the Connecticut Whale's first-ever captain.
She will be replaced on the Whale roster by versatile former New York Riveters defender Elena Orlando, who is also capable of stepping up to play forward. She's been given a one-year $12,000 contract from the organization. Orlando was previously announced as a part of the organization when she signed on as a practice player for the 2016-17 season earlier this offseason.
Orlando's spot on the practice squad will be filled by forward Juana Baribeau. The Quebec-native posted 52 goals and 108 points over a 150-game career at Clarkson College.
Ohio State opens their season with a series against RPI in Troy, New York on Sept. 30 and Oct. 1. The Whale will kick off their season on Oct. 9 in Buffalo, the last game of a three-game opening weekend in which all four NWHL clubs will play at Buffalo's HarborCenter.
Dustin Nelson writes about news and the Minnesota Wild for The Hockey Writers.