Nikolaj Ehlers is injured, but no one (outside the team) knows with what, nor do they know when — if at all — he might play in the first-round series between the Jets and Vegas Golden Knights.
It's a twisty tale full of oddities and unknowns that's been impossible to make complete sense of.
Ehlers was injured in the third period of the Jets' 3-1 win against the Minnesota Wild that clinched them a playoff spot on April 11. As the refereeing crew lost control of a chippy game, Ryan Hartman obliterated a vulnerable Ehlers in the neutral zone when Ehlers didn't have the puck.
Hartman was called for interference and later slapped with a one-game suspension. Ehlers left the game and did not return.
Ehlers Declared Himself "Good to Go," Said He Didn't Take Head Shot
Ehlers was held out of the meaningless final regular season matchup against the Colorado Avalanche, completely understandable as head coach Rick Bowness rested a number of regulars.
On April 13, two days after the Hartman hit, Bowness said Ehlers was initially put in concussion protocol but was cleared. This indicates the Jets' medical staff found him to not have a concussion.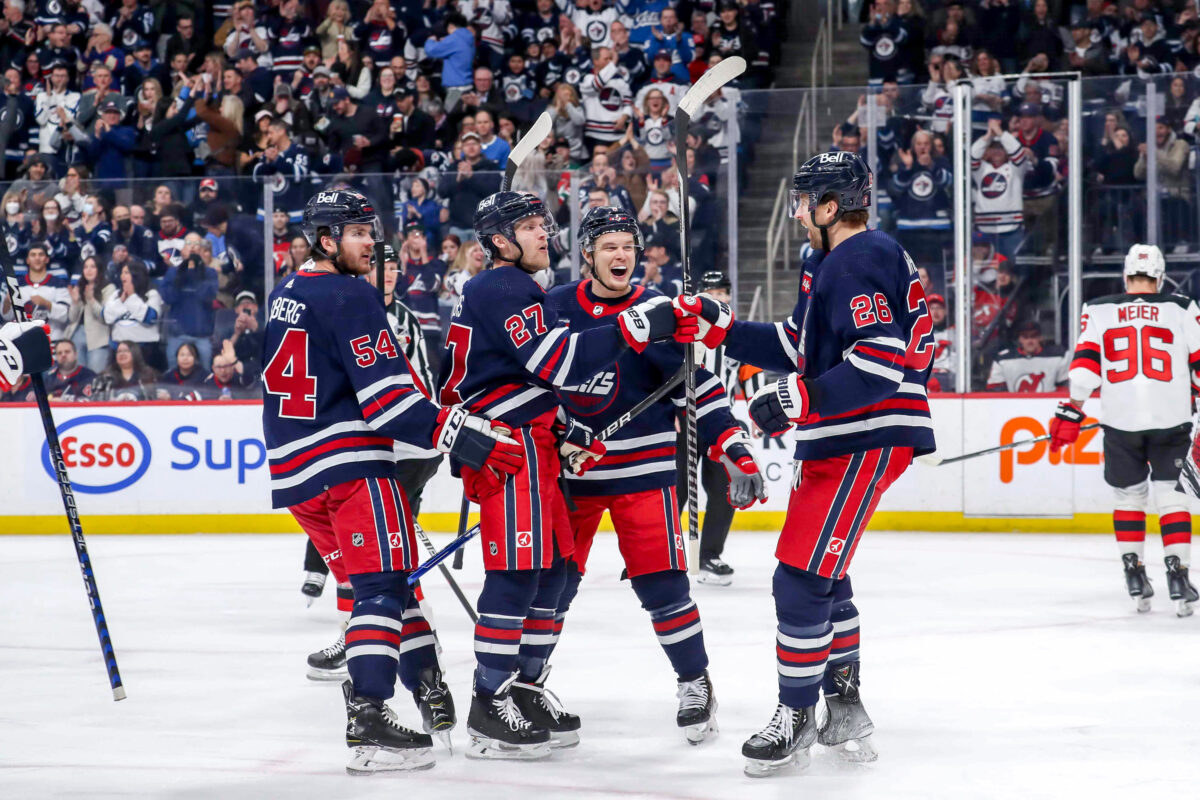 In that presser, Bowness stopped short of declaring Ehlers would be ready for Game 1 of the first-round series.
On Saturday afternoon, however, Ehlers declared himself "good to go" and said "I feel ready to go." He also said the hit "had nothing to do with my head." (From 'Ehlers declares himself good to go,' Winnipeg Free Press, April 15, 2023.)
---
Latest News & Highlights
---
This made Jets fans breathe a sigh of relief that the dynamic Dane had avoided a potentially serious head injury and would be available to take his regular place on the second line with Vladislav Namestnikov and Blake Wheeler, a line with which he'd recorded seven points over his final six games.
Conflicting Narratives and "Media War" Emerge
However, as Ehlers made claimed a clean bill of health, Bowness hedged.
On Monday, he said "I'm staying with day to day. We'll re-evaluate him in the morning." Many saw this as an attempt by the bench boss to keep the Golden Knights guessing. Since Ehlers practiced in full and spent time working with the top power play unit, there didn't seem to be much actual doubt he'd be on the ice at T-Mobile Arena for Game 1.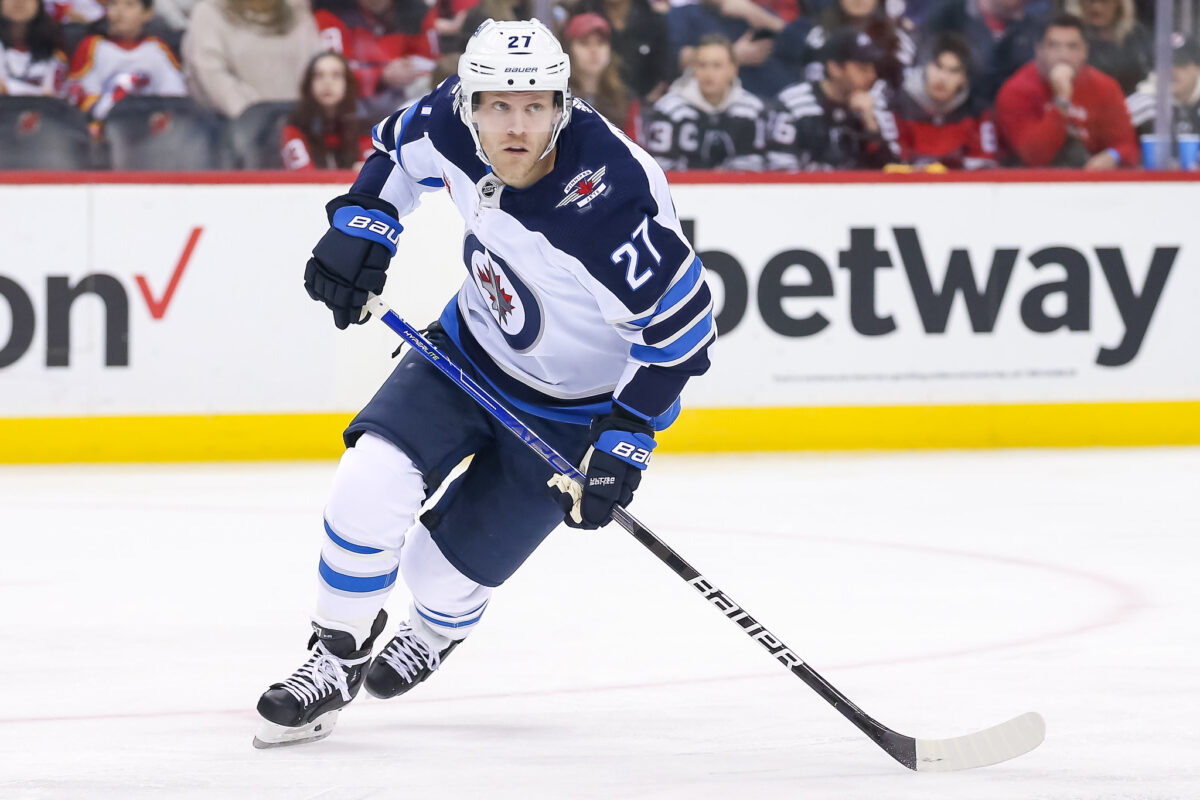 "I'm in a bit of a media war with the coach," Ehlers joked Monday. "I feel very good. Let's put it that way."
Things Get Serious As Ehlers Misses Game 1
The quip was funny at the time, but a lot less funny 24 hours later when he did not emerge for warmups and didn't play in Game 1. Nino Niederreiter replaced him as second-line left winger, and the line combined for six points in a dominant 5-1 victory.
Bowness added yet another confusing wrinkle in his postgame comments, acknowledging Ehlers' desire to suit up while throwing cold water on Ehlers' statement.
"There wasn't necessarily a setback, but nor was there the progress that we hoped," Bowness said. "And we're not going to put a player on the ice that is not at least close to 100 per cent… medically, he was not ready to play."
Ehlers Practices Again, Doesn't Play Again in Game 2
Ehlers participated in Wednesday's skate a day prior to Game 2, but practiced with the third line instead of the second. Afterward, a tight-lipped Bowness stuck to his assertion Ehlers was "day to day."
For Game 2, Ehlers once again watched from the press box. This time, his absence loomed large as the second line was held off the scoresheet in a 5-2 loss.
The Jets especially missed his creativity on the power play. When they had a four-on-three opportunity up 1-0 during their well-played first period, they did a lot of passing along the periphery but not much else.
Related: 5 Takeaways From Jets' 5-2 Game 2 Loss Against Golden Knights
The failure to extend the lead was a huge missed opportunity. It ensured that once the true Golden Knights showed up in the second and pushed back — something the Jets knew would happen — that the home side was still within striking distance. Another goal would have massively changed the complexion.
Will Ehlers Return for Game 3, Or At All?
We don't really know, because we don't know what injury Ehlers has, just that it's (apparently) not a concussion.
Many players gut through rather serious ailments in the playoffs and often after a team gets eliminated it comes out that this guy or that guy had this or that injury for the entire postseason. That Ehlers is being sat out shows his injury is NOT nothing — despite his claims to the contrary — and that the Jets' medical staff are worried he is at risk of suffering long-term repercussions in game action.
If he could play through whatever he has, he would be, given the Jets are underdogs against the Western Conference champion and it is obviously the most meaningful time of the year. It is just odd he's being allowed to practice in full contact, but not play.
On Friday, Bowness said he's "hopeful" Ehlers gets medical clearance for Game 3, which takes place Saturday afternoon in Winnipeg. However, he was also cryptic, saying "We're hoping that Eels would come around and he just hasn't."
Will he actually play? We don't know. But what we do know is the Jets need all the speed and firepower they can get if they want to win or even compete in this series.