At the 2015 NHL Entry Draft in June last summer, the Winnipeg Jets had eight selections to make. All the experts agreed that the Jets once again did a marvellous job in picking up some young talent. With a prospect pool that was already ranked as one of the best in the league, the Jets added to their cabinet of future NHL hopefuls.
Many of these players were viewed as projects however, the Jets chose players who were still many years away, whether headed to a College team or playing overseas. This makes it difficult for fans to keep track of their new draft picks, so lets take a trip around the world and look at the newest Winnipeg Jets prospects.
---
Kyle Connor – 1st round, 17th overall
The speedy centerman began his first season as a Michigan Wolverine this year and has been impressive thus far. He scored 80 points and 34 goals in 56 games last season with the Youngstown Phantoms of the USHL and a lot was expected of him heading in to the NCAA. It didn't take him long to make his impression, and it was a good one, scoring twice and adding an assist in his first game. His first goal, a shorthanded breakaway, perfectly showed off why the Jets chose him in the first round. Connor is touted as a skilled player at both ends of the rink, just as responsible on defense as he is dynamic on forward. He put it all on display for his first goal, stealing the puck in his own zone and using his speed down the ice and finishing at the net.
Connor has continued to produce, sitting at 3 goals and 4 assists after six games. The freshman is a standout in most games and is already getting time on both the power play and penalty kill.
---
Jack Roslovic – 1st round, 25th overall
Roslovic is another Jets prospect who also is playing in the NCAA. In his first year at the University of Miami (Ohio) Roslovic has been just as impressive as Kyle Connor. Notching eight point in his first eight games, including five goals, Roslovic has been a major contributor to a Miami team that has started the season very strong. He was chosen as the rookie of the week in the first week of the season and has continued his strong play since.
---
Jansen Harkins – 2nd round, 47th overall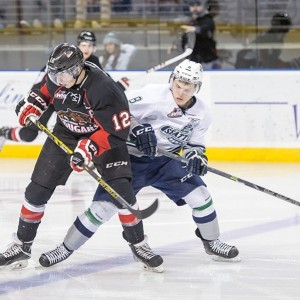 The Jets got a steal in Harkins who many experts had going in the middle to late part of the first round. Harkins is one of the two Jets picks who is playing in Canada in the Western Hockey League in the CHL. Harkins has six points and 17 PIMs in 12 games and has been a force physically for the Prince George Cougars. Though his production is down from last year so far, it is not time to push the panic button yet. Harkins played in the Ivan Hlinka U18 tournament last year for Canada and should earn a look for the World Junior Hockey Championships team this Christmas.
---
Erik Foley – 3rd round, 78th overall
Foley joins the growing list of Jets prospects in the NCAA, playing for Providence College this season. With three points in five games the freshman has shown some impressive skill and looks to be a strong player in the future. Foley is a skilled skater and offensive threat, but is still a little small for his role as a checking forward. Foley is in a good spot to develop and the Jets hope he will continue to grow into an NHL player. Foley will likely be seen in the World Junior Championship playing for team USA.
---
Michael Špaček – 4th round, 108th overall
Špaček plays for the Red Deer Rebels of the WHL this season and the young Czech has been making a big impact. With 22 points in 17 games he has played great for 2nd place Rebels. He is second on the team in scoring and is among the league leaders in all offensive categories. Fair to say, Špaček has been a very pleasant surprise for both the Jets and Rebels, and if he continues his play he may move up the prospect board of the Jets.
---
Mason Appleton – 6th round, 168th overall
After scoring 40 points in the USHL last season, Appleton became a Michigan State Spartan this year and has been a productive player for the team. Notching five assists in his first six games at the University level, Appleton has been what you expect from a Freshman player. At 6'2, 194lbs the big forward is already NHL sized, and he plays a hard-hitting tough game.
---
Sami Niku – 7th round, 198th overall
The only defenseman chosen by the Winnipeg Jets at last summers draft, Niku really impressed at the Jets development camp this summer and has been pretty strong in the Finnish Elite League this season. In the best league in the country, playing against men every night, Niku has fit in well, managing three points from the back-end and have a +/- -3 in 18 games so far. The numbers aren't spectacular but all reports have Niku playing well.
---
Matteo Gennaro – 7th round, 203rd overall
Gennaro is playing with the Prince Albert Raiders in the WHL this season and has had his ups and downs to this point. He has scored five time and added two assists in his first 17 games but, he is also a +/- -9 and has struggled in his own zone. As a 7th round pick Gennaro is not supposed to be an All-Star all at once and is definitely a project for the Jets. Winnipeg has seen some things it likes from the young Canadian and hope he continues to improve.
Born and raised Winnipeg sports fan and contributor with The Hockey Writers.