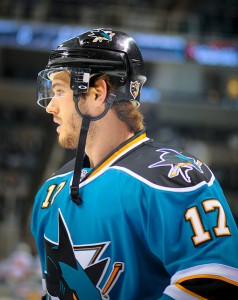 It's a popular misconception that NHL head coaches spend the majority of their time diagramming and implementing X's and O's.  In actuality, they are mad scientists, performing chemistry experiments in fetid, cramped laboratories filled with metaphorical test tubes, Bunsen burners, and — legend has it — Gordie Howe's perfectly preserved brain.  The fact that Gordie is still alive and well only adds to the mystique.
Last Thursday, Sharks' coach Todd McLellan unveiled an interesting new twist to his lines, one that couldn't be predicted by such things as statistics, skill sets or for that matter, Vegas oddsmakers.  Having lost seven of their previous nine games, San Jose overhauled team chemistry by  rolling out a top line of Joe Thornton, Joe Pavelski and Torrey Mitchell for their game against the Colorado Avalanche at the HP Pavilion.  Patrick Marleau moved to the second line with Logan Couture and Ryan Clowe, and Martin Havlat skated on the third line with Michal Handzus and Jamie McGinn.  The fourth line of Brad Winchester, Andrew Desjardins and Andrew Murray remained untouched amidst the series of moves.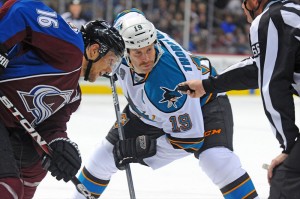 In military vernacular, "G.I." is popularly misconstrued to mean "General Infantry", but originally referred to galvanized iron, equipment made from metal and used by the troops in battle.  With either definition, Mitchell fits the description well.  He serves as the primary grunt worker on the fledgling line, a galvanizing asset to facilitate the dirty work.  "Torrey's there to disrupt," explained McLellan.  By creating turnovers and digging the puck out of the corners, the emphasis then shifts to the passing skills of Thornton and the scoring of Pavelski.  Both needed a lift:  Thornton had just four points in his previous nine games, and Pavelski had only managed three points in the same time span.  Although Mitchell did not make the score sheet in the Colorado game, Thornton netted his first goal in a month and Pavelski recorded two assists, leading the Sharks to a come-from-behind 5-4 win.
"He's a good fit for them right now because he is skating and creating some turnovers," McLellan said of Mitchell, clearly looking to shake the team out of its doldrums.  "Is it ideal?" he asked rhetorically.  "Probably not, but it is what it is for now, and I think Mitchy's played pretty well."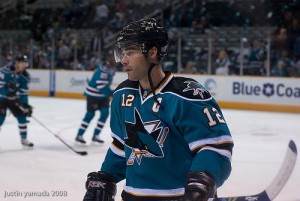 For at least one game, the new second line also benefited from the chemistry experiment.  Ryan Clowe scored just his third goal in the last eighteen games, Patrick Marleau had an assist and Logan Couture scored a goal and an assist in 18:22 of ice time, earning the game's first star.  "They used their tool sets real well," McLellan said.  "I thought Patty sprinted to loose pucks, established a body position and meant it. Logan played Logan's game and Clowe looked refreshed. He looked like he was excited about playing."
Even the retooled third line seemed energized by the moves, notching a goal by Handzus, an assist by McGinn and two assists by Havlat, his first multi-point game since November 3rd. The speedy winger has struggled to find offensive consistency with San Jose after coming to the team in the controversial Dany Heatley trade.  "He has to feel good about himself today," said McLellan about Havlat.  "It's something that can be a launch point to grow."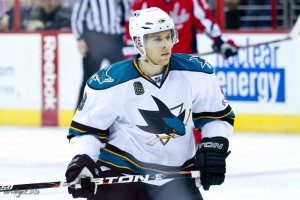 The lines remained intact for the Saturday game against the Edmonton Oilers, also at the HP Pavilion.  As in the previous game, Mitchell did not make the score sheet, and yet once again, the Sharks enjoyed a balanced attack and skated away victorious, winning 3-2.  Thornton, Marleau and Havlat scored for San Jose, with Pavelski assisting twice;  each of the top three lines recorded three points. Even the slumping special teams received a boost:  the much-maligned penalty kill units did not give up a goal, and the power play went 1/4, with Patrick Marleau scoring what turned out to be the game-winner off of a beautiful cross-crease pass by Joe Pavelski as he was falling to the ice.  Surprise power play participant Jamie McGinn also earned an assist on the play.
"We're looking for combinations," McLellan explained.  "I'm looking for guys that want to outwork the penalty kill, and I think Jamie's prepared to do that.  You look at the scoresheet, I think everybody but three players got power play time tonight. Power play's a privilege in my opinion.  It starts with talented players, and they should be on the ice.  They're the best players.  They're rewarded to do that, but it is a privilege, and you have to maintain your status there.  Unless we clean it up, we're going to see a lot more of those other guys on the ice as well."
"I think we're getting there," Handzus said.  "It's all about the chemistry.  We're talking a lot on the bench, and we know pretty much what everybody's doing."
Havlat suffered a freak injury on Saturday, tweaking himself climbing over the boards.  Assuming it's nothing serious, look for the new lines to once again make an appearance in the Sharks' next game against the Tampa Bay Lightning on Wednesday.  San Jose hopes galvanized iron continues to work well with the two Joes and further fuels a renewed team chemistry.  You have to admit:  there are worse line names than G.I. Joes.
Walter McLaughlin is a Los Angeles Kings correspondent for The Hockey Writers. He is an avid sports fan, having followed the Kings since living in L.A. in the mid-1970's, as well as suffering through Seattle sports teams' general futility. He has a Bachelor's degree in Finance and has worked in community banking for over 25 years, specializing in SBA loans. He is married and has two daughters.