When the Winnipeg Jets acquired Joel Armia along with Tyler Myers, Drew Stafford, Brendan Lemieux, and a 2015 first-round pick in exchange for Evander Kane and Zach Bogosian in their blockbuster deal with the Buffalo Sabres more than three years ago, Armia was considered a top prospect, touted mainly for his offensive ability. He was considered a player with a wicked shot who could produce 30-plus goals as a top-six forward.
Two years later, that's not the case. Armia is playing to the lower end of his offensive potential and may never rise to the ceiling scouts set for 2011's 16th-overall pick. But that's alright. Armia has adapted his style over the last two seasons with the Jets. Even though he's not fulfilling the role that was originally expected of him, he's fulfilling an important one nonetheless. He's morphed into a defensive specialist, dogged puck pursuer, battle-winner, and penalty-kill mainstay.
Armia's Advanced Stats Advancing Nicely
Anyone calling Armia a puck hog would be right, in a way.
It's not because he never passes to his teammates, but rather that he's characterized by his ability to keep the puck and exit most board play battles with the biscuit. The 25-year-old protects the puck like it's his last dollar.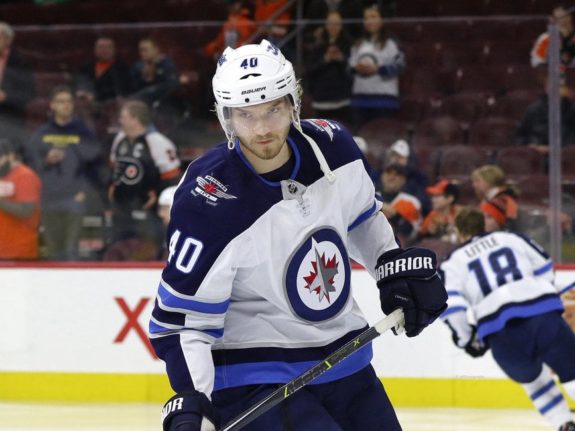 Armia's Corsi and Fenwick numbers illustrate the vast improvements he's made to his defensive game over the past two years. His Corsi For percentage was 51.8 percent in 2017-18, when he was on the ice the Jets had control of the puck more often than not. That stat — good for eighth on the team — is a huge jump from his 2016-17 Corsi For percentage of 44.1.
His Fenwick numbers — measuring shot differential without blocked shots — were similarly strong. It increased to 51 percent in 2017-18 from 44.3 percent in 2016-17. This means when Armia was on the ice, the Jets generated more shot attempts than they allowed.
His possession numbers were even better during the Jets' deep and exciting 2018 playoff run, in which they reached the Western Conference Final for the first time in franchise history. At even strength, his Corsi For was an eye-popping 60.3 percent and his Fenwick For was an even higher 61.9 percent. He was second on the team in those categories, behind Tucker Poolman who only played two games.
"The consistency of his work ethic, defensive efficiency and puck protection has been impossible to ignore during the Jets' playoff run," the Winnipeg Free Press' Jason Bell wrote after Game 2 of the Western Conference Final.
Bell also asked Armia where he believes he's most effective. "Probably when I get the puck a lot, win a lot of battles and have the puck on my stick," was his reply. The answer shows he knows his new role.
Armia Possesses Penalty Kill Prowess
When Armia was assigned to the Manitoba Moose at the beginning of the 2015-16 season, he was given the opportunity to play on the penalty kill, an assignment that suited him. By March of 2016-17, in his first full campaign with the Jets, he'd embraced his role as a shorthanded specialist and learned to use his long reach and stick effectively.
"I've been trying to improve my PK a lot," Armia told The Winnipeg Sun's Ken Wiebe last March. "When you play good defence, maybe you get the (scoring) chances sometimes. But it's not about scoring goals. It's about shutting their power play down."
While he was beginning to prove himself as a dependable man to have on the ice when another was in the box in 2016-17, the Jets' penalty kill as a whole was poor. They killed off just 77.5 percent of their infractions  — 26th in the league — and gave up 62 power play goals, third-worst behind the Dallas Stars and Colorado Avalanche.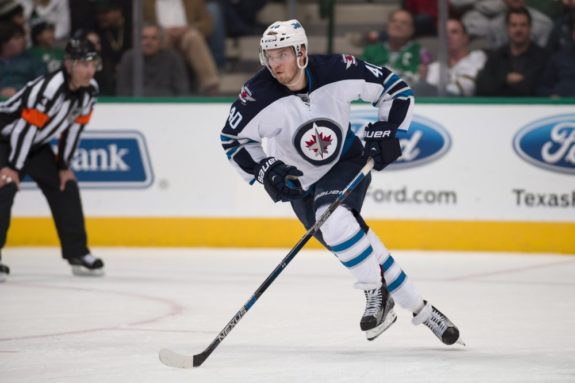 In 2017-18, Armia — who admitted before the season that the Jets had to be miles better on special teams to compete for a playoff spot — was a central figure in the Jets' much-improved penalty kill. They leapt from 26th to 9th, were successful in killing off 81.8 percent of their shorthanded situations, and allowed a dozen fewer pp goals.
Joel Armia should be forced to play all two minutes of every penalty kill. The guy is a monster. #NHLJets

— Dave Minuk (@ICdave) December 20, 2017
Furthermore, Armia had 48 takeaways, tops on the team. When he was on the ice this year, the Jets scored 52 goals and gave up 44, a ratio that is more impressive considering a good amount of Armia's ice time was when his team is down a man, and that more than 55 percent of face-offs he was on the ice for were in the Jets' defensive zone.
Playing in those situations suits the Finn just fine, for the record:
"It's fun to play the PK," he said. "I know how frustrating it is to be on the power play when the PK is aggressive and you don't get chances, so that's one thing that motivates me, to do it to the other team."
Armia Shows Flashes of Offensive Flair
Even though Armia, who's now 25-years-old, will likely never develop the scoring prowess he was thought to have or the Jets expected him to bring back in 2015, that doesn't mean he's awful offensively. He set new career-highs in goals with 12 and points with 29 in 2017-18. He has a heavy shot, quick hands, and an ability to dangle and make things happen in tight quarters, which have led to some highlight reel goals.
On Joel Armia's birthday, we look back at his brilliant shorthanded goal against New Jersey! 🚨 pic.twitter.com/wjQaVP68Af

— Winnipeg Jets (@NHLJets) May 31, 2017
Given the Jets' prolific offence, he will likely never crack their top-six, and his offensive upside is now secondary to his role as a shutdown depth guy. Nonetheless, it's important for every team to have a balanced attack and bottom-six players capable of chipping in offensively. Armia can do that, especially on the penalty kill and possession leads to chances regardless of the number of skaters on the ice. Case in point: 5 of his 26 goals with the Jets were shorthanded tallies.
Armia's inconsistent play has held him back from being an elite scorer, however. He had six multi-point performances in 2017-18, which is good for a player logging an average of 12:36 per game. However, he also had a ten-game, two six-game, and a five-game pointless streak. Often, he exhibits a frustrating lack of finish near the net, characterized by his fairly low 9.4 shooting percentage.
For a player to make the transition from a potential top-six forward to a defensively minded depth guy, though, is remarkable. It's even more remarkable that he was able to do it fairly seamlessly at hockey's highest level. It speaks to his willingness to embrace his evolving role. Even though he didn't come as advertised, the Jets should be happy with what they have in Armia nonetheless.