Joey Hishon's hockey career was forever changed by a single hit during the 2011 Memorial cup.
Sabres Prospect Brayden McNabb blindsided Hishon at center ice with an elbow to the head and despite his best effort Hishon was unable to skate to the bench.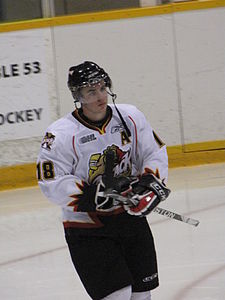 An OHL product of the Owen Sound Attack had some injuries prior to the 2010 NHL Draft but he had 40 points in 36 games.
Hishon was the 17th overall pick in the draft, selected by the Colorado Avalanche and the selection at the time had some people scratching their heads.

In the months that followed Hishon's stock continued to rise until the hit by McNabb which caused Hishon concussion related problems for years to follow. As a result of the concussion symptoms Hishon missed the entire 2011-2012 season as so many other players with concussion issues have in the past.
When Hishon did return for the 2012-2013 season he played in only 9 games. However in those nine games he totaled one goal and five assists.
2013-2014 Season
A 24 point regular season for The Lake Erie Monsters last year resulted in Hishon seeing his first real NHL experience in the playoffs.
The surprise team of the NHL season entered the first round against the Minnesota Wild with some key players suffering from injuries. Alex Tanguay, Matt Duchene and John Mitchell to name a few.
Hishon played 3 games notching one assist but finally he had made it. Despite his long journey and continuous battle Hishon had played in the NHL.
Hishon being inserted into the lineup was not enough however as the Avalanche lost the decisive game 7 at home in OT.
So Far This Season
The injury bug has bitten Colorado often and has resulted in several call ups from the Monsters.   Only 27 games into the season the Avalanche have relied on help from six Monster forwards, one defense man, and one goalie.
Despite the constant call for back up Hishon has not seen any NHL action since llast years playoffs.
The first round pick has registered ten points in 18 games but currently sits a -5 for the season.
Hishon is finally back to a position of being able to play constantly and now consistency is the key. The Avalanche brass has shown faith in Hishon before and Hishon has proven hard work has and will  pay off.
With injuries continuing to plague the Avalanche it is a safe bet that at some point this season Hishon will be given another shot to show what the Avalanche saw in him when they selected him in the first round four years ago.