Typically in a loss, there is some sort of learning experience. It gives a team a chance to improve in areas that need work and to work on those areas during the next practice.
Other than the shootout, which the Detroit Red Wings claim they practice, Detroit dominated in their 2-1 loss to the Toronto Maple Leafs on Wednesday.
The Red Wings outshot the Maple Leafs 42-19, out-possessed the Maple Leafs — 58-18 in Corsi for — and dominated in the faceoff circle 35-26 but were unable to get more than one puck past James Reimer.
If you're a visual person like me, here are charts of the five on five shot attempts and the shot charts for both teams, from War-on-ice.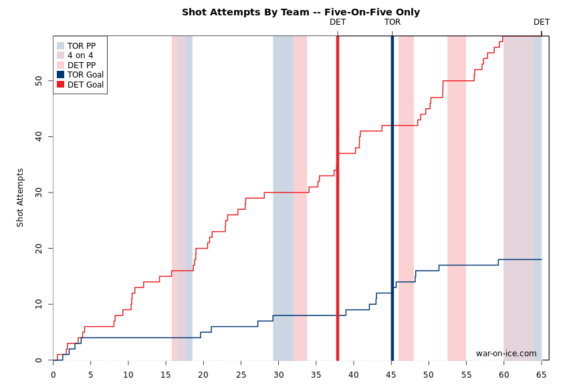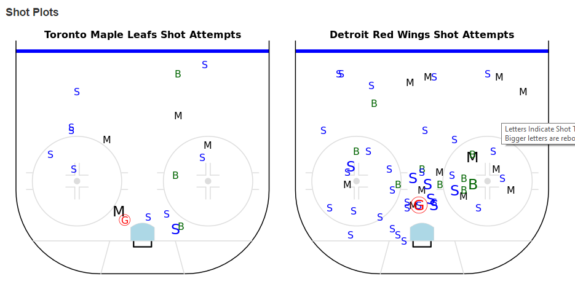 Mike Babocck told MLive.com's Ansar Khan after the game.
"We got a point. They stole two points, but I'll take it every night. If you play like that you're going to win."
The Maple Leafs Way
Getting outshot in a game and winning isn't something new for the Maple Leafs. In fact, they make quite a habit of it.
Just last year, Toronto Sun columnist Steve Simmons spoke out against advanced stats, saying the Maple Leafs were passing his eye test.
Good thing the Leafs don't play in the CHL. The CORSI hockey league. They're doing just fine in NHL, though.

— steve simmons (@simmonssteve) October 30, 2013
However, we all know now the numbers eventually caught up to the Maple Leafs, and Toronto did not clinch a playoff spot last year.
The Maple Leafs won their third game in a row on Wednesday and hold the first wild-card spot in the Eastern Conference, but the team knows it can't expect to play like it did against Detroit and be successful more times than not.
Maple Leafs assistant general manager Kyle Dubas said on The Jeff Blair Show on Thursday morning:
"If we play like that every night and our goaltender has to get us a point in the shootout, that's not the way we want to play every night: 42-19 were the shots at the end of the game. You're not going to win many games using that method."
But whether it's hot goaltending or just dumb luck, it's working for the Maple Leafs, right now. Toronto is tied for first place in the league with 11 wins in games in which they were outshot. Toronto, Anaheim (11), New Jersey (10), Calgary (10) and Montreal (9) occupy the first five spots.
By contrast, the Red Wings are tied for 25th in the league with four wins in games in which they were outshot. Boston (4), Edmonton (4), Colorado (3), Minnesota (3) and Carolina (2) round out the bottom dwellers.
The Maple Leafs are picking up important points now, but if they continue this trend of getting outshot in games, they will not be able to sustain the trend of winning.
Jimmy Howard's Shootout Struggles
I've already touched on Jimmy Howard's struggles in the shootout. However, I did notice something interesting Wednesday night.
Since shootouts are a relatively important part of winning games in today's NHL, it's not uncommon for a goalie to scout out the potential players he might face.
However, the scouting appears to have been used against Howard in Wednesday night's game. The last time the Red Wings faced the Maple Leafs in a shootout was January 1, 2014, the Winter Classic in Ann Arbor.
Howard let in two shots from Tyler Bozak and Joffrey Lupul to give the Maple Leafs the win. Take a look at Lupul's shootout goal in Ann Arbor.
Now, take a look at Bozak's shootout goal Wednesday night.
Look familiar?
Howard is very susceptible to quick shots through the five hole during shootouts. Bozak no doubt remembered this from the Winter Classic (he had a similar quick-shot shootout goal in the Winter Classic that beat Howard on his right side) and used that to his advantage.
In addition to Howard's struggles, the Red Wings didn't give their goalie any support in the shootout, as Pavel Datsyuk was the only player who scored for the Red Wings.
Best in the East
Despite a frustrating loss, the Red Wings did pick up one point and now hold the top spot in the Eastern Conference. It could evaporate quickly, as Pittsburgh has played two less games than Detroit. But the Red Wings have more points than Tampa Bay and Montreal, both of which have played the same amount of games or more.
The team is playing fantastic right now, and unfortunately, they ran into a hot goalie last night. It happens from time to time, but if the Red Wings continue to play the way they played against the Maple Leafs, they will pick up wins. And, more importantly, they will avoid going to a shootout.
Subscribe to our Red Wings stories to get email updates every time a new story is published.
Tom Mitsos is a Detroit Red Wings and Grand Rapids Griffins staff writer for The Hockey Writers. You can follow him on Twitter @tom_mitsos.