True no. 1 centers are a rare commodity in the National Hockey League and one that countless teams search feverishly for each year at the draft. A top-notch centerman is a desired staple for both rebuilding teams and teams that are already established contenders.  So it comes as no surprise that the clubs that are lucky enough to employ such a player simply don't trade them — usually. Every once in a great while though, a team will go off script and dare to trade a proven no. 1 center, which is exactly what the Columbus Blue Jackets are apparently contemplating doing with Ryan Johansen.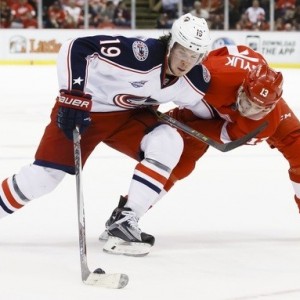 If that is indeed the case, Chuck Fletcher and the Minnesota Wild would be wise to try to get Johansen in a Wild sweater.
Columbus Fallout
The 4th overall pick in the 2010 NHL draft, Johansen has proven he can put up points in the league at the pace of a dynamic top centerman. He scored 33 goals in his first full season of play in the league in 2013-14 and followed it up by notching 71 points last season.
It's been a different story for the 23-year-old Vancouver native this year though; he has just 6 goals and 16 assists in 32 games. The Jackets contended for the playoffs both of the past two seasons, falling to Pittsburgh in the Eastern Conference Quarterfinals in 2013-14 and narrowly missing the playoffs last year. Columbus' struggles have matched Johansen's this year though and the Jackets are currently at the bottom of the league standings thanks to a dismal start to the year that cost former Minnesota Wild head coach Todd Richards his job.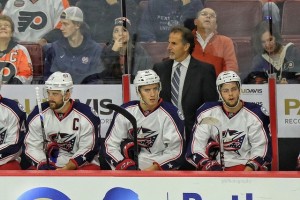 Columbus hired John Tortorella to replace Richards and since then, Johansen has seen his role diminish while rumors of a rift between the star and his new coach have swirled. Tortorella called into question Johansen's fitness level as well as his work ethic leading "Torts" to bench Johansen recently. He didn't play a single third-period shift in a recent 5-1 loss to the Dallas Stars and was a healthy scratch the following game against Arizona, whichonly intensified the trade rumors.
"Everyone's tradeable….. it could be Joey or it could be anybody else" said team president John Davidson (via the Columbus Dispatch).
It's become popular fodder to speculate about various Johansen trade scenarios, but is it realistic to think that Columbus might actually trade him? And if so, what will the price tag be on the prized center and can the Minnesota Wild meet the demands of the Jackets' hierarchy?
Evening Trade Value
Remembering that top centerman are infrequently available is crucial to determining the value of Ryan Johansen in a trade situation. Despite his struggles this season and the drama brewing between he and Tortorella, the fact remains that Johansen is a 23-year-old center who has already scored 30+ goals in a season and posted back to back seasons of 60+ points. Those facts, in addition to his enticing 6-foot-3 frame, mean that he will not come cheap.
Columbus is thin on defense and would likely have to have a top-pairing defenseman of similar age to Johansen as part of any potential return for "Joey" — and maybe more. If that is true, it eliminates a number of teams from the market immediately, but the Minnesota Wild is not one of those teams. Minnesota actually has a number of talented young defenseman that could be available.
Jared Spurgeon has arguably been one of the Wild's best defensemen this season while scoring 4 goals and posting 16 points in 31 total games. He has seen regular top pairing ice time for several seasons and scored at a clip of 0.38 points-per-game the past two seasons combined. Spurgeon just recently turned 26 (Nov. 29), putting him relatively close to Johansen in age. While the knock against Spurgeon is that he is too slight at 5-foot-9 and 180 pounds, he plays big and is rarely muscled off of pucks easily, impressive given that the Western Conference and the Central Division in particular are known for being full of big, strong skaters that play with a physical edge. Spurgeon was also just resigned to a very reasonable four-year, $20.75 million contract extension that begins in 2016-17.
#mnwild has re-signed Jared Spurgeon to a four-year, $20.75 million deal, the team announced. Big payday for a critical D

— Michael Russo (@RussoHockey) December 21, 2015
Matt Dumba is another young defenseman that may entice the Blue Jackets. The 21-year-old is a speedy, talented right-shot defenseman with an absolute cannon of a shot (get it Blue Jackets fans? Cannon?).The talented defenseman is still raw but possesses a lot of qualities for the making of a star defenseman. He's prone to defensive errors at times because of his eagerness to jump into the play offensively but he will likely mature into a more well-rounded player with time and can be helped greatly by playing with a more conservative and defensively sound defender on the blue line.
Jonas Brodin may be the most intriguing player for the Jackets to consider. The 22-year-old isn't one to post gaudy numbers, but you'd be hard-pressed to find a more defensively astute blue-liner in the league at his age. A regular top pairing player alongside Ryan Suter since he was 19, Brodin holds a wealth of experience at the NHL level already. His smooth skating and brilliant stick work show up regularly and cause one to question how he can be only 22. When he does jump into the play offensively, he demonstrates great vision and a sneaky good wrist shot. Still, Brodin's game is defense and he's very good at it. He's a player you can build a defensive core around for years to come, something that may be very hard to pass up for Columbus.
Final Thoughts
As mentioned above, teams tend to shy away from trading star centers, especially young ones. And that's for good reason; Boston traded Tyler Seguin to Dallas and look how that's ended up for the Bruins. However, Ryan Johansen would be a great fit for the Minnesota Wild given Mikael Granlund's underwhelming career thus far, the fact that Mikko Koivu is getting up there in age, and Minnesota's apparent lack of prospect depth at the center position.
The Wild does have the assets to put together an enticing offer for the Columbus brain trust to review. And if Johansen is legitimately available, the Wild and Chuck Fletcher would do well to see that he ends up in Minnesota.