Hockey fans are a passionate bunch. There are no ifs, ands, or buts about it. They come from all walks of life. Gender, race, religion, what have you, if you enjoy the game, you're welcomed with open arms.
Such is the case with 21-year old John Anthony Scaglione of Staten Island, New York.
Raised in a household where his parents grew up Rangers fans and his brother a Devils fan, John Anthony adopted the Philadelphia Flyers as his team. Why?
Like many young hockey fans, John Anthony was enamored with NHL video games and used Mark Recchi religiously. When Recchi joined the Flyers he immediately began bleeding orange and black and continues to do so to this day. And although his fanaticism is strong, physically John Anthony is anything but.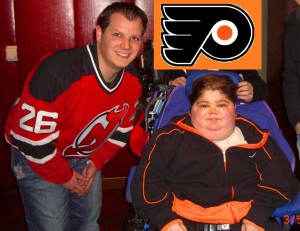 Diagnosed with Duchenne Muscular Dystrophy when he was 6-years old, John Anthony has had a rough go. For those who don't know about Duchenne, it is a genetic hereditary disease that is linked to the X-chromosome meaning only males can get it affecting one in every 3,500 boys. However, John Anthony had no one in his family's lineage that ever had DMD. He had a "spontaneous mutation."
According to his brother Leo, a New Jersey Devils writer at THW, "As for his health, it has been a constant decline. Many doctors, many medications. He lost his ability to walk around 2005 and thus lost his ability to play hockey in the dining room. He was left with mini stick hockey but that ended around 2007-08."
The worst part about it is John Anthony is of sound mind.  He knows full well of his disease and has slowly watched his body deteriorate over time. He has the mind of a 21-year old and the body of an 80-year old.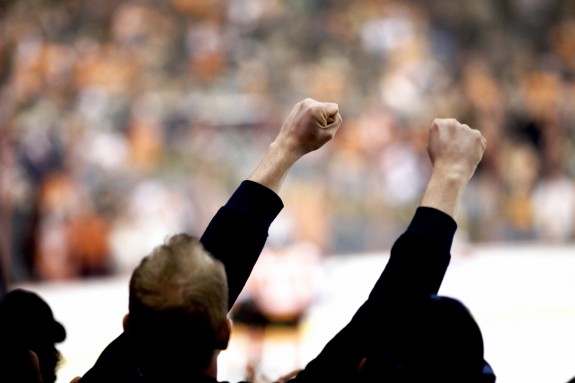 To get a glimpse into his life just do one thing. Go to bed at night and strap yourself to the sides rendering the use of your hands, arms, legs, and feet useless. You can't turn and have to voice command your bed to roll yourself over. You can't reach for your blanket when you are too cold and have to call your mother for assistance. You can't remove it when you are too hot. You can only breath with a mask on your face with the air blowing into your eyes and drying them out. Now let's see you fall asleep. It won't last long. Nightmares about losing the ability to breath force you back awake.
The 2010 Stanley Cup playoffs were a whirlwind of excitement through the streets of Philadelphia. Leo remembers, "The Stanley Cup Finals run of 2010 took a lot out of John. He lived and died with that team and I will never forget his reaction after Patrick Kane broke his heart. He wheeled his chair out of the room and cried. He looked at me after I walked in a few moments later and said through his tears that his mom has to wipe off his face because he couldn't lift his arms, 'How did you get over Bourque (2001 Devils loss)?' I replied, 'I didn't. I'm still not over it. But you just have to move on. Next season will be here before you know it. Then you'll be back cheering.'"
And he was. While his body slowly declined, his support of the Philadelphia Flyers only grew stronger. He'd do his best to make the trip down from Staten Island to the Wells Fargo Center once a year to catch his team in action. That was until Christmas Day 2012 where things took a turn for the worst.
John Anthony isn't able to be given oxygen in excess.  He doesn't break it down like you and I. As Leo recounts, "On Christmas night he was admitted to a hospital with pneumonia. He is not allowed to have oxygen. So when oxygen is administered his body shuts down despite the CO2 rising in his blood. The hospital refused to listen. He suffocated. Flatlined. Eyes rolled back. His other brother, an EMT, quickly and instinctively saved his life. My mom shook him and screamed for him to come back to life. Then he muttered the name of his recently deceased dog. My mother asked him, 'Do you see him?' He replied, "#@%! no.' He was back. And his numbers began to appear."
It was a Christmas miracle that was both somewhat humorous and treacherous all at the same time.
Since then, John Anthony hasn't been able to attend any games. He doesn't have enough strength left to make the trip from Staten Island to Philadelphia. He does his best to try to watch all the Flyers games, but often has to shut the game off after two periods.
After hearing of John Anthony's story, the Philadelphia Flyers decided to send him some schwag to continue representing the team. Inside he found a Flyers t-shirt, a playoff rally towel, and a puck signed by his favorite player, Vincent Lecavalier. Getting the gear was a pleasant surprise for him that he certainly didn't expect.  According to his mother, when John Anthony saw the stuff his eyes got wide and was thrilled.  It was genuine excitement the family hadn't seen for some time.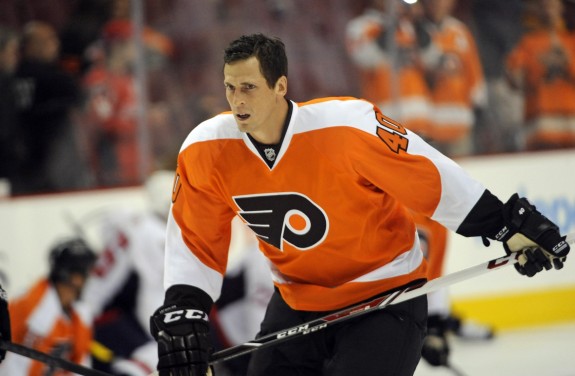 While his future prognosis isn't promising, John Anthony is special. Not because he has Duchenne Muscular Dystrophy. Instead it's because despite his illness he has an unwavering support of his favorite team that doesn't dwindle no matter how much he declines physically — a true hockey fan through and through.
The Philadelphia Flyers know that and always takes care of their own. Perhaps the best part about the organization is that it isn't solely focused on being part of the sports entertainment industry, but cares deeply not only about its fans no matter where they are, but also the entire community.
Over the years disease has taken many members of the Flyers own "family" (past and present) far too young such as Barry Ashbee, Gerry Melnyk, Yanick Dupré, Jenny Barber, E.J. McGuire, Wayne Stephenson, Roger Neilson, Bill Flett, and just last week, Ross Lonsberry. They have responded by raising many millions of Dollars for research with the "Flyers' Wives Fight for Lives Carnival", one of the best known and well attended annual charity events in Philadelphia.
Beyond that great public event, however, the club has also shown its care for thousands of others like John Anthony by doing whatever it could to make their lives a little easier. Hockey fans are indeed a passionate bunch who come from all walks of life, gender, race, religion and are all welcomed with open arms.
John Anthony Scaglione of Staten Island, New York, is one of them and to the Flyers he is also a member of the "family".
Follow Shawn on Twitter: @ShawnTHW