Growing up in Alberta, Canada, Bill Flett became accustomed to handling cattle at a young age, and building his muscles while working on a farm. He had been a calf-roper in and around the Calgary area, and was known to participate in rodeos with regularity.
This extracurricular activity of his took place well throughout his 11 years in the NHL and two-and-a-half in the WHA – much to the chagrin of management for the five teams Flett had played for. But this passion of Flett's is what garnered him the colorful nickname of "Cowboy". Many (including Flett himself) believed that if he had not become a professional hockey player, he would have certainly become a full-time participant in rodeos and a full-time cowboy.
Flett's physical appearance certainly gave him a rugged, almost "Wild West" sort of look about him. Clean shaven for his early seasons in the league, by the time he became a full-time Flyer he was one of the first and few players in hockey to sport a full-grown beard. These days such a big deal is made out of playoff beards, but Flett wore his year-round and it would squash most any playoff beard that is seen today. He also played helmetless for his entire career, which gave fans and television a complete view of his long locks and grizzly mug. All of this only added to his "Cowboy" persona.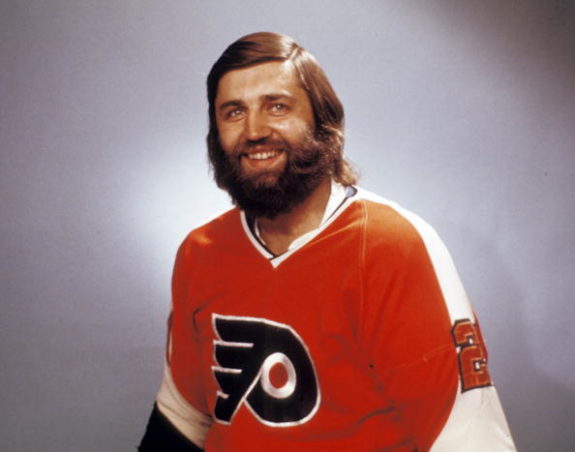 During 10 of Flett's 11 NHL seasons he scored no more than 26 goals in a year. Those 26 came during his rookie campaign of 1967-68 when he was an original member of the expansion Los Angeles Kings. Flett was never a superb skater or playmaker, but he could wire a puck on net with the best of them. There was one year, however, where Flett seemed to do it all. A year when he far exceeded those first 26 tallies.
He was a "Broad Street Bully" at the time and was on the verge of helping Fred Shero's team win a Stanley Cup. In the 1972-73 NHL season Flett scored 43 goals and played his finest year of pro hockey. Attaining numbers and accolades he would never reach again, the year would hold up to be one for the ages in the life and times of "Cowboy" Bill Flett.
Flett Gets His Start in the NHL
1967 signified the great expansion of the National Hockey League. Gone were the days of the "Original Six". Joining them would be six new teams – the Pittsburgh Penguins, Minnesota North Stars, Oakland Seals, Philadelphia Flyers, St. Louis Blues and Los Angeles Kings. Flett had originally been a member of the Toronto Maple Leafs organization after he had signed a pro contract with the Victoria Maple Leafs for the 1964-65 season. Victoria was a minor professional team in the old Western Hockey League (WHL) and served as a farm team for the parent NHL Maple Leafs. In his early 20's, Flett received little to no opportunity to be in Toronto, and ended up playing for three years solely in the minors.
When the expansion took place, Los Angeles selected him in the 18th-round of the 1967 NHL Expansion Draft. Though a late choice indeed, it ended up being a very wise decision for the Kings for their first few years in the league. Once the 1967-68 season got underway, Flett led all Kings in goal scoring with those aforementioned 26 goals from off of the starboard side. In 73 games he met his goal totals with 20 assists as well, thus placing Flett as second overall on the team in scoring that year.
Flett would continue to be a mainstay for those early Kings teams for more than three additional seasons to follow. In total he would score 84 goals and 99 assists for 183 points in 323 games for Los Angeles. During the 1970-71 NHL season, Flett played in the only All-Star Game of his career. He would be the Kings lone representative that year, and actually set up Bobby Hull's game-winning goal on the power play as the West defeated the East by a score of 2-1.
How Flett Came to Philadelphia
It is no coincidence that Flett became part of the Philadelphia Flyers during the first year that Hall of Fame coach Fred "The Fog" Shero stood behind the bench. Following a gut feeling and an awareness of his new coach's reputation, Philadelphia general manager Keith Allen hired Shero in 1971 to become the third head coach in Flyers history. Together with owner Ed Snider, Allen and Shero would overhaul the team to become a winner.
Dave "The Hammer" Schultz, Don "Big Bird" Saleski, Bill Clement, and Flett would each see their first action as Flyers during the 1971-72 NHL season. Players like these gentlemen were tough as nails, but also possessed a lot of God-given talent as well. They would be the raw materials from which Shero would construct two Stanley Cup championships.
But while Schultz, Saleski, and Clement all just briefly got their first sniffs of NHL play that year, Flett had already been well-established in the league. Although not a household name, Allen felt that acquiring the right-winger would pay dividends for his hockey club. On Jan. 28, 1972, he made the trade with Los Angeles to acquire Flett midway through the '71-'72 season. Allen and the Flyers were indeed the winners of the deal. While the Kings received Serge Bernier, Jim Johnson and Bill Lesuk, Philadelphia received Flett, Jean Potvin, Ross Lonsberry and Eddie Joyal. Both Flett and Lonsberry would become instrumental in winning the first Cup in 1974.
The Flyers' acquisition of Potvin in the deal became equally as important, but in a much different way. While he would finish out '71-'72 as a Flyer, the following March (1973) Allen would ship Potvin to the expansion New York Islanders in order to receive Terry Crisp. Like Flett and Lonsberry, the centerman Crisp became a key contributor to the Flyers' Stanley Cup successes.
Flett Clicks With Clarke
After coming over to Philadelphia, Flett finished out the '71-'72 season with a rather solid 11 goals and 10 assists for 21 points in 31 games. This was namely due to the fact that Shero quickly inserted Flett onto his top line which was centered by Flyers' legend Bobby Clarke. Three of Flett's 11 tallies came on the power play. He would also pepper 116 shots on net, which is quite substantial given only 31 games.
Flett's finest performance that first half-season as a Flyer came against his former teammates. In a 5-3 walloping of the Kings in Los Angeles, he scored his first hat-trick with his new team. Initially, Los Angeles was leading the game by a score of 2-1 well into the third period. With less than 10 minutes remaining in the game, Flett tied the score at 2-2 with assists from Potvin and Clarke. Less than a minute later, Clarke himself would score to put the Flyers ahead 3-2. Simon Nolet and Flett would receive the helpers.
They would remain ahead for the rest of the game, even though the Kings would tally one more. The victory was almost single-handedly won because of Flett's efforts. He would proceed to score the fourth goal – the game-winner – just 10 seconds after Clarke's goal. Flett would add one more on the night, again assisted by Clarke and defenseman Rick Foley to give himself the hat-trick and put his former team to bed.
This would be only the very beginning of some dynamic performances put forth by Flett and fed from the likes of Clarke. An interesting side note – Flett had scored three hat-tricks in his career prior to this one, and each of them had come against the Detroit Red Wings.
Flett's Phenomenal 1972-73 NHL Season
Until the 1972-73 season, no player had yet hit the 40-goal plateau in Flyers history. In '72-'73, the team would have two players surpass that mark. Rick MacLeish would do it first. In fact, he would become Philadelphia's first 50-goal scorer that season. MacLeish scored his 40th during a 10-0 embarrassment of the Toronto Maple Leafs on Mar. 4. He would score his 41st and 42nd that same night as well.
Flett was not too far behind. Although it would have been nice if he had been the first Flyer to do so, it is still just as impressive that he reached the same plateau that season. 1972-73 was still a very rare time in NHL history for teams to have two skaters with at least 40 goals.
In total, Flett scored 43 goals that season in only 69 games. His average that year of 0.62 goals scored per game was the fourth highest in the NHL that season. Flett would compile 31 assists that campaign as well, and would finish the season fourth in Flyers scoring with 74 points. When it came to special teams, 11 of his 43 came with the man-advantage – good enough for eighth best in the league. Three of his tallies were shorthanded, which would be third most in the NHL that year. Flett would never come close to numbers like this again for the remainder of his NHL career.
It is important that we take time to acknowledge the finer moments from his 1972-73 NHL season:
Oct. 7, 1972: The Flyers first game of the regular season is played to a 4-4 tie with the St. Louis Blues. Lo and behold, Flett would not only score his first of the 43 goals, but it would also be Philadelphia's first goal that year. Clarke and Potvin would receive assists on the goal.
Oct. 18, 1972: Defeating his former teammates once more, Flett led the Flyers to a 4-3 victory over the Los Angeles Kings. He scored Philly's second goal of the game while shorthanded off of a Barry Ashbee feed. With only 31 seconds left in the game, Flett scored the game-winner against Kings goalie Gary Edwards. These would be his fourth and fifth goals of the season.
Nov. 30, 1972: In a 5-5 tie with the Atlanta Flames at The Spectrum in Philadelphia, Flett contributed to three Flyers' tallies. Two of them he scored himself – the first Flyers goal of the game on a power play feed from Tom Bladon and Clarke. 18 seconds into the second period Flett scored the team's second goal from Joe Watson and Bob "Hound Dog" Kelly. Over seven minutes later Flett recorded the primary assist on Clarke's 10th goal of the season.
Dec. 3, 1972: Flett would get the scoring going in a rare 5-2 win over the Montreal Canadiens. With less than six minutes to go in the opening period, Flett knotted the game at 1-1 from Watson and Ed Van Impe. With 1:19 remaining in the game, he would set up yet another goal from Clarke to help keep Philadelphia permanently ahead.
Dec. 7, 1972: The Flyers would dish out a 6-2 drubbing of the Minnesota North Stars and goaltender Cesare Maniago. Flett and Clarke continued their work as an inspiring tandem for their team. As "Cowboy" scored in the first and third periods of the game, Clarke picked up assists on both goals. Both of which came at even strength too, and reiterated the duo's ability to create offense.
Jan. 13, 1973: Getting his 20th goal of the season in a 3-2 win over the Chicago Blackhawks, Flett picked up a point on all three Flyers' goals. After he opened the scoring in the game early in the second on a power play goal from MacLeish and Clarke, he would proceed to set up goals from Clarke and Gary Dornhoefer. All three Philly goals came against Hockey Hall of Fame goaltender Tony Esposito.
Jan. 21, 1973: In what would be Flett's only hat-trick of the season, he scored the first three goals of the game at Memorial Auditorium in Buffalo. With the "natural" hat-rick, he beat Sabres goalie Dave Dryden on three straight feeds from Clarke. Bill Barber and Watson each picked up single assists on Flett's goals as well. On the night as a whole, the Flyers' top right-winger blistered nine shots on net.
Feb. 9, 1973: The Flyers absolutely destroyed the Vancouver Canucks by a score of 10-5. Flett scored the Flyers third goal of the game in the first – they would have six in the opening period alone. The tally would be his 30th goal of the season as he beat Dunc Wilson, with assists to Bladon and Barber. Oddly enough, it would be the only point that Flett would record in this wild affair.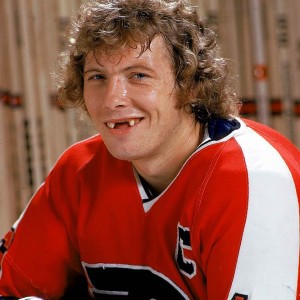 Feb. 20, 1973: Flett would have four points on the night as Philadelphia squashed the St. Louis Blues 5-3. Once again scoring the first goal of the game, Flett picked up a shorthanded tally against goaltender Jacques Caron. He would add assists on goals by MacLeish and Lonsberry. Flett would score the game-winning goal in the third period with assists to Bladon and Clarke.
Feb. 28, 1973: Just eight day later Flett repeated the feat of four points in a game. Though the Flyers would lose to the Detroit Red Wings by a score of 6-5, he would net his 34th and 35th goals of the season against goaltender Roy Edwards. Playing on the top line, Flett would also pick up two helpers as he set up linemate Bill Barber for a pair of goals of his own.
Mar. 10, 1973: Flett pretty much won this game by himself as the Flyers defeated the Flames 2-1. He led all players in the game with six shots on goal and scored both of Philadelphia's goals. Clarke received the primary assist on each of "Cowboy's" tallies.
Mar. 18, 1973: In a 4-4 tie with the Montreal Canadiens at The Spectrum, Flett scored his 40th goal of the season by beating Ken Dryden. He would also record an assist on the first goal of the game which was scored by Andre "Moose" Dupont.
Wrapping up Flett's Time With Philadelphia
The following year after Flett's 43 goals was simply magical in the "City of Brotherly Love". Shero's "Broad Street Bullies"made it to the top of the mountain and won the 1974 Stanley Cup against the Boston Bruins, and on home ice no less. Fans climbed over the boards and mobbed the players and the Cup. It was exuberant mayhem at its finest.
For the first and only time in his NHL career, "Cowboy" Bill Flett got his name inscribed on the Stanley Cup. '73-'74 was an off-year for Flett. He dropped from 43 goals to just 17 in 64 games. Flett appeared in all 17 playoff games that brought Philadelphia the victory but would go goalless. In Game 2 of the Final however, Flett assisted on both of Clarke's goals including the game-winner. Flett would total three assists in the six-game series.
Then that would be it. Flett would be traded to the Toronto Maple Leafs that May. He had become expendable. Three days prior to Flett being shipped out, the Flyers had acquired bullet-shooting sniper Reggie Leach who would take his place on the top line with Clarke and Barber. Leach was seven years younger than Flett and would eventually score monstrous numbers for the Flyers.
The Final Years of Bill Flett's Career
Unfortunately, this was the downswing of his career. Flett played one season in Toronto, where he scored 15 goals and 25 assists in 77 games during the 1974-75 season – the Flyers would win their second Stanley Cup, and this time without him. When May came around he was on the move again. The Leafs had placed Flett on waivers where he would be picked up by Atlanta. He would have a slight resurgence during his first season with the Flames as he would put forth 23 goals and 17 assists for 40 points in 78 games. That 1975-76 year was the last time Flett would score 20 or more goals in an NHL season.
After scoring just four goals in 24 games for Atlanta during the 1976-77 season, Flett was sold to the WHA's Edmonton Oilers. This was a change for the better and likely renewed his confidence a bit. Upon arriving in Edmonton, Flett would finish the year with 34 goals and 20 assists in only 48 games. The next season – '77-'78 – he scored 41 goals in 74 WHA games, proving that he could still put the puck in the net even in his mid-30s. Come 1978-79, the WHA held their final season in league history. Flett topped it off with 28 goals in 73 games, plus five goals in the Oilers 10 playoff games. He did so alongside a young man by the name of Wayne Gretzky.
For the 1979-80 NHL season, four teams from the folded WHA merged into the league – the Hartford Whalers, Winnipeg Jets, Quebec Nordiques, and Flett's Oilers who by this point would now be "The Great One's" Oilers. Flett would play his final NHL season and would be an original NHL Oiler. In 20 games that year he scored five goals and two assists. Recognizing the youth movement in Edmonton, Flett retired partway through the season and was offered a job with the team as a scout.
Saying Goodbye to "Cowboy"
Sadly, "Cowboy" is no longer with us. He had battled alcoholism for many years. Separately, he suffered from liver failure in May of 1999 which had been brought on by a gall bladder attack. Although he received a liver transplant, Flett's body rejected it and he would pass away that July. He was just 55 years old.
Bill Flett is a player who deserves to be remembered. Part of his history is forever preserved by his name being captured upon hockey's silver chalice. But that is not enough. Most of today's fans do not know Flett's name, nor do they know of his career. While he may belong to another era of the game it would be a travesty were he to be forgotten.
Few would ever have thought or known that he was one of the Flyers first two 40-goal scorers in their long storied history. There is far more to Flett to honor than his one for the ages season. But if you can appreciate what he did during the 1972-73 NHL season, then you can appreciate the man himself. Those who played with him or knew Bill Flett might even find a bit of comfort in that.
* originally published in Feb 2018
---
---
General Manager of the Buffalo Beauts (NWHL). Hockey history writer "The Hockey Writers". Credentialed media for the NHL Combine and 2018 IIHF World Junior Championships in Buffalo, NY, USA. Born and raised in Buffalo, NY. Lifelong hockey fan for over 40 years. Proponent of the women's game.