Mitch Korn in St. Louis Spells Instant Culture Change Between the Pipes  
Mitch Korn is a key reason for much of the Nashville Predators' success since 1998. From humble beginnings as an assistant coach and arena manager at Miami University, Korn quickly developed a reputation for developing young goalie prospects into solid starters. With the termination of head coach Barry Trotz — and providing Korn doesn't follow him to his next coaching spot — Korn's expiring contract might mean a hiring opportunity too good to pass up for the St. Louis Blues. Korn has coached numerous professional goaltenders as well as prospects of all ages at his camps, however three names pop out on his resume: Dominik Hasek, Pekka Rinne and Grant Fuhr.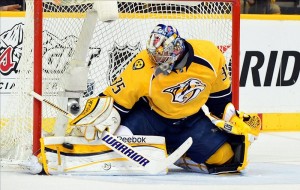 Blues Need Korn to Really Pop
The St. Louis Blues are at a crossroads after bowing out to the defending champion Blackhawks in the 2014 NHL playoffs. Fans and management are tired of this scenario playing out virtually every Spring, with the team failing to satisfy with a deep playoff run as it has throughout most of its history. The team needs to decide whether upcoming UFA Ryan Miller is worth the dollars and increased expectations from having a top-flight netminder, or if it's time to take the route many other successful squads have in the past — going cheap in goal and spending elsewhere. Miller at times looked passive and overly-cautious in his brief stint with the Blues, possibly one of the reasons former goalie coach Corey Hirsch's contract was not extended. Although Hirsch learned much from his playing days and developing as a coach himself, there's no substitute for the genuine article. The Blues have AHL Goaltender of the Year — the minor league equivalent of the NHL's Vezina Trophy — Jake Allen waiting in the wings, a player GM Doug Armstrong has already stated will make the Blues next year barring an unexpected collapse in training camp. Enter Korn. Not too many goaltending coaches outside of Francois Allaire carry his cache, with the situation in St. Louis tailor-made for an experienced mentor with his professional pedigree. Korn possesses a track record that compels even accomplished veterans like Miller to pay close attention. His ability to develop young prospects into All-Stars must have Blues brass drooling, since their desire to fast-track young Allen into a prominent role is abundantly transparent.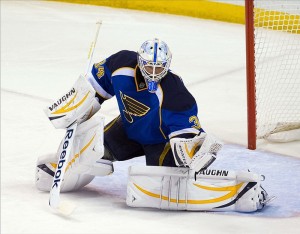 Mitch Korn Increases Chance at Goaltending Success
By hiring Mitch Korn to offer his brand of goaltending to the team's netminders, the Blues invest in a thick security blanket. As in other markets such as Vancouver, Toronto and Montreal, many impatient St. Louis fans tend to pin early playoff exits on whomever is tending the pipes at the time. The Blues' front office would show they are in touch with its fan base that blame Miller — directly or indirectly — for the 2014 debacle by filling an open coaching vacancy with the best option. Should Miller be re-signed and not work out, Allen proved he possesses the talent to not only play but succeed in the NHL. Fans remember Allen rescuing the Blues' 2013 season after injuries and erratic play from then-incumbents Jaro Halak and Brian Elliott. If Korn's resume can predict future success, the potential for Miller to further refine his natural talent is virtually assured, with a reduced risk of Allen unexpectedly flaming out. The Blues also have high hopes for Swedish goaltender Niklas Lundstrom as well as Canadian prospect Jordan Binnington, with the latter backing up highly-touted prospect Malcolm Subban at the 2013 World Juniors. Looking at what Korn has done in the past indicates that these younger goalies will have a far greater chance at success at the NHL level. Knowledgeable Blues fans should be actively petitioning Doug Armstrong to hire Mitch Korn into the team's coaching ranks.
Freelance writer and public relations practitioner. 20+ years in goal and long-time Blues fan.