Like many NHL teams, the Calgary Flames have a lot of uncertainty surrounding their roster this summer. Whether it's their search for quality goalies, the intrigue of the Las Vegas expansion, or the lean number of picks they have in the upcoming NHL Entry Draft, there is one thing that is certain — Johnny Gaudreau needs to be better next year.
A 17-point drop off from the 2015-16 season, mostly in the form of 12 fewer goals than the 30 he previously scored, combined with a worrying pattern of giving up defensive turnovers in big games forced coach Glen Gulutzan to occasionally drop Gaudreau to the fourth line. Unfortunately, there were just too many times last season when Gaudreau looked like a one-dimensional player trying to do too much by himself while forgetting his defensive zone responsibilities.
Johnny Gaudreau's Battle With the Mental Game
After a slow start to the year, Gaudreau seemed easily rattled by the pressure of living up to the size of his annual contract of $6.75 million. Gaudreau's mental game also suffered by the way he lost focus trying to draw the attention of referees to the hacks and slashes of the opposition who had learned how to effectively get under his skin.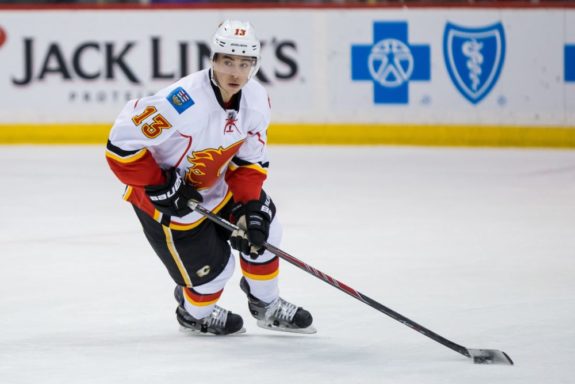 In short, when Gaudreau wasn't on a hot streak he looked like a distracted hockey player struggling with how to adapt his game both offensively and defensively to the increased attention he was receiving on the ice. Nothing showed that struggle more than the Flames' playoff series loss to the Anaheim Ducks when Gaudreau was only able to muster two points.
"Getting swept 4-0 … You never want to be in that type of position. I never want to be in that position again, so that's something I learned from, too," said Gaudreau to the Calgary Herald. "Definitely, it's still frustrating. It's something that I try to not think about, but it's hard to not think about it while the playoffs are still going on. But it's something you have to put behind you. I think that's exactly what our team is going to do. I think we have a young, talented group of guys, a good group of core guys in our locker room that are just itching to get back there again. I think we're going to be prepared for that next season."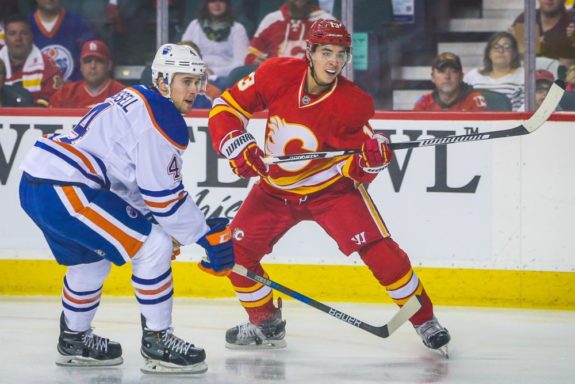 Even with his past struggles, Gaudreau has every reason to be optimistic about his ability to adapt the mental aspects of his game and meet the challenges of being an elite NHL player. After all, he has already demonstrated superior mental toughness during his rise to the NHL as an undersized and chronically underestimated prospect. Like many NHL stars before him, Gaudreau probably will just need a little bit of time to learn how to keep his emotions in check and his confidence high so that his exceptional skill level can shine through on the ice.
It also would help if the Flames could solve the riddle of who will play regularly next season alongside Gaudreau and Monahan on the Flames' top line. Troy Brouwer, Alex Chiasson, and Micheal Ferland all auditioned for roles in the spot, with Ferland achieving the most success last year in a limited number of games. However, heading into next season, it would be surprising if Flames management didn't seek out a more proven asset to support their two young stars. An acquisition in that area would no doubt go a long way in reducing some of the pressure on Gaudreau.
Gaudreau's Commitment to Defense
A low point in the Flames' 2016-17 season and a sign of things to come arrived in a game on April 2 against the Anaheim Ducks when the Flames gave up a late game-winning goal in the third period on a play where Gaudreau chose to lazily watch the puck instead of taking the man who would score the easy tap-in winner. You can see the damage in the video below.

With the size of his newly signed contract and a decline in his offensive numbers last season, Gaudreau is hardly in a place where he can be seen ignoring his defensive responsibilities. However, costly turnovers, blown coverage and a disinterest in backchecking made it onto Gaudreau's highlight reel too often in the 2016-17 season. Nobody expects Gaudreau to be in the Flames' lineup to showcase his incredible defensive skills or his intimidating physical presence, but showing an overall lack of effort is unacceptable if he expects to reverse his fortunes next year.
Gaudreau has proven he has all the talent he needs to be a star in the NHL. He has an astonishing skill level and an offensive creativity that is almost unmatched across the league. However, he must commit over the summer to improve his defensive awareness and his overall effort by becoming a more mentally resilient hockey player. The good news is that Gaudreau is fiercely determined and a young and developing talent who has a relatively strong core of players around him that can help him find success.
Yet, if Gaudreau allows the bad habits and poor attitude that crept into his game last season to continue, the Flames could find themselves with an overpaid one-dimensional player on their roster who could see declining point totals ahead if he doesn't adjust the way he plays the game.
Jon is a Calgary resident and life-long Flames fan who is a new contributor on TheHockeyWriters.com. You can follow Jon on Twitter @sportfanyyc where you'll probably learn a bit more about sledge hockey as well.