For the first time in nearly two full decades, the Calgary Flames will participate in the National Hockey League's expansion draft as the Vegas Golden Knights join the league in mid-June. Compared to the other 29 established clubs, the Flames are sitting in very good shape. They've made the post-season in two of their past three seasons and arguably all of the club's important players are either able to be protected from selection or are completely exempt from the expansion draft.
As a result, the entire process could represent a very intriguing opportunity for Brad Treliving and his staff to engage in some bargain shopping and potentially propel the Flames to the next level.
Exempt Flames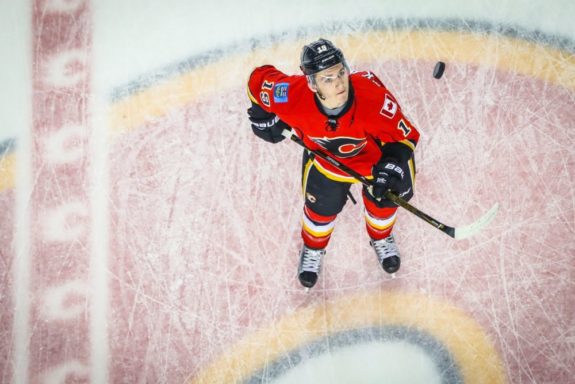 The Flames have several players who are exempt from selection in the expansion draft, led by 2016 first round pick (and rookie sensation) Matthew Tkachuk. Several of their players who have completed their first or second season in the entry-level system:
Goalies Mason McDonald, David Rittich and Jon Gillies
Defensemen Rasmus Andersson, Keegan Kanzig, Kenney Morrison, Oliver Kylington
Forwards Matthew Tkachuk, Mark Jankowski, Morgan Klimchuk, Daniel Pribyl, Brett Pollock, Andrew Mangiapane, Hunter Smith, Austin Carroll and Garnet Hathaway**
(**-Hathaway has played three pro seasons, but since the first season was under an AHL contract he's considered exempt.)
In addition, the Flames have five players under contracts that haven't begun yet – Tyler Parsons, Nick Schneider, Josh Healey, Ryan Lomberg and Dillon Dube – and unsigned draft picks that are also exempt.
Goaltenders
The Rules: Teams must expose a goalie with at least three years of pro experience who is either under contract for 2017-18 or is a pending restricted free agent.
Exposed: Minor league goalie Tom McCollum was signed to meet the team's exposure requirement while pending free agents Chad Johnson and Brian Elliott are also available.
Protected: To be determined, as the Flames have no expansion eligible goaltenders currently under contract (or that are pending RFAs).
Outlook: The Flames will probably acquire a goalie. Given the prospect of losing a goalie to Vegas for nothing to getting an asset back from Calgary, even if it's a pick, teams will probably take the asset. Failing that, the Flames might just protect one of Johnson or Elliott for the sake of keeping an asset close and giving themselves the option of a pre-July 1 signing. Teams are allowed to protect zero goalies, but it would seem quite illogical to do so from an asset management perspective.
Defensemen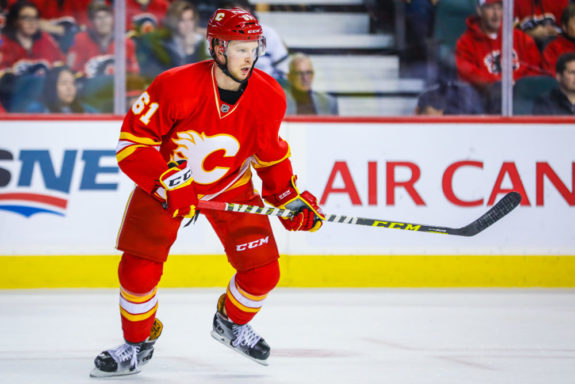 The Rules: Teams must expose a defenseman under contract for 2017-18 who either played 40 games in 2016-17 or played 70 games during the past two seasons.
Exposed: Matt Bartkowski was signed to meet the exposure requirements. Pending RFAs Brett Kulak, Ryan Culkin and Tyler Wotherspoon will be dangled, as well as pending UFAs Dennis Wideman, Michael Stone, Michael Kostka, Ladislav Smid and Deryk Engelland.
Protected: T.J. Brodie, Mark Giordano and Dougie Hamilton.
Outlook: There will be no surprises here. The Flames likely would hate to lose Kulak, who really impressed during stints in the NHL over the past two seasons, but the club also has Andersson and Kylington in the AHL and tons of cap space to go UFA shopping. It would be a wasted opportunity, but hardly back-breaking. Given Engelland's connections in the Las Vegas area – he played with the Wranglers as a pro rookie and has a house in the area – there's a non-trivial chance he may end up in Vegas.
Forwards
The Rules: Teams must expose two forwards under contract for 2017-18 who either played 40 games in 2016-17 or played 70 games during the past two seasons.
Exposed: Matt Stajan, Lance Bouma and Troy Brouwer are all signed through 2017-18 and meet the experience requirements. Fringe players Hunter Shinkaruk, Emile Poirier and Freddie Hamilton are also under contract. Pending RFAs Linden Vey and Alex Chiasson will also be dangled, as well as soon-to-be UFAs Kris Versteeg and Brandon Bollig.
Protected: Sean Monahan, Johnny Gaudreau, Sam Bennett, Mikael Backlund, Michael Frolik, Micheal Ferland and Curtis Lazar.
The Outlook: The first six players are essentially locks, while Lazar is likely protected over Brouwer due to his acquisition cost and presumed internal belief that Brouwer's cap hit will scare off the Golden Knights. Aside from Kulak, it's probable that Vegas could select Stajan (for his leadership) or Chiasson (for his versatility). Aside from the Flames adding a goaltender, it seems possible – though somewhat unlikely – that Treliving could try to use the chaos of the expansion process to attempt to upgrade his forward group via trade, in which case the protected list could be throw into disarray.
Handicapping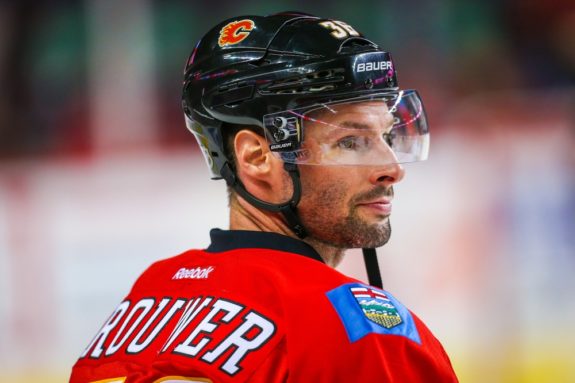 There are four players that are the most likely to be selected by Vegas from the Flames' roster, ranked from most likely to least likely:
Kulak: Young and a strong skater, Kulak would be inexpensive depth on Vegas' third pairing.
Chiasson: A bit older than Kulak, Chiasson is more established as a versatile NHLer but because he hasn't put up amazing point totals he won't be terribly expensive. Another cheap depth option.
Stajan: He carries a fairly big cap hit ($3.125 million), but he would be a rock-solid leader in the locker room and a strong fourth line center. He's only signed for one more season, so the cap impact of his selection would be minimal.
Brouwer: Another big cap hit ($4.5 million for another three seasons), but he's a locker room leader who Vegas GM George McPhee is familiar with from their time together in Washington.