Jordan Kooy
2016-17 Team: London Knights (#31)
Date of Birth: April 30, 2000
Place of Birth: Bradford, Ontario
Ht: 6'1" Wt: 163 lbs.
Position: G
NHL Draft Eligibility: 2018 first-year eligible
Rankings
NHL Central Scouting: 15th (among NA Goaltenders)
He's about average height for a goaltender these days at six-foot-one, but could beef up over the next couple years considering he's just over 160 pounds. Still, Jordan Kooy has enough in his game that he was the perfect backup to Joseph Raaymakers on this year's edition of the London Knights.
RELATED: THW's 2018 Draft Guide
In just his second season with the club, Kooy posted a 10-8-1 record in 24 games with a respectable 3.11 goals against average (GAA) and .904 save percentage (SV%). While his numbers were slightly higher than his career statis, Kooy played more than two times the games he did in his first year with the Knights and did so impressively.
In two seasons with the Knights, he has a record of 18-10-1, a 2.91 GAA and .911 SV% to go along with one shutout – which he secured this season.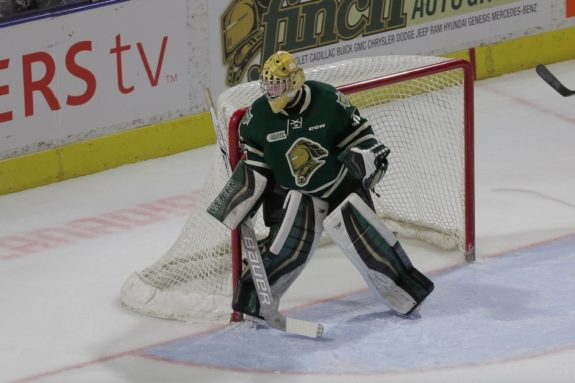 An eighth-round pick of the Knights in 2016, Kooy hasn't exactly had a full opportunity to show what he can do between the pipes to this point in London. Still, there have been glimpses of brilliance in his short OHL career, along with questions of how well this 17-year-old can develop his game.
Even with the good and the bad, Kooy will get drafted this year by an NHL team. With a number of other goaltenders – both North American and European – ahead of him in the draft projections, Kooy likely won't be taken until later in the draft, but expect him to go regardless.
Other THW Draft Profiles:
Jordan Kooy – NHL Draft Projection
While he struggled at the start of the season – along with the rest of the Knights – he still showed a lot of upside in his ability to stop the puck as the season progressed. Taking a back seat to Raaymakers might not have been the best thing for his draft stock, but if the glimmers of hope are anything like what this kid can do, he will be a steal in the fourth or fifth rounds of the upcoming draft.
Quotables
"Struggled in the first half of the year when the Knights were just not very good. But had a much better second half, regaining his confidence operating as the clear number two behind Joseph Raaymakers (taking the pressure off of him). To start the year, Mississauga's Jacob Ingham was the clear number one goalie available from the OHL, but I think Kooy really closed the gap and it's a coin toss between them now. Kooy has the size and athleticism that NHL scouts are looking for these days and his ability to read angles and control rebounds really improved by season's end. Sample size is small, but has the potential to be a diamond in the rough, especially as part of a solid London program moving forward." – Brock Otten/OHL Prospects
Strengths
Size in net
Ability to cut off the angles
Under Construction (Improvements to Make)
Rebound control
Consistent play
Ability to steal games
NHL Potential
At the moment, he's a legitimate backup at best. But if Kooy can develop his skills into the game that some believe he has, he could find a job in the NHL at some point. That said, goalies tend to develop into NHL-calibre players later in their careers, so it will take some hard work for Kooy to find a place in the big leagues.
Risk-Reward Analysis
Risk – 4.5/5, Reward – 3/5
Fantasy Hockey Potential
Goaltending – 6/10
Awards/Achievements
As an OHL rookie this season, Kooy posted an OHL rookie best goals against average of 3.11 in 24 games for the Knights. The feat earned Kooy the FW "Dinty" Moore Trophy for the lowest goals against by a rookie goaltender.
Interview/Profile Links
Videos