Each time the Red Wings new gritty bottom-sixer Jordin Tootoo has fought in a game this season, the Red Wings have won that game.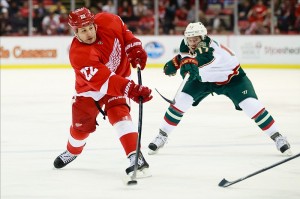 Whether you like Tootoo's rough and agitating style of play or not, he seems to be exactly what this team needed.
At 5'9″ 200 lbs Jordin Tootoo doesn't appear all that intimidating, but as they always say, looks can be deceiving.
For his size Tootoo is one of the most aggressive and tenacious players in the NHL. Like a small wolverine taking on a grizzly-bear in the forest, Tootoo will fight just about anyone out on the ice, no matter the size difference. All heart, no fear, is Jordin Tootoo's style of game.
Tootoo has the speed and love of hitting that makes a quality fore-checker. His presence on the ice has been pestering opposing teams and generating energy for the Red Wings.
"I'm a Red Wing for the next three years and I'm going to make sure every team we play knows that." — Jordin Tootoo
And he sure stuck by that statement in the Red Wings last game against Dallas…

And his second, yes second, fight of the night…

Most Red Wings fans hated Tootoo while he played for his former team and central division rival the Nashville Predators, and you can see why. He's the type of player you hate to play against, but love to have on your own team. And now that he's in the winged wheel he's getting a lot of love from Detroit fans and also bringing an element to the team that hasn't been seen in the lineup since Aaron Downey.
There's more to Jordin Tootoo than just his rough-and-tumble hockey style however.
As an Inuit athlete Tootoo made history, becoming the first Inuit to ever play hockey in the NHL.
In his home town of Rankin Inlet he is a sports star and a role model for young Inuit athletes. They even have a mural of him hanging up in the local youth center.
Tootoo's native Inuit name is Kudluk, which translates to "thunder."
He has a large scar on one of his hands that came from a harpoon accident that he had while out seal hunting
Jordin had an older brother named Terence who played for a minor league hockey team based out of Roanoke, Virginia.  Terence was a role model for young Inuit athletes as well until his death in August 2002. The 22 year old committed suicide after being charged with an impaired driving offense. He seemingly could not live with being a failure to his community and all those who looked up to him.
Terence was not only Jordin's brother, but also his best friend and training partner. His death is just one of the many obstacles that Jordin has had to overcome.
On top of the obstacles of his small physical stature, cultural differences, and brothers death, Tootoo also struggled with an alcohol problem while with the Predators. In December of 2010 he voluntarily entered the NHL/NHLPA's Substance Abuse and Behavioral Health Program to receive treatment for that alcohol problem. He completed the program successfully and returned to the NHL later that season.
Tenacious, fearless, and full of heart, Jordin Tootoo is an interesting character to say the least. While already a star in the Northern Territories of Canada, Tootoo may very well soon be a fan favorite here in Detroit.