After the tough 6-0 shut out loss to St. Louis in the season opener, the offensive wheels have finally begun moving in the motor city.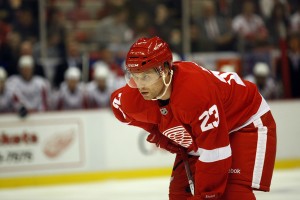 The big offensive players like Datsyuk, Zetterberg, and Filppula are all producing as expected so far this season, and the Wings also seem to have acquired the top-6 sniper they were looking for in Damien Brunner. However the Red Wings are lacking top quality D-men more than ever.
Everyone knew Detroit's defense would be weaker than normal with the departure of Nick Lidstrom and Brad Stuart over the summer, but nobody knew how bad the injury bug, which looks more like a plague than a bug at this point, would hit the Detroit blue line this season.
Ian White, who had 32 points for the Red Wings last season, is out for the Wings. White suffered a laceration to his left leg that will force him out for 2-3 weeks.
Not surprisingly, former St. Louis Blue's defensemen Carlo Coloaiacovo is also out for the Red Wings. He's never played more than 67 games in a single NHL season and will be out 3-4 weeks with a shoulder injury.
Jonathan Ericsson and Jakub Kindl have already missed time on the Red Wings blue line this season as well.
Coloaiacovo's and White's injuries are not injuries a general manager would normally freak out about, but then again, this is not a normal season. With the season shortened Coloaiacovo's and White's 3-4 week and 2-3 week injuries, are more like 6-8 week and 4-6 week injuries.
The Red Wings loaded up on forwards over the summer, which made many think that GM Ken Holland was acquiring assets for a trade so that he could acquire a quality defensemen when one became available.
So with the already weak blue line suffering with injuries, is now the time for the Red Wings to make a trade? Here are few notable defensemen that will become unrestricted free agents come summer and do not have no trade clauses in their contracts, making them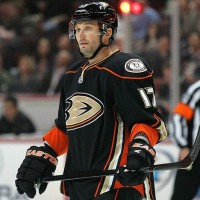 possible targets for trades.
(NYI) Lubomir Visnovsky – 36 – $5.6 million cap hit – The New York Islanders are starting to look more and more competitive these days, but if they find themselves out of the playoffs again, they may want to part ways with veteran Lubomir Visnovsky. The former Ducks defensemen tried to block the trade that sent him from Anaheim to New York, and then almost didn't return from HC Slovan Bratislava of the KHL when the lockout ended, saying he wanted to be close to his family in Slovakia. It seems that Lubomir's heart just isn't on the Island, making him a possible trade option. The cost to acquire him may be low as well. He cost the Islander's just one 2nd round pick in their trade with Anaheim, and now may come at even more of a bargain because any team who acquires him also runs the risk of him packing his bags for Europe instead of re-signing come summertime. Simply put Visnovsky is a high-risk/high-reward option. He's a fantastic puck moving defensemen who could come cheap, but he's also at flight risk for the KHL after this season.
(NYI) Mark Streit – 35 – $4.1 million cap hit – If teams don't want to take the risk on Visnovsky, the New York Islander's Mark Streit could be another option. Also a puckmoving defense, Streit could really help a team like the Red Wings on the power play as quarterback. His presence would also take some of the pressure of newer and younger guys like Brendan Smith, Brian Lashoff, and Jakub Kindl. He's 1 year younger than Visnovsky, not a flight risk, and carries a smaller cap hit, so he would likely be a bit more expensive than his teammate.

Buffalo Sabre Jordan Leopold – Photo by Andy Martin Jr
(BUF) Jordan Leopold – 32 – $3 million cap hit – The Sabres missed the playoffs last season and will likely be a bubble team again this season. They have a number of NHL ready defensemen but not a lot of penalty killing forwards, which could make them a perfect dance partner for the Red Wings if the Sabres miss the playoffs again. One Sabres D-man who could become available is Jordan Leopold. He's a solid top 4 two-way defensemen and could add some nice depth to the Red Wings defense and fill in some of the holes there.
(ANH) Toni Lydman – 35 – $3 million cap hit – After missing the playoffs last season, trading Lubomir Visnovsky, and the talks of trading Bobby Ryan, the Ducks are not a playoff favorite. At 35 years old and with 1 year left on his contract, the Ducks may look to move Toni Lydman before the deadline. Lydman is not one of the top defensive defensemen in the league but he's the kind of stay at home guy the Red Wings may be interested in.
(TBL) Marc-Andre Bergeron – 32 – $1 million cap hit – Capable of playing forward and defense, Marc-Andre Bergeron is a small skater at 5'9″. However, don't let his size fool you, he is extremely quick on his feet and has a wicked slap shot. If Holland becomes interested in acquiring a smaller budget defensemen he could use his relationship with old friend Steve Yzerman in Tampa Bay to deal Bergeron.
Of course all these players and their availability is just speculation based on their expiring contracts, lack of an NTC, and the caliber of the team they're on. Some may not become available, but they certainly may be in trade rumors as the season continues.
Someone I should have mentioned? Include them in the comments below.
Detroit Red Wings writer for The Hockey Writers and Michigan State hockey writer for spartanavenue.com