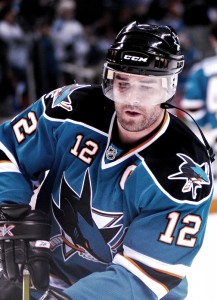 I think we consider too much the good luck of the early bird, and not enough the bad luck of the early worm — Franklin D. Roosevelt
After just over a dozen or so games so far this season, the Pacific division has more than its fair share of early birds, and just one worm — and, at least for yours truly, a rather surprising one at that. Nevertheless, the soothing mantra "it's early" still applies to both ends of the metaphorical food chain, as anything can happen to shuffle the fortunes of a bevy of very solid teams before its all said and done.
That said, the following is a quick synopsis of the seven teams within the Pacific division. As always, objects in mirror may be closer than they appear.
San Jose Sharks (10-1-2, 22 points)
As Shaggy used to say on Scooby Doo, zoinks! Proving I'm not Nostradamus, the Sharks have darted out to an amazing start, thanks to having both the league's top-ranked offense (3.85 goals per game) and its second-best defense (1.77 goals per game). Seriously — check out the league statistics: the Sharks are top-ten in literally everything, and in many cases, flat-out leading the league, which manifests itself into the top of the Pacific.
It borders on paradoxical absurdity, because guys like Joe Thornton and Patrick Marleauare supposed to be getting older, not better. And yet, Thornton has thirteen points in thirteen games, with Marleau having fifteen, including eight goals. Younger guns Logan Couture and Joe Pavelski have notched sixteen and fourteen, respectively. All this, and we haven't even begun to talk about rookie sensation Tomas Hertl's eight goals.
Antti Niemi (9-1-2, 1.72, .924) is playing like an early favorite for the Vezina should be, and for the most part, the defense has been rock solid. When considering both record and overall game play, the Sharks are the class of the Pacific division.
Anaheim Ducks (10-3-0, 20 points)
Quack! Anaheim has flapped their wings to a very strong start as well and are currently on a three-game winning streak, having defeated Ottawa, Columbus and Philadelphia — all on the road — in the span of five days. Corey Perry (13 points, including six goals) and Ryan Getzlaf (13 points, five goals) predictably lead the way offensively, but especially noteworthy is 25-year old Nick Bonino and his eight points in 13 games.
Team-wise, the Ducks have the league's eight-best offense and tenth-ranked defense. Unlike the Sharks, however, they have a clear Achilles' wing: special teams. The penalty kill is a pathetic 29th overall at 75.6%, but somehow that sounds almost praise-worthy in comparison to their remarkably inept power play (30th, at 7.8%). They shoot the puck a ton (35 shots per game) and give up just 28.5, so they control the action much of the game. However, the disastrous special teams will need to get fixed if they hope to stay at or near the top of the Pacific this season.
Jonas Hiller has been pretty good (5-2-0, 2.56, .913), and Teemu Selanne is on his farewell tour (three goals, four assists). Overall, the Ducks have laid claim to being the Pacific division's second-best team so far.
Phoenix Coyotes (8-3-2, 18 points)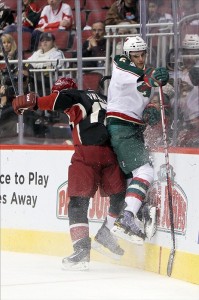 With the recent ownership saga, low attendance and a tight budget, the job General Manager Don Maloney has done is in the same stratosphere as turning water into wine. The Coyotes are contenders every year, with this year being no different, thanks to the division's most balanced offense. Radim Vrbata, Martin Hanzal and Oliver Ekman-Larsson have 12, 11 and 10 points respectively, followed by five players with seven or more.
It's a good thing the league's fifth-ranked offense is so proficient, as the defense and goaltending (23rd overall at 3.00 goals allowed per game) have been anything but. When you're giving up 34 shots per game, well, that's just going be the way it is. It's a clear indicator that the team's early success is likely unsustainable. The special teams are average on both ends of the ice.
Mike Smith is a good goaltender (7-2-2, 2.97, .912), with his goals against elevated due to the blizzard of shots he faces nightly. Arguably, at least for now, the Coyotes are the third-best team in the Pacific.
Los Angeles Kings (9-5, 18 points)
Seemingly ever year, it's the same thing with the Kings. While the defense out of the gate shines (2.57 goals allowed per game, 11th best), the offense sputters. Tonight's 4-3 overtime win over San Jose left Kings fans feeling a bit better, especially considering that Anze Kopitar scored his second goal of the year, but there's work left to be done. After Kopitar (13 points), Justin Williams and Mike Richards each have ten points, with both Williams and Jeff Carter leading the team with five goals.
Like San Jose, Los Angeles shoots the puck a lot (32.6) and limits shots on defense (26.9) — they just don't get the same results. The power play is 12th-best in the league at 20.4% and the penalty kill 16th at 81.7%.
Jonathan Quick (8-4, 2.56, .903) has been average at best. Overall, it's pretty bunched up between Phoenix, Los Angeles and Vancouver, but the nod for the fourth-best team in the Pacific goes to the Kings.
Vancouver Canucks (9-5-1, 19 points)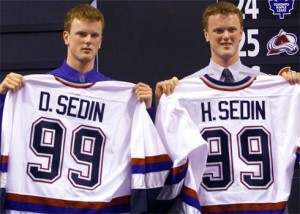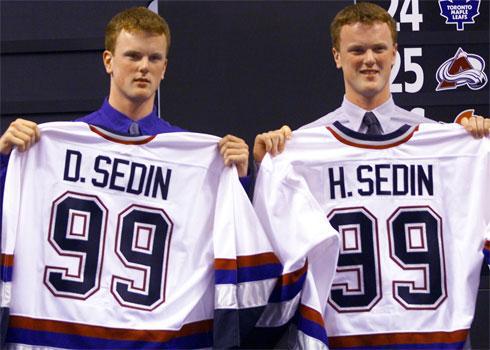 Much like the Sharks, the Canucks' top guns should be starting to show their age. They really should. And yet, the Sedins have a combined 33 points to start the season, and are literally carrying the club so far, along with Ryan Kessler (eight goals, three assists). Journeyman Mike Santorelli (four goals, five assists) is having a resurgence in the Pacific Northwest after three previous injury-filled campaigns.
Mediocrity, thy name is Vancouver: the Canucks have the league's 15th-ranked offense (2.73) and 14th-best defense (2.67). Their penalty kill (4th at 86.3%) is a strength; the power play (29th at 9.3% is decidedly not.
Given the top-heavy production, middling offense and defense and poor penalty kill, the Canucks get the Pacific's fifth-position ranking. Fittingly, Roberto Luongo (7-4-1, 2.46, .909) has been, well, mediocre.
Calgary Flames (5-5-2, 12 points)
Now this is a bit of a surprise. Everybody and their grandmother predicted the Flames to flame out this year. So what do they do instead? How about go .500 so far, with a signature win over Los Angeles ten days ago. Jiri Hudler leads the way with five goals and eight assists, followed by rookie Sean Monahan and his six goals and four assists. Lee Stempniak has nine points in ten games.
Calgary's offense is respectable (10th overall at 3.00 goals per game) but the defense has been non-existent (3.50). The power play has been weak (19th, at 17%) but the penalty kill is abysmal (25th, at 76.3%). They shoot the puck 30 times a game and — big surprise — give up 30 shots. Pretty much what you'd expect from a .500 team.
The Flames are a clear 6th in the Pacific's pecking order, but that's pretty good considering where we all thought they'd land.
Edmonton Oilers (3-9-2, 8 points)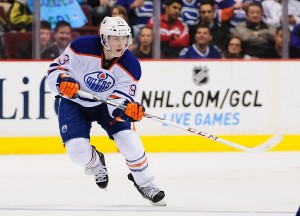 Man, was I off-base in my prediction that the Oilers would be one of the teams to surprise this year, but I guess when you're giving up 3.79 goals a night, all the young guns in the world aren't going to help. Ryan Nugent-Hopkins (10), Jordan Eberle (10) and Mark Arcobello (10) are tied for the team lead in points. Taylor Hall is expected to be out four weeks with a knee injury.
As mentioned above, the Oil are the league's worst defensive team. Surprisingly, however, the offense isn't that much better, ranking 20th at 2.50 goals per game. The 24th-ranked power play and 26th-ranked penalty kill aren't making the fans feel any better, either.
Devan Dubnyk (2-5-1, 4.01, .878) has been beyond terrible to date. Not long ago, I predicted the Oilers would challenge for the playoffs. I really did think they'd break through this year, with all the young players rapidly maturing. So far, however, they are the only worm amidst a very crowded bunch of birds in the Pacific division.
Walter McLaughlin is a Los Angeles Kings correspondent for The Hockey Writers. He is an avid sports fan, having followed the Kings since living in L.A. in the mid-1970's, as well as suffering through Seattle sports teams' general futility. He has a Bachelor's degree in Finance and has worked in community banking for over 25 years, specializing in SBA loans. He is married and has two daughters.