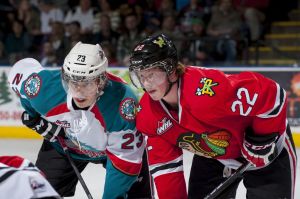 Justin Kirkland and the Kelowna Rockets may not have won the Memorial Cup, but he used the tournament to lay the groundwork for next season.
The Nashville Predators third-round pick in the 2014 NHL Draft had been slowed by an injury that he suffered on Valentine's Day. That injury put a damper on what our own Larry Fisher hoped would be a breakout campaign for the 18-year-old winger.
Injury Derails Kirkland's Campaign
Kirkland was having a solid season with 51 points in 50 games. However, an injury knocked him down the depth chart. Kirkland was playing with Edmonton Oilers' draft pick and No. 3 overall selection Leon Draisaitl and Tyson Baillie.
Recent Predators Posts
[catlist categorypage="yes" numberposts=3 excludeposts=this]
Kirkland lost his spot in the lineup to Gage Quinney, and couldn't make his way back to the top line combos. That meant Kirkland couldn't get much even strength time, and wouldn't get to be a part of the Rockets' explosive scoring group.
Kirkland did have some moments of brilliance this season, including this goal against the Portland Winterhawks.
Kirkland Part of Rockets Memorial Cup Assault
Kirkland did come back in the Western Hockey League playoffs, recording five points in nine games. Still, he wasn't in his usual spot on the top forward group.
He was the only Nashville prospect that played in the Memorial Cup in Quebec City. Many thought that Kirkland was still a little banged up from the injury, but he did get some power play-time and he was rewarded with a pair of goals
Justin Kirkland (NASH prospect) scores twice for KEL, 44 seconds apart. I've gotten to know his family on the bus from hotel. Good people.

— Kevin McGran (@kevin_mcgran) May 30, 2015
Kirkland may not have been the factor that he wanted to be in the playoffs, but he played a big part in Kelowna's 9-3 victory over the host Quebec Remparts in the semifinal with those two goals and two assists.
The Rockets fell in heartbreaking fashion to the Ontario Hockey League's Oshawa Generals, 2-1, in overtime. Kirkland finished with five points in five games (four of those coming in the semifinal-win) and can take solace in the fact that he was starting to find his game again.
What to Expect From Justin Kirkland Next Year?
According to Fisher, he expects Kirkland to come back to Kelowna to play for the Rockets. Fisher projects that Kirkland will be back in the top two lines and have some motivation.
He'll be back in the top-six next season and probably come in with a chip on his shoulder, so I'm looking for him to have a big breakout season much like Rourke Chartier did this year.
There are some that are hoping Kirkland would sign a pro deal and play for the Predators American Hockey League affiliate, the Milwaukee Admirals. Kirkland is young, though, and might need one more year in the WHL to round out his game and fill out his frame.
Hopefully he uses his strong finish at the Memorial Cup as a springboard to a good season wherever he plays.
Subscribe to our Predators stories to get email updates every time a new story is published.
Dan Mount is a Nashville Predators staff writer for The Hockey Writers. You can follow him on Twitter, @DanMountSports.
Covered hockey since attending SUNY Oswego in Upstate New York in the early 2000s. Has written about college, major junior and professional hockey for the last five years.
Resides in Watertown, NY.