It's getting to that time of the year, where you can look back on your pre-season predictions — for better or worse.
Shortly after joining the THW team this fall, I collaborated with a couple of colleagues — Ryan Pike and Andy Eide, now of Sportsnet — on a WHL predictions piece that covered 10 categories from regular-season conference champions to top imports. A couple of those categories — playoff champion and top-three NHL draft picks — remain to be seen, but the other 8 can be analyzed to some degree.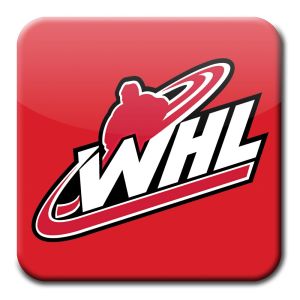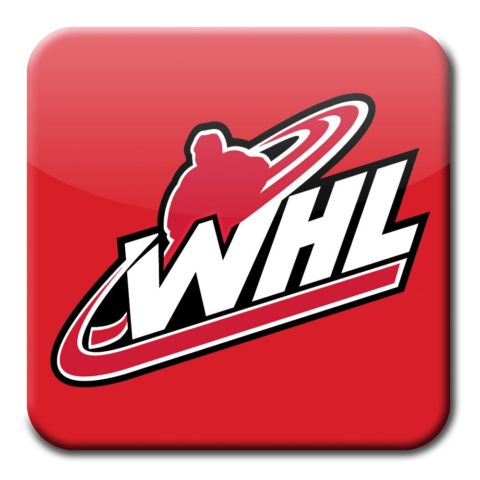 For the record, all three of us predicted the Kelowna Rockets would hoist the Ed Chynoweth Cup this spring, and they appear to be firing on all cylinders to start the post-season — leading the Tri-City Americans 2-0 in their best-of-seven Western Conference quarter-final series, having outscored them 9-0 thus far. The Rockets looked like hockey's version of the Harlem Globetrotters in setting the tone with a 6-0 shellacking in Game 1. You can watch those highlights here.
The Victoria Royals haven't been as dominant but also hold a 2-0 edge over the Prince George Cougars, while the U.S. Division matchups both produced splits on the opening weekend of WHL playoffs. The Everett Silvertips dropped Game 2 to the Spokane Chiefs, while the Portland Winterhawks blanked the Seattle Thunderbirds to also pull even at one win apiece.
Over in the East, there are a couple barnburners shaping up. The defending WHL and Memorial Cup champion Edmonton Oil Kings are hanging in there with the reigning regular-season champion Brandon Wheat Kings despite trailing 2-1 in their series. The Oil Kings actually waltzed into Manitoba and won the opener before getting blown out in Game 2. Back in Edmonton for three straight games, the Oil Kings outshot the Wheat Kings by a wide margin in a losing effort in Game 3.
It appears the Calgary Hitmen are going to have their hands full with the Kootenay Ice again. After sweeping Kootenay in a home-and-home set to end the regular season and secure that matchup, the Hitmen dropped the series opener on home ice and needed overtime to earn the split thanks to Adam Tambellini's heroics. That series now shifts to Cranbrook, B.C., where Sam Reinhart will attempt to lead the Ice to another upset after ousting the Hitmen in the first round of last year's playoffs.
The higher seeds held serve by winning both home games in the other Eastern Conference matchups. The Medicine Hat Tigers downed the Red Deer Rebels in a pair of one-goal games, the latter a 1-0 overtime decision, while Regina Pats edged the Swift Current Broncos 4-2, with an empty-netter, and 3-2 to start their series.
The action resumes Tuesday night, with five games on the docket — Kelowna at Tri-City (Kennewick, Wash.), Brandon at Edmonton, Portland at Seattle (Kent, Wash.), and Regina at Swift Current.
Conference Champions
As for those aforementioned predictions, I played it safe and nailed both conference winners in Kelowna and Brandon, while Ryan had Calgary in the East and Andy opted for an Edmonton repeat. They both went with Kelowna too.
Surprise Team
Ryan had the Wheat Kings as his surprise team, which deserves props considering they stole the Scotty Munro Trophy from the Rockets during the stretch run of the regular season. Andy and I both took Prince George in that category and the Cougars rewarded us by making the playoffs for the first time since 2011. I also tossed out Tri-City as an honourable mention, but the Americans were nothing special despite also making the playoffs as the Western Conference's second wild-card team.
Bust Team
We also predicted 'bust' teams and only Andy called a non-playoff team in the Prince Albert Raiders. He also suggested Josh Morrissey would be on the trade block, which he was, ending up in Kelowna and later joined by his former P.A. teammate Leon Draisaitl. I took Edmonton and the Oil Kings certainly took a step back from last season, when they won 50 games and tied Calgary for top spot in the Eastern Conference with 103 points. This season, Edmonton won only 34 times and wound up as the second wild-card team with 75 points. Ryan went with Swift Current and the Broncos did drop off from 85 points to 73.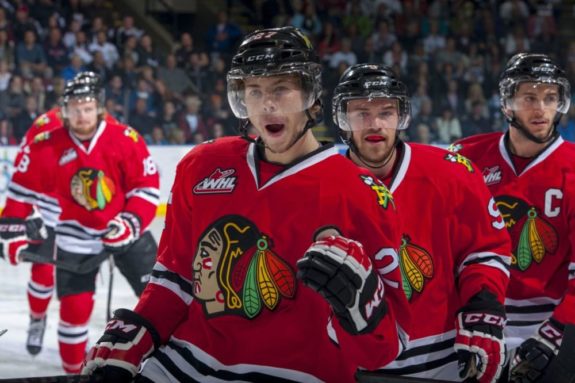 Top Scorer
Andy nailed the top scorer in Portland's Oliver Bjorkstrand, who amassed 63 goals and 118 points in just 59 games. He was the first WHL player to score at a goal-per-game pace since Pavel Brendl of the Hitmen back in 1998-99. Andy went as far as to suggest Bjorkstrand could score 60 goals, so his spidey senses were bang on there. I took Bjorkstrand's set-up man, Nic Petan, but he topped out at 89 points (in 54 games), good for seventh overall in league scoring. Ryan picked Jaedon Descheneau, but Kootenay wasn't as dynamic offensively this season, even after getting Reinhart back from the Buffalo Sabres and later the world juniors. Descheneau, an undersized St. Louis Blues prospect, finished with 81 points in 70 games — tied for 17th.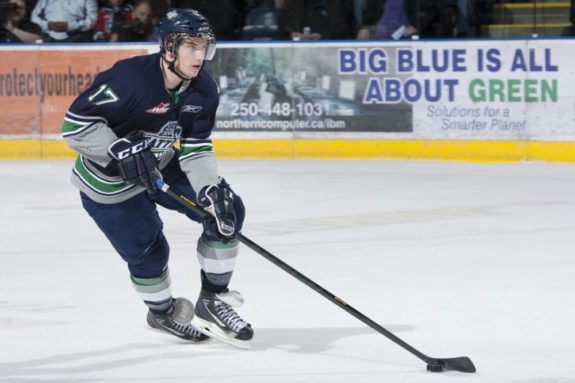 Top Defenceman
Andy and Ryan both called Shea Theodore as the Western Conference's top defenceman and nominee for the Bill Hunter Memorial Trophy. He missed the start of the season after getting injured in his audition with the Anaheim Ducks, but Theodore was a force upon returning to Seattle. I had Kelowna's Madison Bowey on my ballot and he was likely the runner-up in the West after making Canada's world-junior team and becoming a point-per-game player (60 in 58).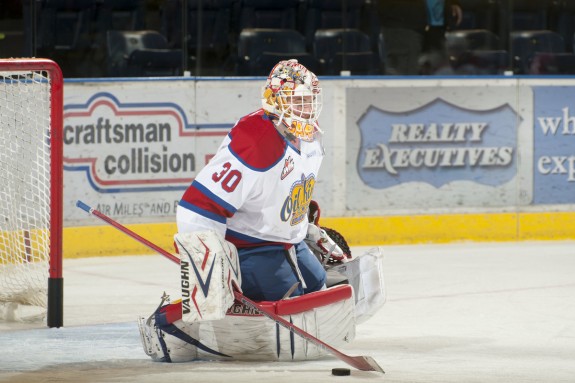 Top Goaltender
Ryan got the upper hand in the top goalie category by going with Edmonton's Tristan Jarry, the East nominee for the Del Wilson Trophy as WHL goaltender of the year. Andy and I both took Tri-City's Eric Comrie, who probably would have been the West nominee ahead of Seattle's Taran Kozun if not for a lengthy injury absence following the world juniors.
Top Rookie
Nolan Patrick has done it! First 16 year-old 30 goal scorer since Brett Connolly (08-09), Patrick Marleau (95-96). 3rd in last 20 years #WHL

— Zenon Herasymiuk (@ZenonHerasymiuk) March 22, 2015
We all missed on top rookie, with the Jim Piggott Memorial Trophy nominees being Brandon's Nolan Patrick and Spokane's Kailer Yamamoto. Both are good stories, with Patrick becoming only the third 16-year-old in the last 20 years to score 30 goals — joining Brett Connolly (2008-09) and Patrick Marleau (1995-96) — while Yamamoto emerged as a fifth-round pick and local product for the Chiefs. Andy and Ryan went with the consensus pick in Tyler Benson of the Vancouver Giants, who was selected first overall in the 2013 bantam draft. He debuted with 14 goals and 45 points in 62 games, which tied him for fourth in team scoring and sixth overall among rookies. I took a flyer on Regina's Sam Steel, the second overall pick in 2013 who put up 17 goals and 54 points in 61 games. That ranked him fourth in the rookie scoring race behind the award finalists and import defenceman Ivan Provorov of the Wheat Kings, who is a year older and a likely top-10 NHL draft pick this June.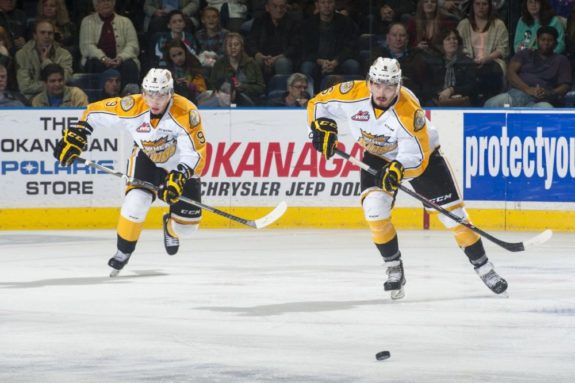 Top Import
I predicted Bjorkstrand and Provorov among my top three imports, along with Nikita Scherbak, who was traded from Saskatoon to Everett where he led the Silvertips in scoring with 82 points in 65 games — tied for 14th overall. Provorov was just beginning to generate some buzz when we cast our predictions, but he became a full-blown star by scoring 15 goals and 61 points in 60 games, which I don't think anybody saw coming. Ryan also had Provorov and Scherbak, while Andy took Bjorkstrand, then rolled the dice on newcomer Jiri Smejkal of the Moose Jaw Warriors, who played all 72 games and finished seventh in team scoring with 12 goals and 32 points.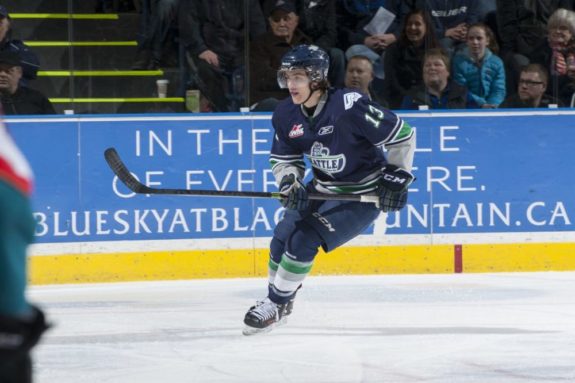 Top 3 NHL Draft Picks
We won't know the results of our top-three NHL draft picks until June 26, but none of us predicted Provorov or Kelowna's Nick Merkley and they could end up being the top two. We all had Seattle's Mathew Barzal going first, but he battled some injuries and might fall a little on draft day unless he can produce some playoff magic for the Thunderbirds. He's got two goals through two games, so that's a good start. I also had Prince George's Jansen Harkins and Portland's Paul Bittner, both still projected as mid-to-late first-rounders. Andy and Ryan had Brandon's Ryan Pilon as their second pick and the smooth defenceman just strikes me as a draft day riser, so they might be right yet. Andy rounded out his ballot with Bittner, while Ryan went back to Seattle to take blue-liner Ethan Bear, who had a solid sophomore season with 38 points and might also sneak into the first round. The draft status of those players will depend largely on their playoff performances and how they finish the season in front of a flock of scouts.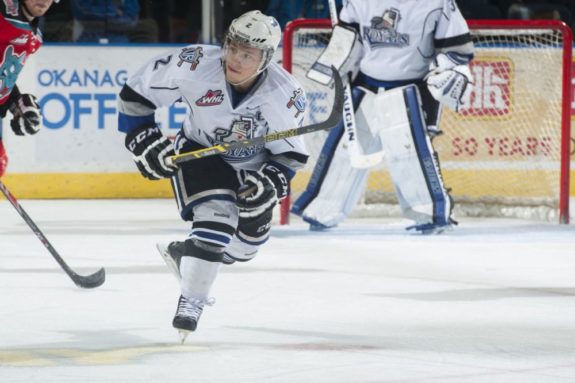 Breakout Players
I capped off the predictions with three breakout player candidates — Kelowna's Justin Kirkland, Victoria's Joe Hicketts and the aforementioned Pilon. I suggested Hicketts could flirt with 60 points and he exceeded my expectation by putting up 64 points in just 62 games, not to mention cracking Canada's world-junior team. The Detroit Red Wings got another good prospect by inking this undrafted defender. Kirkland, a third-round pick of the Nashville Predators, was hampered by injuries but still produced at a point-per-game clip with 51 points, including 21 goals, in 50 games. I pegged him for 35 goals and 70 points, but that would have been over 72 games. Do the pro-rated math and Kirkland would have produced 30 goals and 73 points, so I wasn't too far off base had he stayed healthy and maintained that pace. With Pilon, I predicted he could top 50 points in his draft year and he delivered with 52 points, including 11 goals, in 68 games.
All in all, it would appear the three of us are decent talent scouts or perhaps blessed with a little bit of psychic ability. Now we'll just have to wait and see if the Rockets can fulfill our prediction of being crowned playoff champions.
Larry Fisher is a sports reporter for The Daily Courier in Kelowna, British Columbia, Canada. Follow him on Twitter: @LarryFisher_KDC.