It's no secret, the St. Louis Blues have one of the deepest back-ends in the entire league. With nine defensemen to choose from every night head coach Ken Hitchcock has more than his fair share of options. That being said, he has stated time and time again that he will dress the player's who will give his team the best chance to win.
One of his options is veteran Jay Bouwmeester.
Bouwmeester is a coaches dream when you look at what he brings to the table every single night. He comes in a 6'4, skates like he is a small puck moving d-man, and is rarely not in the proper position. He is the kind of defenseman that you want on the ice at the end of the game to protect the lead, he's not flashy and does all the little things right.
Nonetheless, he is on pace to have his worst offensive season ever, begging the question: does he need rest leading up to the playoffs?
Let's rewind to earlier this season, Bouwmeester played in his 900th NHL career game at the age of 31, which is just flat-out impressive when you think about it. What's more impressive is the iron-man streak he compiled over the course of 12 seasons which ended this season at 767 games including 116 straight with the Blues. Simply put, the 2014-2015 season is the first time Blues has been without his services since he was acquired from the Calgary Flames for Mark Cunari, rights to Reto Berra & a 2013 first round pick (Emile Poirier) at the 2013 trade deadline.
Bouwmeester Needs to Rest
He has finally showed signs of wear and tear after being so dependable for so many years. Throughout the course of the season he has been hampered by injuries giving other players a chance to step-up and fill his role. He has struggled to find consistency in his game registering only two goals, scoring his last one January 8th.
The former first-round selection averages 22:42 of ice time per game which is good for 44th in the league. Out of the those 44 players (other than Slava Voynov who is suspended indefinitely) his point total is the lowest with a measly 11 points in 65 games. Bouwmeester has always been relied on to play big minutes and chew away ice time and he usually can be relied on to provide an offensive presence as well. For example, last year in a Blues uniform he 37 points was plus 26 and made his second Olympic appearance for Team Canada. He's scored double digits in goals three times over his career and has added at least 20 assists every season since 2005-2006 (other than the lockout-shortened season).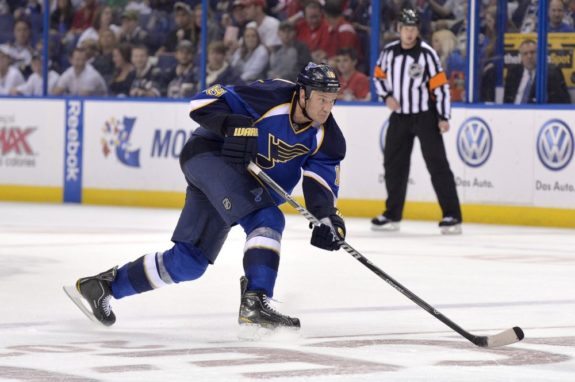 He is finally showing signs of slowing down. Other than being a work horse and providing consistency he hasn't been able to be a major factor this season. With the emergence of Petteri Lindbohm and Chris Butler, it would be a wise move by the coaching staff to allow him to get some rest for the playoffs. Robert Bortuzzo could draw in as well to get some more experience in St. Louis and develop some chemistry with a potential shutdown partner. He will be used during the playoffs for toughness if the series gets rough. These three blueliner's will better prepared if needed as a black aces during the post-season. (If they recall Lindbohm from Chicago)
It may be hard for Bouwmeester to accept being a healthy scratch but it may just give him the extra motivation to contribute a little bit more when the Blues need it most.
He has never once been a healthy scratch in his career making it very difficult for Hitchcock to do regardless of his performance. However, the Blues are 3rd in the west and with only 12 career playoff games under his belt a couple of nights off might not be the worst thing heading into the playoffs.